Depicting Rainbows In The Depth Of Their Craft, Here Are Some Artists And Their Artwork That Embrace The Fabulous Queer People Worldwide.
Nothing in this world exists that cannot be expressed through the beauty of art. Emotions, thoughts, desires, and experiences, an artist can portray all these abstract with utmost formosity. Especially when it comes to all the elegant creations that exist on this planet, many artists are celebrating the existence of the creation of God.
Much like this, embracing the diversity of LGBTIA+, we're here this month with some exquisite art pieces which are perfect for
the celebration of pride month. Capturing the cosmos of gender, sexuality, queerness, and creation, artists all over the globe are coming forward to combat the historical suppression of peculiarity.
This expanding group of artists is creating a new visual language that frequently leans towards ambiguity to convey love and intimacy. The notion that queerness exists outside of conventional expectations in an uncertain zone full of fluidity and indeterminacy. The way the artists depict nudity and love illustrates how two desirous bodies can develop an intimacy that goes beyond just a mere sexual act.
1. WALLFLOWER BY PRINCE JACON OSINACHI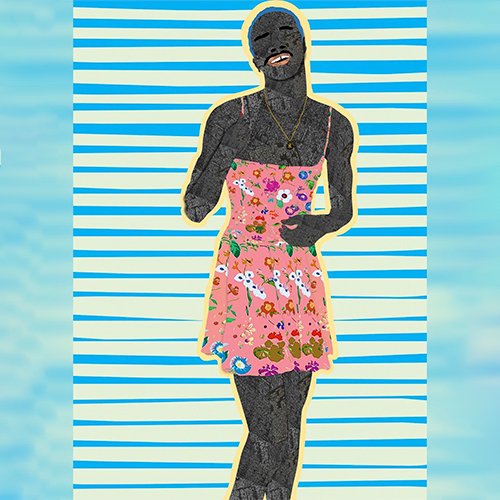 Prince Jacon Osinachi, who grew up in Aba, Nigeria, was acutely aware of the conservatism, expectations of masculinity, and opinions of individuals who defied those unwritten rules in Nigerian society. His work is the ideal instance of art that was created for exploration and freedom. His expressive work illustrating feminine males, androgyny, gender identities, and
sexuality is set against this backdrop of society's expectations and views.
Osinachi is largely a digital artist who has found success in the market for NFTs like Sand Castle, which has a black man kneeling and making a sandcastle while another man, who has been severed at the waist, stands in the background. Osinachi portrays a gender-fluid person wearing a bright pink dress with flowers on it in his most recent artwork, Wallflower. The person exudes happiness, demonstrating the exhilaration that may come from dressing in a way that embraces one's own self-expression. It also demonstrates the idea of acceptance.
2. SUN AND SAND AND WOUNDS AND LOVE BY TM DAVY
With art pieces that feature an extremely eye-catching artistic approach, TM Davy uses hues that have warm and soft textures. These tones of colours and techniques are the reason why people cannot take their eyes off the art pieces by the old master. These textures, techniques, and hues help to bring out the authentic emotion of the artwork. The mastery of flesh, light, shade, and shadow! One can only imagine what it would be like to inspect the exceedingly fine brushstrokes in person.
Davy creates water and sun-kissed images from his home on Fire Island, a renowned LGBT haven in New York while working en plein air in the summer. By doing this, he expressly places the 19th-century tradition in a queer setting. Davy frequently depicts gay and naked people swimming in these oceans, giving them a mysterious and sensual quality that is infectious. His
paintings, which frequently feature gay couples on beaches, convey strong feelings while also being realistic.
3. CHRYSALIS BY HANNAH ROEMER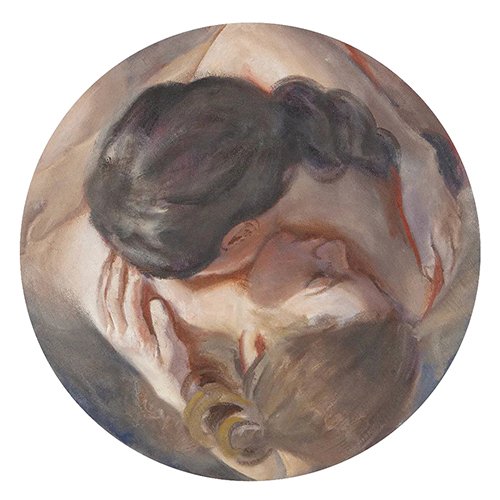 Hannah Roemer, an artist based out of Germany, is aware of the wide realm of sexual vulnerability. Her goal is to create an atmosphere where her muses can experience how it feels to be free, and to pursue their sexual impulses and desires. She gives explicit depictions of the artwork in her paintings, such as women-on-women, female masturbation, and nudity, and
protects all of these pieces of craft from the gaze of a white man.
This painting right here is one of Roemer's most recent works. The craft depicts two women wrapped around in each other's
arms. It seems like the artist admired the beauty of the two women, their freedom, their sensuality and their emotions. Stuttgart is where Hannah works as a figurative artist. In most of her work, she explores how art history reflects or excludes experiences as a queer woman and how these experiences affect her personally.
4. A WOUNDED MAN BY BORIS TORRES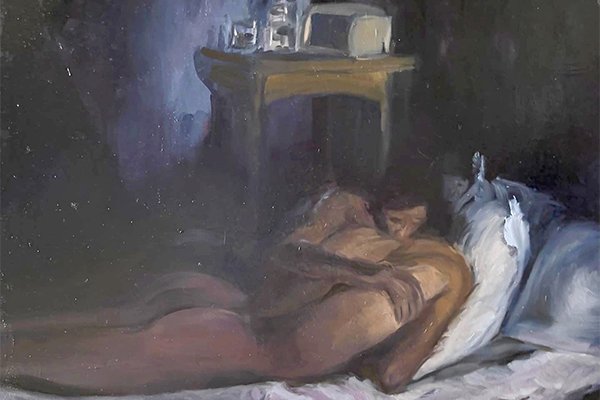 Born in Ecuador and brought as a child to Brooklyn Bris Terros and his work explore the approach of American and Latin queer culture, portraiture, and sexuality. his work can be noticed in various collections of fine artworks. Torres is a queer artist fellow of the 2019 Leslie Lohman Museum. In museums and art galleries, Boris Torres wants to see more queer portraits. With a concentration on LGBT culture in both Latin America and the United States and a spotlight on queer family, love, and identity, Torres, an American artist of Ecuadorian heritage, paints from an intersectional point of view.
In his most recent work, a wounded man, Torres depicts two lovers cuddled up in a chamber that is only partially lit while they are in each other's loving embraces. Their bodies are in communication with one another in this ambiguous intimacy.