If You're Looking For Pieces To Earn The Perks Up, With Owning Your Pride While Also Keeping The Pride Design Statement
In Mind Then, Let The Rainbow Colors Do All The Talking On Your Striking Walls. Hop In And Find Everything You Need.
Dedicated to supporting the LGBTQIA+ community, Pride Month is celebrated each year in June. Whether a member of the
community or an ally, the month is all about attending parades and parties, binging LGBTQ movies, donating to LGBTQIA+ organizations, supporting their businesses and decorating with colorful home décor. To help you celebrate your identity and show your support at home, we've rounded up the best Pride decoration ideas to elevate your space.
These ideas are perfect for infusing personality into your space all year long. So, dive in and have a look at them!
1. PULL OFF RAINBOW WITH GRACE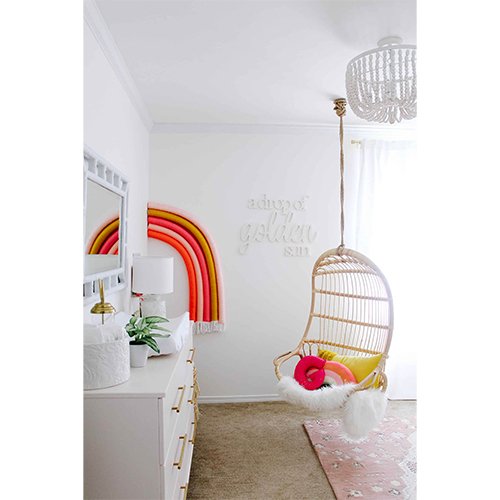 For those of you looking for large-scale décor ideas with rainbow color, this rainbow wall design works well. Pool noodles and yarn go a long way into creating a beautiful and interesting rainbow that is the perfect shape. You have a lot of options to go down to while building your wall. It's easy to focus on the entire rainbow, using several different colors in your design. Or you can merely focus on a handful of similar colors such as shades of purple, red, green, blue, and more. The yarn hanging at the end adds such a wonderful touch to the rest of the rainbow. Thus, it elevates the area making it appear appealing, eclectic and bubbly. The colors reflect the light, making the space feel bright, open and inviting.
2. CREATIVE RAINBOW WREATH THE STEAL-WORTHY DÉCOR PIECE
Wreaths are a nice option to use when coming up with decorating ideas, so they fit just about perfect when you want to incorporate rainbow coloring. Using flowers that are dried and preserved springs you an opportunity to explore a bit more with some distinctive materials. Also, this lets you use a variety of different types of flowers too so that your decoration stands out even more. It's such an interesting way to lighten up a room and add some more life to any wall you hang it upon. This can even look just as good on various doors throughout the home too so that you always see a splash of color anywhere you go. Radiating with the room art, it will tie the space with a rainbow of colors and whimsical patterns.
3. ENHANCE THE BOOK SHELF BLISSFULLY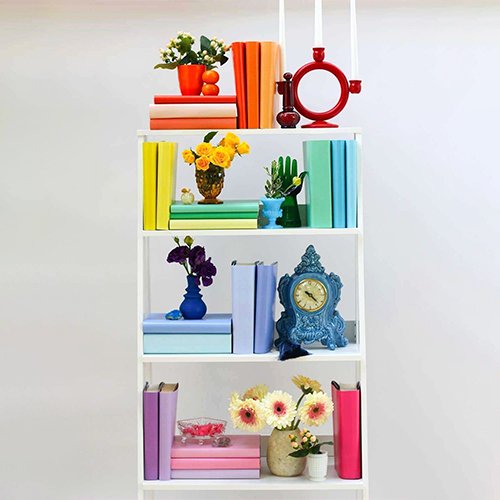 Add some pizazz with plenty of colors to your design with the eye-popping colors of the rainbow book covers arranged by color, creating a fanciful library. The decorative display maintains its aesthetic appearance by utilizing the crisp and clean style
enhanced by these covers. Now you can keep your books handy while decorating a bookshelf with a color-coordinated palette.
Organize your display by the pattern of the colors of the rainbow to achieve this interesting and gorgeous arrangement. From red to violet and all the colors in between, you'll love the fresh look to your bookshelf while boasting with the inclusion of these book covers.
4. VIBRANT EYE CANDY STRIPES RUG
This candy stripe rug is one of the best rainbow home décor ideas when you want to make a bold statement in a room. The colors are so vibrant and easily stand out in any room you place them in. This cotton rug is available and will suit all your decorating needs. Another cool thing about this rug is that it blends well with various styles. It can look just as good when you use it in a farmhouse-like environment as it would in a modern home or a bohemian-styled room. Whether indoors or outdoors, this rainbow rug is complete with a non-slip back while instantly brightening a space. Making one happy, plus being durable, sturdy and easy to clean, it's perfect for Pride Month, but can serve as a cheerful accent all year.
5. BRIGHT AND BOLD MODERN COLOR BEDROOM TRANSFORMATION
Forget those neutral and bland oatmeal-hued bedrooms and bring your bedroom to life with some bright and bold colors. Begin with the bed and bedding, since this zone tends to be the focal point of the room. A nice upholstered bed frame in rich
and elegant velvet adds a luxurious texture to your choice of color! Next, you'll be inclined to continue the color love with a
vibrant duvet or comforter to top it off. Of course, a patterned wallpaper to cover the ceiling makes a bold statement too. Tie it all together with some window coverings and wall art to make your bedroom a modern marvel of design.