Perfumes Are Not Just Fragrances But A Mirror, That Reflects Your Personality To The World. You Must Have Tried A Lot Of Perfumes But After Smelling This One, Your Nose Might Not Have Been Much More Perplexed!
The sense of smell is not only the most noticeable but also one of the most delicate ones in our body. No wonder how we feel extremely distressed whenever there is an unpleasant or foul smell around us. We don't need to mention how troublesome it gets when you have to stand or sit beside someone with body odour. Daily physical activity such as walking, jogging, or lifting
anything might cause you to perspire heavily, which gives off an unpleasant stench.
To avoid this, there are ways like taking a bath or a shower. But occasionally the fragrance may still be present in your clothes
as a result of the perspiration becoming caught in the fabric. At this point, what comes to your rescue is one of your best friends from your fragrance collectables-your favourite scent. No wonder why a scent is known to be a person's best pal. It is as simple to perform as smashing a sheet of glass with a hammer and emits a pleasant and reviving scent.
This time, we'll be discussing a fragrance that claims to raise the bar in all the parameters mentioned above. None other than the Italian luxury brand, Miu Miu has recently launched the Fleur de Lait Eau de parfum to its fragrance catalogue. Looking at the bottle, it is quite clear that design and creativity run in the Miu Miu business and there's no doubt about it. This fancy dessert-like bottle is definitely something that would make a person fall in love. Especially if you're a fan of collecting unique and fancy spirits. Unquestionably, this one looks like it has the potential to be Miu Miu's signature scent. Before we begin to strike the not-so-good parts of the scent, let's first take a look at the composition of this fragrance in its infancy.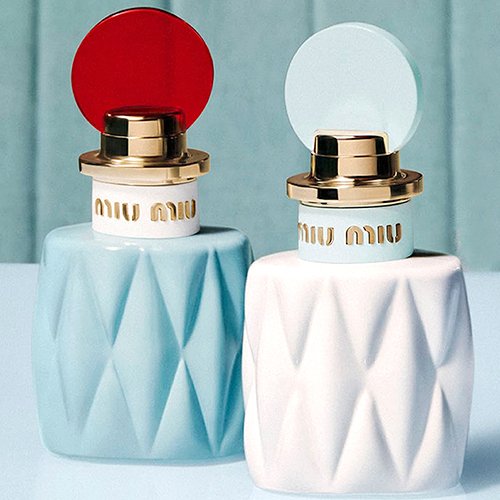 A celebration of comforting feelings, cosy experiences, and unfettered femininity. The new Miu Miu Fleur de Lait Eau de Parfum scent captures the senses with delightful notes of juicy mango in the top note, delicate osmanthus flowers in the second note, and one can smell the velvety flavour of coconut milk in the base notes. Producing a fruity-milky fragrance that is powerful and sophisticated, the scent is inspired by a familiar Mango dessert.
Although it is suggested to use this special on summer days, it is too sweet to tolerate. After using it for long, some people have also expressed concern that the aroma disappears completely. It may just persist for an hour or less. The fundamental principles of this scent are likewise overpowered by the mango and coconut, making it a nightmare. We don't believe anyone would want to smell like a coconut and mango dessert all day, only if it lasts that long. All in all, if you're planning to get this new whiff for your nose by Miu Miu, think twice. Nonetheless, go for it if you're a fan of the brand.