Are You Also Bothered Thinking About How to Style Your Fresh Swimsuit to Hit the Beach? Well, God Sure Listened and Sent Us to Help You with The Same!
You know it's the perfect time to take out those swimsuits when all you can think of at all times is basking in the sun, with a cocktail in hand! Well, if you're an adventurous soul looking to dive into the sea for a relaxing swim or the one who sits on the sand making castles and taking it all in with cocktails, swimsuits are a must.
Luxury brands have taken things up a notch and are introducing more styles in swimsuits. While you flip through the pages you will find the best swimsuit trends that are here to stay, but for this one, we are styling the latest launched bikinis from astonishing brands. Each look has turned out to be startling and we can't wait for you to hit your next beach vacation and slay in these suits!
Oh yes, one last thing, don't forget your sunscreen kids!
1. ISA BOULDER, Rope twisted ruched stretch-satin underwired bikini top, Approx. Rs. 17,320
2. ISA BOULDER, Fullweave woven stretch-satin bikini briefs, Approx. Rs. 19,260
3. LOEWE, + Paula's Ibiza Anagram leather-trimmed raffia bucket hat, Approx. Rs. 70,690
4. BOTTEGA VENETA, Lido, Approx. Rs. 1,10,170
5. ALTUZARRA, Watermill small leather-trimmed raffia tote, Approx. Rs. 44,550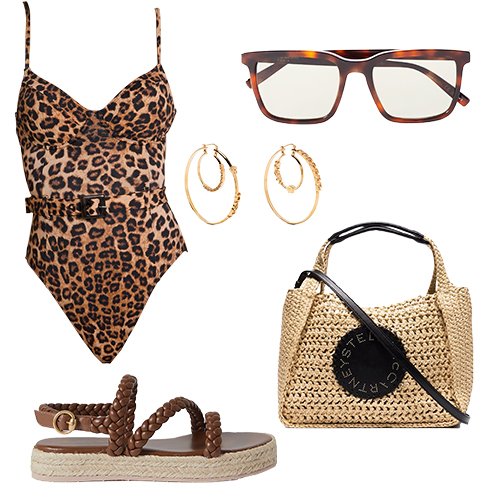 1, GOOD AMERICAN, Show off- One Piece, Approx. Rs. 10,000
2. VERSACE, Medusa-plaque hoop earrings, Approx. Rs. 36,970
3. STELLA MCCARTNEY, Logo-patch woven raffia tote bag, Approx. Rs. 1,30,800
4. GIANVITO ROSSI, Braided leather espadrille sandals, Approx. Rs. 80,620
5. SAINT LAURENT EYEWEAR, Square-frame tortoiseshell acetate sunglasses, Approx. Rs. 27,700
1. OSÉREE, Shine glittered halterneck bikini, Approx. Rs. 17,000
2. RAY-BAN, 1972 octagon-frame gold-tone sunglasses, Approx. Rs. 16,010
3. EUGENIA KIM, Colette striped grosgrain-trimmed hemp-blend sunhat, Approx. Rs. 36,220
4. KENZO, Small logo-print raffia tote bag, Approx. Rs. 33,670
5. BOTTEGA VENETA, embossed-logo open-toe slides, Approx. `Rs. 39,000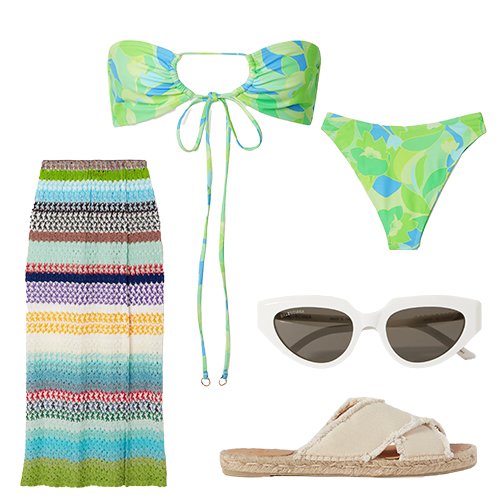 1. FAITHFULL THE BRAND, Arriba strapless cutout printed stretch-ECONYL bikini top, Approx. Rs. 10,230
2. FAITHFULL THE BRAND, Dylla printed stretch-ECONYL bikini briefs, Approx. Rs. 10,230
3. MISSONI, Mare metallic crochet-knit maxi skirt, Approx. Rs. 86,490
4. BALENCIAGA EYEWEAR, Cat-eye acetate sunglasses, Approx. Rs. 36,510
5. CASTAÑER, Palmera frayed canvas espadrille slides, Approx. Rs. 7,660