The year's splashiest event is here and it managed to cause quite a splash too! Take a look at some of the best trends from the Miami swim week.
Miami Swim Week came to town, and brought with it a must-have collection of swimwear. We predict overfilled shopping bags and several new updates for your swimwear wardrobe! The highlight of the event this year was the incredible amount of diversity seen on the runway. The Miami Swim Week brings the splashiest shows of the year and this year was no different. Each Swim Week brings with it the season's hottest trends that are highly anticipated by literally everyone, as was seen this year too! At the Miami Beach Swim Week, one always gets to spot a whole lot of skin. But this year's looks are ultra-spicy and ultra revealing as thong cuts, lattice backs, and even vagina cut-outs dominated the runway. The word on the beach seems to be that this year's looks are not something to be missed and we are in complete agreement with the sentiment. All the hottest, most stylist swimwear is here and we did the heavy lifting for you. We are listing down the major trends that have emerged from the Swim Week so you can shop for the new looks and update your swimwear collection. Without any more waiting, let's dive in!
1. CORSET SWIMSUITS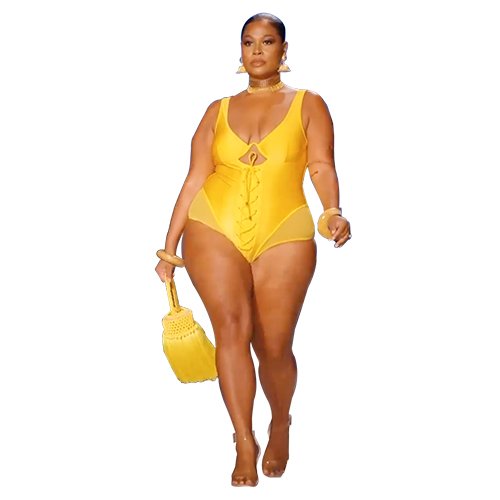 A very Bridgerton-esque experience was created through the corset swimsuits that had everybody obsessing over them.
The Paraiso Miami Beach Swim Week has come to an end; but not without leaving us with major style inspiration when it comes to swimsuits. Swimsuit enthusiasts have a lot to select from – modest looks, high-cut legs, vagina cut-outs, and many, many thongs! Although over 70 designers showcased their latest collections, there was only one diamond of the season – yes, we found something very Bridgerton-esque on the runway! Very unique and innovative, the corset swimsuits definitely bring something different to the beachwear category. The brand that came up with this is Bfyne and they seem to have taken a page out of Bridgerton's book and launched a corset style one piece swimsuit. The swimsuit combined swimwear with underwear and features wired bra cups with a triangle cut out just under the cleavage and lace-up details down the front and back. And the vintage-inspired look was completed with mesh panels at the hips that gave it a little extra dimension. It comes in two colours – yellow and blue and a two-piece version of the style was also dropped by Bfyne and is available in a few more colours.
2. MODEST LOOKS
Modest, full-coverage swimwear was also very heavily present.
Although the majority of the looks were ultra-revealing, there were also quite a few modest looks spotted. Thong bikinis, micro suits, and ultra-revealing cut-outs weren't the only hot trends at the event, full-coverage swimwear was actually very heavily present. Modest, yet stylish, these full-coverage swimsuits were hot in their own right. Some featured easy zip-fronts, and some came printed with tattoo-inspired motifs that make the wearer feel totally badass. Some actually looked as if they were bodysuits! We could also spot long-sleeve tops that will come in handy for those who are tired of perpetually sunburnt shoulders. But the best were the ones that combine modest coverage with a spicy dose of cleavage; giving the best of both worlds!
3. ULTRA-REVEALING LOOKS
Some of the spiciest, and hottest looks all designed to serve some serious oomph were spotted at the event.
A myriad of full-coverage swimsuits were glimpsed at the Miami Beach Swim Week, but so were some of the spiciest, and hottest looks, all designed to serve some serious oomph. Micro-suits, thongs, and ultra-revealing cut-outs were the major looks we spotted. Seeing a whole lot of skin is always a given at the Paraiso Miami Beach Swim Week, but this year ultra-revealing looks are what dominated the runway. Lattice backs and vagina cut-outs were amongst the spiciest looks spotted. Wedgie suits were the most popular trend of the week, with one spotted at almost every show. And if your Brazilian appointment is due, we suggest you get to it as quick as possible since vagina cut-outs were the trend most prominently on display, right along with extreme cut-outs. Sheer, mesh designs definitely came in hot and so did lattice detailings. A major trend spotted was an extreme take on the micro-bikini trend that seems to have taken over the whole week. And good news for those worried about tan lines; they're going to be non-existent given the micro top trend!