Searching for inspiration to create your wardrobe? Here are the trends you need to be on the lookout for!
We walked into 2022 in the midst of an interesting time for fashion: somewhere between at-home loungewear and sequined, glittery party looks. But, currently, the trends for the year are very clear and there are several year-defining trends that we have spotted countless times cruising around town. 2022 is the year for colour – bold and subtle both – and little skirts and micro jackets. That's not the end of the trends though, so without further ado, let's head on and see which trends have defined 2022 so far. And as a bonus offering, we have also given some more products so you can take some styling inspiration. 
1. CATSUITS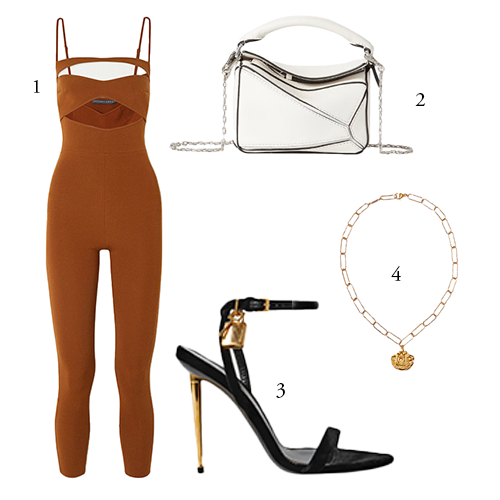 ZEYNEP ARCAY, Cutout stretch-knit jumpsuit, approx.
Rs. 88,450
LOEWE, Puzzle nano leather shoulder bag, approx.
Rs. 1,14,850
TOM FORD, Padlock embellished velvet sandals, approx.
Rs. 1,40,740
ALIGHIERI, Paola and Francesca gold-plated necklace, approx. Rs. 33,670
Probably the most unexpected trend of this year, the catsuit has been making its way around town quite a lot this year. Most have a habit of relegating it to the runway – Saint Laurent and Burberry have remained pretty diligent in showing new catsuit styles – but everyone from Hailey Bieber to Lizzo has worn it out multiple times this year. Just imagine that your favourite yoga one-piece got a sudden update, making it hotter and sexier! Pair it with a nice pair of heels and some matching accessories and you're ready to paint the town red!
2. ULTRA MINI SKIRTS
LOUISA BALLOU, Embellished recycled stretch-jersey mini skirt, approx. Rs. 26,660
LOUISA BALLOU, Floral-print stretch-jersey halterneck top, approx. Rs. 19,100
VALENTINO, Valentino Garavani Tan-Go 155 leather platform ankle boots, approx. Rs. 2,07,210
SAINT LAURENT, Uptown textured-leather pouch, approx.
Rs. 68,400
We hold the opinion that showing off a little leg can make anyone feel better. Feel lighter, more playful, and richer by putting on a mini skirt. But the mini skirt has gotten a bit of a makeover as the hemlines have been raised to minuscule lengths, making it even sexier – if that is even possible! The supermodels of the 90s would have been proud of the length of the mini skirt now. Super statement shades, prints, or fabrics ensure that no matter how small your skirt is, it is going to pack a punch! For the styling, you can not go wrong with a halter top or crop tops, and don't forget the accessories!
3. WHITE SUITS
ROKSANDA, Pleated cady straight-leg pants, approx.
Rs. 1,07,910
ALEX PERRY, Hartford satin-crepe blazer, approx. Rs. 2,06,730
ALEX PERRY, Rae cropped crepe top, approx. Rs. 60,890
GIANVITO ROSSI, Bree 105 PVC-trimmed patent-leather pumps, approx. Rs. 85,490
CULT GAIA, Nia embellished leather clutch, approx. Rs. 44,260
The craze for suits may have taken a back seat for quite a few months as people continued to work from home, but the good old staple wardrobe item has marked its return with a vengeance! As everyone steps out of their house and heads back to the old grind of life, suits have begun to come back to the sartorial radar, but with a twist. This season, the suits are stark white with show-stopping accents like waist ties to contrast black hardware and more. A white suit is another option for alternative wedding outfits for those looking for something other than traditional dresses. The main element here is accessories, so don't forget to accessories properly!
4. OVERSIZED SHIRTS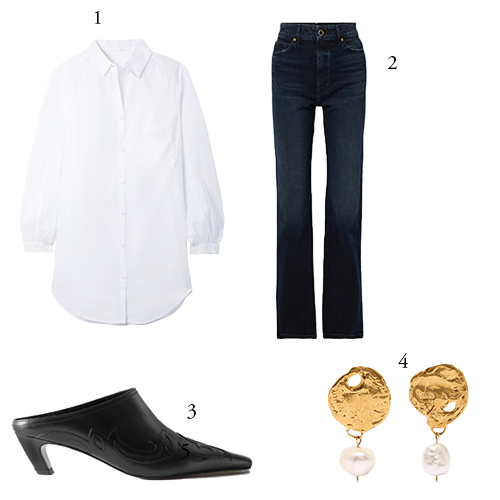 SKIN, Billie oversized cotton-voile shirt, approx. Rs. 28,800
KHAITE, Danielle high-rise straight-leg jeans, approx.
Rs. 53,090
KHAITE, Madison appliquéd leather mules, approx. Rs. 80,330
ALIGHIERI, Beacon gold-plated pearl earrings, approx.
Rs. 36,750
Oversized anything has the potential to make any outfit look better. But for this season, a new silhouette seems to have come to the forefront, and it's going to make you feel as light and carefree as you want to be. The equation is perfect for comfort and style as well as setting fashion statements. The variables? A flowing button-down, that you can pair with flowing oversized trousers and button it insouciantly in the middle. You can take inspiration from Gigi Hadid or from the Fendi and Peter Do runways. You can style it with jeans as well, there are no limitations here.
5. BRA TOPS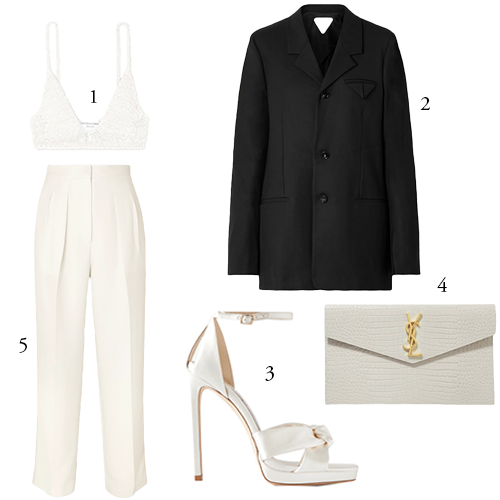 BOTTEGA VENETA, Cotton-blend soft-cup bra top, approx.
Rs. 43,900
BOTTEGA VENETA, Twill blazer, approx. Rs. 2,69,810
JIMMY CHOO, Rosie 120 satin sandals, approx. Rs. 79,850
SAINT LAURENT, Uptown croc-effect leather pouch, approx.
Rs. 75,840
ROKSANDA, Pleated cady straight-leg pants, approx.
Rs. 1,07,910
Office formals and office casuals; both are becoming more liberal by the day and we are here for it. If this is the case at your office as well, or if you're just looking to amp up your suit game with something stylish and sexy, or just to switch up your evening style, then a bra top is the best choice for you. Infuse a little modernity into your tailored separates and watch your style game transcend time and space to make you a style icon. Style it with a coat or wear it with straight pants, truly, the world is your oyster!