Turn Your Vacay Mode On While Dressing Up To Impress As This Summer, It's All About Experiencing New Adventures And The Exotic Ambience.
Summer is in full swing, and it's time to hit the beaches and poolside parties in style. One essential item you can't miss in your summer wardrobe is a fabulous bikini. Whether you prefer vibrant prints, chic solids, or unique cuts, this season's bikini trends have something for everyone. From retro-inspired designs to minimalist aesthetics, let's explore the hottest bikini trends that will make a splash this summer.
Embrace the summer vibes with bold tropical prints and vibrant colors. From palm leaves and exotic florals to colorful stripes and geometric patterns, tropical-inspired pieces are stealing the limelight this season. Opt for bright hues like coral, turquoise, or sunshine yellow to make a statement and stand out from the crowd.
High-waisted bottoms are perfect for flaunting an hourglass figure and adding a touch of vintage glamour to your beach look. These trendy additions create eye-catching patterns and reveal just the right amount of skin. Comfort should be your priority when it comes to going to a beach or a stroll on a vacation.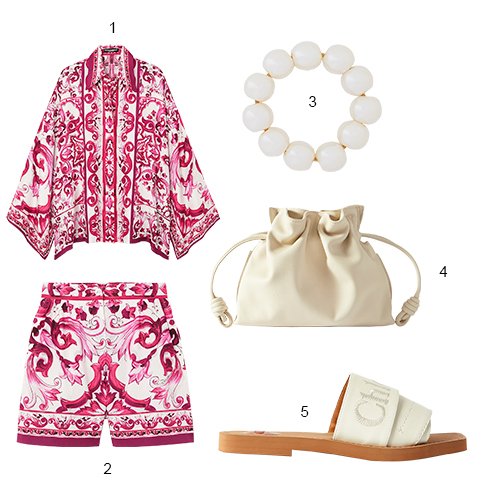 1.DOLCE & GABBANA, Printed silk-twill shirt, approx. Rs. 2,40,680
2.DOLCE & GABBANA, Printed cotton poplin shorts, approx. Rs. 94,770
3.JENNIFER BEHR, Henley faux pearl hair tie, approx. Rs. 11,500
4.LOEWE, Flamenco mini leather clutch, approx. Rs. 2,43,030
5.CHLOÉ, + NET SUSTAIN Woody logo-embroidered leather slides, approx. Rs. 51,580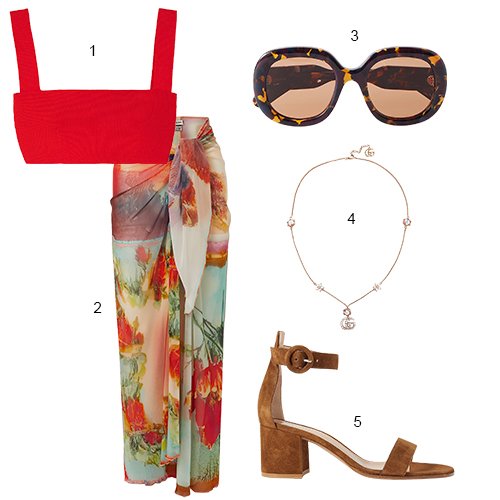 1.VICTORIA BECKHAM, VB Body cropped stretch-knit top, approx. Rs. 10,670
2.JEAN PAUL GAULTIER, Printed georgette pareo, approx. Rs. 30,740
3.CHLOÉ EYEWEAR, + NET SUSTAIN Gayia oversized round-frame tortoiseshell recycled-acetate sunglasses, approx. Rs. 48,890
4.GUCCI, Gold-tone crystal necklace, approx. Rs. 84,750
5.GIANVITO ROSSI, Versilia 60 suede sandals, approx. Rs. 1,03,790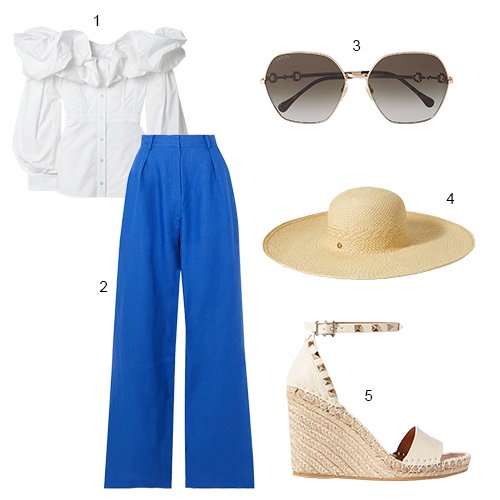 1.ALEXANDER MCQUEEN, Off-the- shoulder ruffled cotton shirt, approx. Rs. 2,15,800
2.BONDI BORN, + NET SUSTAIN Laguna pleated organic linen wide-leg pants, approx. Rs. 46,930
3.GUCCI EYEWEAR, GG Horsebit D-frame gold-tone metal sunglasses, approx. Rs. 51,450
4.LORO PIANA, Gilda straw sunhat, approx. Rs. 97,780
5.VALENTINO GARAVANI, Rockstud 105 textured-leather espadrille wedge sandals, approx. Rs. 1,11,310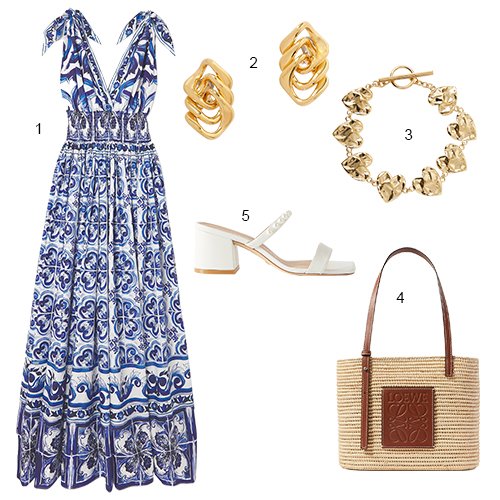 1.DOLCE & GABBANA, Open-back shirred printed cotton-poplin maxi dress, approx. Rs. 2,40,230
2.BALENCIAGA, Gold-tone chain earrings, approx. Rs. 94,900
3.OSCAR DE LA RENTA, Crushed Heart gold-tone bracelet, approx. Rs. 42,040
4.LOEWE, + Paula's Ibiza small leather- trimmed woven raffia tote, approx. Rs. 91,760
5.STUART WEITZMAN, Goldie faux pearl-embellished leather mules, approx. Rs. 70,700