One Could Either Love Or Hate The Watch We Got For You This Month. As There Would Be Nothing In Between. Don't Believe Us? Check For Yourselves!
After taking a glance at the timepiece we got for you this month, we're sure that for some it will be highly intriguing, while others will likely be downright confused. We are talking about no other but the Horological Machine No2 by a Swiss luxury watch brand MB&F (Maximilian Büsser and Friends) featuring a contemporary rectangular case with a pair of circles that houses two retrograde indicators and a moon phase display.
Undoubtedly, the cassette tape-like rectangular case of the HM2 is an incredibly unorthodox choice and one we've not really seen either before or after its creation. According to us, the whole watch has taken inspiration from the glass-domed space colonies found in sci-fi comics of the '50s and '60s.
The distinctive rectangular shape and two portholes are entirely different from any other timepiece. This complex, three- dimensional form required for HM2-SV's case with its bevels, mounting holes, porthole cut-outs and embedded gasket track, pushing the limits of sapphire technology beyond. It's quite a complex case, with being comprised of over 100 parts, it is designed to be easily disassembled and refurbished long into the piece's future.
To make it simpler for you, this HM2 is fitted with two separate dials, each housed by an individual porthole. On the left, it has the date indicator, in which the former has been fitted with a retrograde mechanism. While the other porthole houses the time display. Similarly, the minute indicator uses a retrograde mechanism, and the hour indicator employs a highly energy efficient jump hour system. Notably, the latter can read through a ring that is on the sapphire crystal.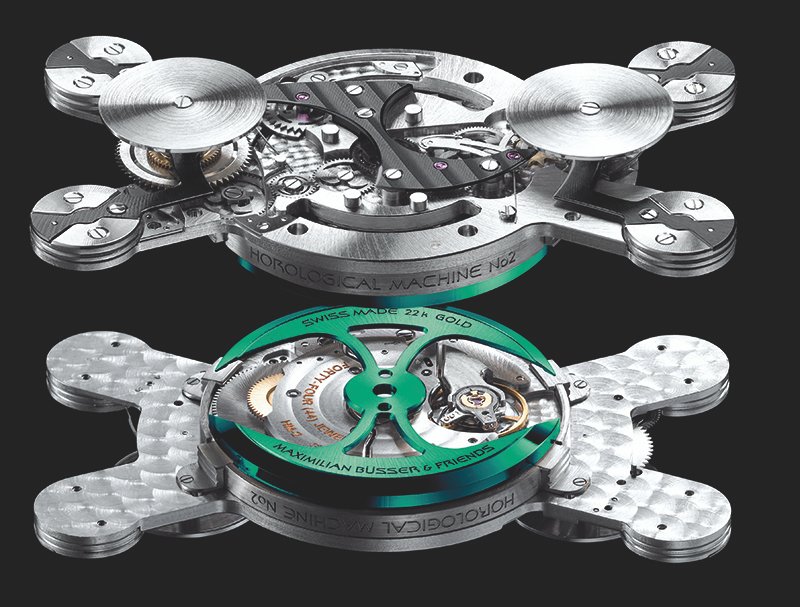 Flipping this watch over, one can see the brand's distinctive double battle-axe rotor, which brilliantly hides that one side weighs more even though it looks identical. That's something one needs to pay attention to. In our opinion, this timepiece blends both design and complications altogether – resulting in not the best of both worlds.
And, not to forget, the brushed surface of the timepiece, especially, gives the watch a rather industrial feel. So, if you're looking for an industrial complex timepiece, we found you the perfect fit.