Wanting to invest in Omega's De Ville Trésor? We have compiled all the necessary information for you in one place. Read on and decide for yourself!
It is almost a crime to step out of the house without a sleek, elegant watch adorning your wrist. If you agree with us, but cannot decide what watch to purchase next, we have got you covered. For today, we have brought a sleek, refined watch for you that is back to trending owing to Nicole Kidman – a long-time Omega endorser – who wore it on the red carpet for the 2022 Oscars.
The Trésor has simple features and was first seen in 1949. But it has had many new additions in the recent years, including in late 2020, when Omega introduced three new ladies' watch models to its collection – including this Trésor one with a mesh gold strap. This collection definitely focuses on the finish more than on the complications. The watch comes in three models: one of them features an 18K white gold rhodium plated dial.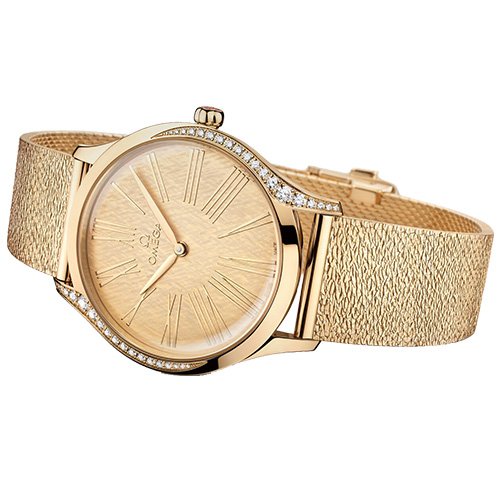 The 94th academy awards saw Nicole Kidman walking the red carpet sporting this watch, bringing it to our attention again and back to trending.
The Omega De Ville Trésor Quartz 36mm got a makeover during the launch – the metal mesh bracelet strap was introduced in the line. Each watch features cases crafted from the brand's patented 18K Moonshine gold. It is paler than yellow gold and highly resistant to fading of colour and lustre. The case features 38 diamonds curved along the sides of the case along with an additional full-cut diamond set on the crown. The diamonds used are "Top Wesselton" diamonds, which Omega promises are ethically and fairly sourced. But if pressured, these diamonds can very easily fall out of the case due to their alignment and positioning.
The Moonshine gold case might make the watch pop on your wrist, but the polished surface is very prone to scratches and damage. And we don't need to tell you that white gold is not hypoallergenic, so it can irritate the skin of some people. Talking about the watch in terms of comfort, the watch gave off a mixed response. If you like watches that fit your wrist tightly, you won't be able to wear this one as the bracelet is too rigid due to it being made of mesh gold. So, try it on your wrist before buying.
A look at the back side of the watch. 
Omega missed the opportunity of making this watch even better by using the Calibre 8910 or 8929, instead of the Calibre 4061 that this watch carries. Although using Quartz is more practical, there is no other benefit to it besides its practicality. In fact, automatic movement would have suited this watch more.
The watch is gorgeous, and its simplicity makes it easy to wear daily. But one thing that we noticed is that even in the 36mm watch, the diameter is a bit bigger for a cocktail watch, which can be considered a flaw by some. The watch is water resistant, but only up to 3 bars – or 30 metres in laymen terms – which does not seem to be a lot.