Are You Planning To Get The Latest Horology By Tag Heuer From The Carrera Series? You Might Want To Give This A Read To Know Everything About The Watch!
Time is money. And it is never too late for a man to invest in classic timepieces. Be it an exemplary vintage or typical contemporary watch, a man's personality is often reflected by what he's wearing on his wrist. Men's wristwatches, which were initially mocked by the public as a ridiculous trend, quickly became the standard, and their usefulness rendered pocket watches obsolete. To add to this sophisticated swing, Tag Heuer has freshly launched a horology with the intention to do something big but it seems like the brand missed a hit this time. To find out how much truth lies within this effect, we are here to tell you everything you need to know about this timepiece.
The well-known brand which has been in the watch industry for longer than one can remember, has recently added an elegant
wristwatch to its Carrera watch family. The watch that gained attraction decades ago when it stepped into the market, soon became a staple accessory whenever the word formal occurs. The watch has a unique design replicating the signature of the brand. It is a perfect amalgamation of distinctive craftsmanship and accuracy of timekeeping. The dial has permissiveness and an ornate beam of silver in the dial that has been brushed beautifully. This detailing complements the hands of the watch made with rhodium plating beautifully.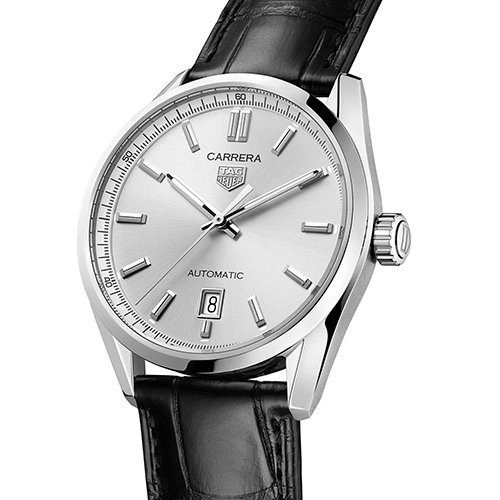 The details of this timepiece have been worked upon really well. But, this addition to the Carrera family still lacks the extravagance of style that one looks for in a luxury watch. The watch has stainless steel cases of 36 mm along with markings
of each quarter–of–second on the dial of the watch. Tag Heuer trusts the watch to deliver class and style at the same time. However, the reality seems to differ. The new Carrera date watch is available in an active range of colours.
Talking about the entire look of the watch, it is simply elementary which seems to be another reason why this is not a top choice for your classic watch collection. As we mentioned, the minimal look doesn't really elevate your style. This is just not what one wants while making a luxury purchase.
All in all, the watch might have been made with great materials, but it still lacks a unique and top-notch design. As far as the features are concerned, investing in a luxury watch with such simplicity doesn't seem to be a sane decision. We would suggest looking for something better than this to enhance your wrist. But, if less is more for you in the watch section, you can go ahead with this one for a simple daily wear watch.