Taking Into Account The Design, Ease-of-Use And More, We've Compiled A Roundup Of The Best GPS Trackers For Your Pet. Find Out Which One Is Right For Your Furry Companion.
There's no worse feeling than when your dog/ cat goes missing. If you worry about your furry friend wandering off, you can give yourself peace of mind by outfitting them with a GPS tracker. The best GPS trackers provide real-time location updates
directly to your phone, allowing you to quickly find your dog/ cat and bring them home safely if they wander out of your yard
or get lost while out hiking.
When you're looking at different GPS trackers, you'll want to consider things like the size of the tracker, its battery life, the tracking range, and whether it requires a monthly subscription. There are a wide range of products to choose from for your dog/ cat. We take our pet's safety seriously, and if you're reading this, you likely do, too. So, let's get right into it, help yourself with our best finds.
1. FI SERIES 3 TRACKING COLLAR
Waterproof and rugged, the Fi Series 3 comes in 6 sizes and 8 colors. What sets it apart from regular collars is the built in GPS tracking capabilities that allows for real-time tracking. However, the collar also uses AT&T LTE-M cellular connectivity to track your dog's whereabouts using a proprietary mobile app. The battery needs to be recharged every 3 months or so.
50% smaller than its predecessor, it offers upto 400 pounds of resistance, so it can withstand dogs that both chew and pull. Track your dog's whereabouts or be alerted if they leave a pre-defined area with app notifications, and new collar features are
constantly being added, such as a sleep tracking feature.
2. Whistle Go Explore 2.0 Smart Tracker
The Whistle Health & GPS uses cellular and GPS technology to keep tabs on your dog's whereabouts via an app. You'll get regularly updated location alerts and get notified if your dog wanders off from where they're supposed to be. And if they get lost, the Find My Pet feature provides their exact location within seconds.
Another cool feature: Using artificial intelligence and sensors, you get daily updates about your dog's physical and emotional health. It monitors for actions like excessive licking, scratching, drinking and sleeping and points out abnormalities based on your dog's regular behaviors. The Whistle Health & GPS relies on the AT&T 4G LTE-M network, so it only works in areas where there is cellular service. The device itself attaches to any collar, weighs less than 1 ounce and is designed for dogs weighing 25 pounds or more. For smaller dogs, the Whistle Health & GPS+ is available.
3. HALO COLLAR 2+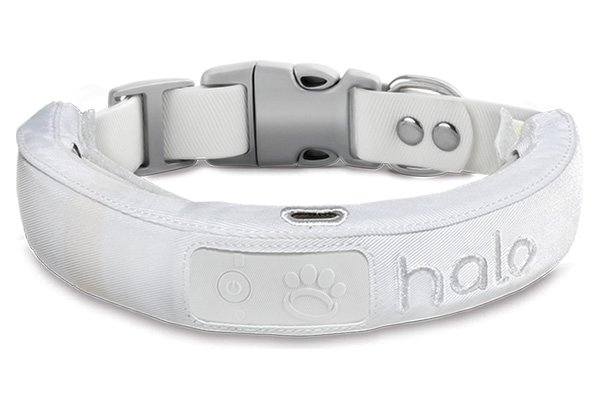 Designed for dogs weighing 20 pounds or more, the Halo 2+ is more than just a GPS tracker built into your dog's collar. This system allows you to map out 20 different wireless dog fences and then to stay alert if your dog strays from within the virtual perimeter you've created. The process for creating a virtual fence using the mobile app takes minutes and only needs to be done once per location. Ultimately, it allows your dog to be outside without a leash in pre-set areas. In addition to tracking location in real-time, the waterproof collar tracks your dog's activity and resting periods.
Also incorporated into the system? A training program developed that teaches you and your dog to get the most out of this shock-free training and tracking collar. The collar relies on audible vibrations to provide feedback to your dog when it comes to adjusting their behaviour. Instead of relying on cellular connectivity, the collar wirelessly links with GPS satellites to locate and track your furry, making it great for short camping trips, family outings and more.
4. GARMIN GARMIN TT 15 AND ALPHA 100 HANDHELD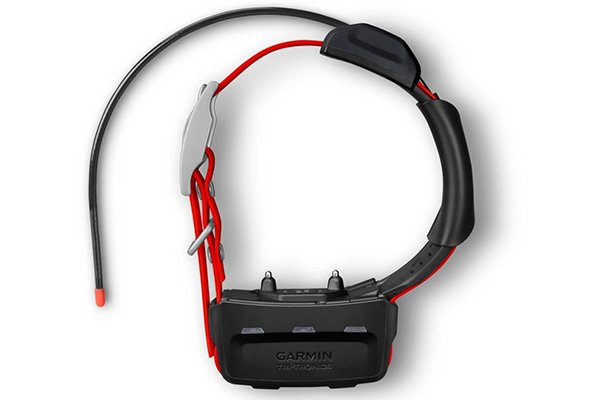 While at first glance, the Garmin TT 15 may seem is one of the only GPS trackers that don't require any additional monthly subscription fees. Rather than hooking up this tracker to your phone and downloading an app, the TT 15 is directly connected to a handheld tracking device. The upside of this is that you don't have to worry about crowding your phone with additional apps, however, the downside is that if you forget your handheld device at home, the tracking collar won't be too useful.
This heavy-duty collar is perfect for the dog who loves the great outdoors, and the handheld can track up to 20 dogs at the same time as far as nine miles. While this isn't a tracker, you'll likely use on a day-to-day basis due to its bulky nature and antenna, it's ideal for hiking or an outdoor day trip — especially if your family likes to go off the grid. Like many of the other trackers, you have the ability to create virtual boundaries that will trigger alerts if your dog crosses them and send out a warning to your pet via tones and vibrations. While the battery life won't last you weeks on end, its estimated 20–40- hour lifespan is definitely long enough for daily activities.