There's a smart device for every single room of your house, all that is left now, is to find it and install it! Here's your fool-proof guide on how to make your home a smart home.
The time has come to leave the past behind and move on from today's medieval-age appliances to the ones that are going to actually be relevant in the future! If you want to make your life easy and comfortable, it is time to integrate smart gadgets into your home and sit back and watch as they do all your work for you. Smart technology is technology that minimizes the effort required by humans to perform any task, and by extension, the same idea applies to smart homes – the technology recognizes the homeowner's usage patterns to lower the workload, improve house security and safety and provide ease of access to the homeowner.
Keep a check on burglars and prevent home invasions with the use of 360° cameras at the doorstep. Or install a smart doorbell that'll let you see who is at your door and talk to them before opening the door. AI is the future, and trust us, you really don't want to be left behind. With the innovations and upgrades being made to smart appliances and gadgets every day, these are actually going to become more intelligent and competent in the near future, relying more on their own assumptions and guesses rather than human orders. AI is going to be the norm in the near future. So, hop on the bandwagon quick lest you miss out on some true comforts! We know we've managed to convince you, so here is how you can convert your own home into a smart home. So dear readers, full steam ahead!
KITCHEN
Nowadays smart toasters are also available that can even print pictures on your toast!
Just because you don't like to cook or spend much time in the kitchen doesn't mean your kitchen needs to be bland and tasteless! The best of the best smart gadgets are now available at your fingertips so everything that you need to do in the kitchen can be made quick and simple. A smart display on your countertop will help you do quick measurement conversions, or smart kitchen appliances like smart ovens, or voice-controlled microwaves will help cut your work short and these can even be controlled with your smartphone! A smart touch screen refrigerator, or wi-fi operated pressure cooker are also reliable gadgets. Use water-saving dishwashers to be environmentally conscious or smart coffee makers to quickly whip up a cup of coffee in the morning. Install a smart trashcan that will automatically seal the bag once it is full so you don't have to. This is not the end of the list though; nowadays smart toasters are also available which can even print pictures on your toast! Talk about an interesting breakfast!
BEDROOM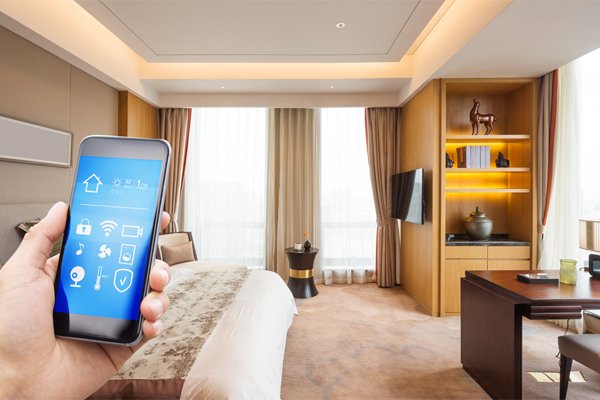 The bedroom is the place you spend most of your time in so invest in some smart appliances to ensure ultimate comfort. 
The bedroom is the place you spend most of your time; well, the bathroom comes close, but that's not what we're talking about today. Let's suppose you're experiencing difficulties in breathing due to either asthma or allergies, a smart wi-fi connected air purifies is what is going to come to your rescue here. For comfortable sleep that will give you the ultimate rest, invest in a smart bed and adjust the softness according to your need; and if your partner likes to feel as if she's sleeping on a brick, well, you can adjust both sides to different degrees of softness and sleep without any fights. Use a smart air conditioner and energy efficient thermostat to set your room to the perfect temperature for optimum sleep quality. Some more smart appliances to make your life easy are smart plugs that let you control whatever object you plug into them with your phone, smart lighting to feel like the king with your castle, and even smart mirrors that can play anything you wish. If you're concerned about elderly family members, you can install occupancy sensors that alert you if something happens and an alarm system that'll make it easy for them to contact you immediately.
LIVING ROOM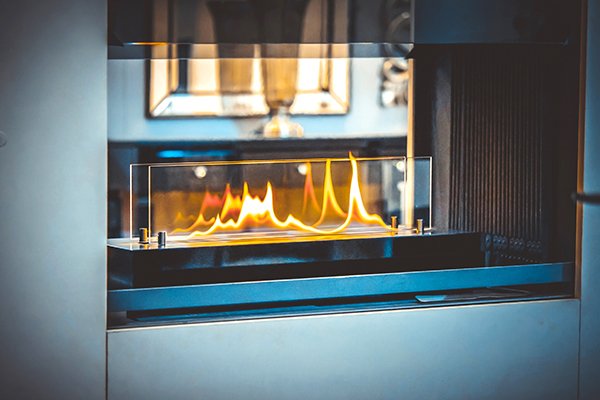 The first room visitors notice as they step foot into your house is going to be your living room.
The first room visitors notice as they step foot into your house is going to be your living room. So, it's imperative that you pay ample attention to your living room's furnishing to make it look like the crown jewel of your house. It is the perfect gathering space for your friends and family and for you all to make lasting memories so the living room needs to be truly special. To make this possible, you need to incorporate smart gadgets into your living room to make it stand out. The number one thing that needs to be on your list is a robot vacuum cleaner that will clean on its own so you don't have to worry on how to clean it while entertaining guests at the same time. To give the living room a truly gorgeous look, make use of a smart fireplace that will give the space a modern look whilst being highly functional at the same time. Use smart speakers with a smart projector that will give the ultimate experience; you will feel like you're sitting in a movie theatre. Use smart hubs and voice assistant to activate everything in your home with just one command. A centralized entertainment system will make entertainment convenient and pleasurable. Another device is smart curtains; operate your curtains with a remote control which eliminates the need to get up in the middle of conversation. One more device you should make use of is universal remote. This will tie everything together conveniently as you don't need to have separate remotes for every device or gadget.