Who Doesn't Want To Satisfy All Of Their Entertainment Needs? You'll Be Astounded To Know How To Do
It! Dive In To Know All About It!
It's time to reach deeper into the bank account for some lavish attention on more critical matters: your entertainment needs. We won't believe if your dream home doesn't include a movie theatre. The biggest game of the season is inching closer; you and your loved ones just enjoyed an indulgent home-cooked meal for date night. You have had friends and family over to stream the latest blockbuster. What do all of these scenarios have in common? They're enhanced by a home theatre, of course! Plush chairs and ambient lighting with awe-inspiring audio visual systems. Your home theatre can give you and your guests the perfect place to reconnect and recharge. But the home movie room is not just a sofa and a screen in a room. If you want to do this right, you'll need home remodelling in which we would be a great help! So read the following tips to build a home theatre for satisfying all your entertainement needs.
1. PICK YOUR ATTIC SHREWDLY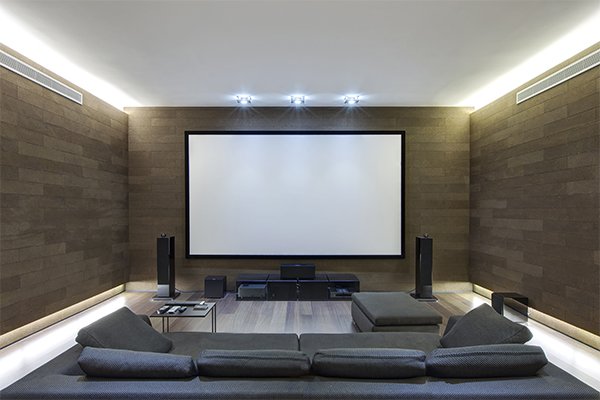 Choosing an optimal location for your home theatre setup is essential. A movie room should be located away from the high-traffic areas of your home to help minimize outside noise and disturbances that can ruin a movie-watching experience. For this reason, an attic tends to work great! An attic can easily incorporate all the home theatre must-haves, like additional insulation for soundproofing or a projector and surround-sound wiring, which can enhance your movie-viewing experience.
2. ROSES ARE RED, AND SO ARE THESE BEDS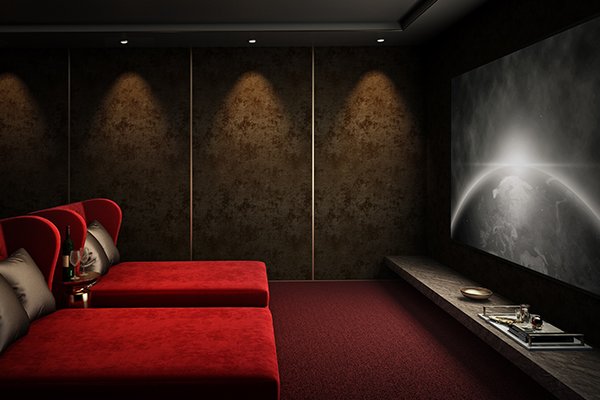 Movie night can be a buzzkill if it's not done right! But with some wine, and fine dining, movie night can never go wrong. Especially when you have a home theatre design idea like this. For those of you who go together like peanut and butter, salt and pepper, milk and cookies, this home theatre design is perfect for a satisfying snuggle. With double beds in the romantic colour of red, it makes this home space no less than a five star date night! Are you ready to raise a toast with a bottle of champagne?
3. CHOOSE PERTINENT TONES
There are abundant options for choosing paint colours for your home, but there are some specific paint colours and tonal schemes that form a functional home theatre room. Dark shades, like brown, grey, and black, help cutting down or eliminating the reflection of light, so you have a clearer screen while watching your film. Additionally, choosing paints with a matte finish can help elevating your viewing experience to another level.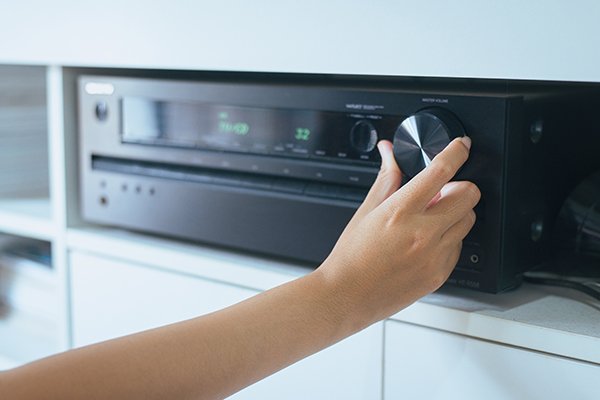 It's well said that "A house is made of bricks and beams. A home is made of love and dreams." The heart of home theatre decor lies in the right sound system that mimics the experience of a cinema hall. Make sure you get a high-end speaker and sub-woofer for the room, rightly arranged if you want the very best out of it. Some theatre designs may also require the installation of sound products for soundproofing in the internal wall to prevent the sound from leaking into other rooms of the house.
5. LIGHTS, SCREEN, ACTION
Depending on your taste, the right screen or a video projector is again a paramount thing to have and the rule that mostly works is- 'The Bigger, The Better'. Another point of consideration here should be the distance required between the screen and the sitting arrangement for comfortable viewing because too close or too far of a view can give you an eye and a neck strain. After that, Lighting helps create the perfect atmosphere for any movie. This reminds us of "The Fault In Our Stars" where both the protagonists lie in the lawn and stare into the deep dark blue sky filled with stars. This home theatre room design gives you an outdoor movie feel with a false ceiling designed to have lights to replicate stars. Who's up for an indoor yet outdoor film?
6. BEAN BAGS ARE ALWAYS COOL
Nap, Watch, Repeat – design your own home theatre with these crazy snuggly soft huge cushions bean bags. If you love watching movies but tend to nap in the middle, no problem! Now nap with ease in this home theatre. Equipped with a modern home theatre with a beautiful sky view, this home theatre inevitably brings out a beachy vibe.
7. SOMETHING ROYAL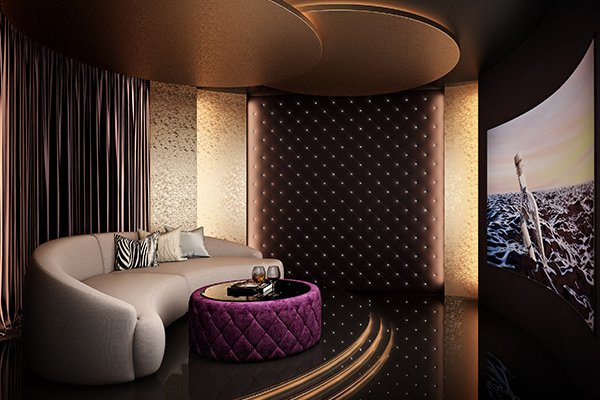 Somewhere something incredible is waiting to be known. That somewhere is in your very own home theatre room! This home theatre design is perfect for some private space. A classically designed home theatre with luxurious, silky curtains and a purple velvet sidewall this home theatre has an antique oval table with a luxurious sofa set which makes this home space giving all the royal chills. Thus, the right furniture fixtures can add style in building a gorgeous room.