Planning To Get Your Hands On A New Pair Of Kicks By Balmain? We Don't Think It's a Good Idea. Why? Here's Everything You Need To Know Before Making A Purchase.
Balance is the foundation of life. It is said that to keep the perfect balance in life, one just needs to keep moving. Comfort, style, fit and most importantly – support; if these are the attributes you look for while buying a pair of kicks, then you're on the right track. There are many reputed brands out there serving the best of shoes for every need that can uplift your fashion statement like nothing else. Well, not all of them stand by these expectations.
One of the brands that has made its name in the luxury fashion model is Balmain. While going through the sneakers collection, what grabbed our attention was something unexpected. Sneakerheads, don't get your hopes too high as you might not get what you expect. In the sneakers section, we came across the B-It puffy quilted leather slides.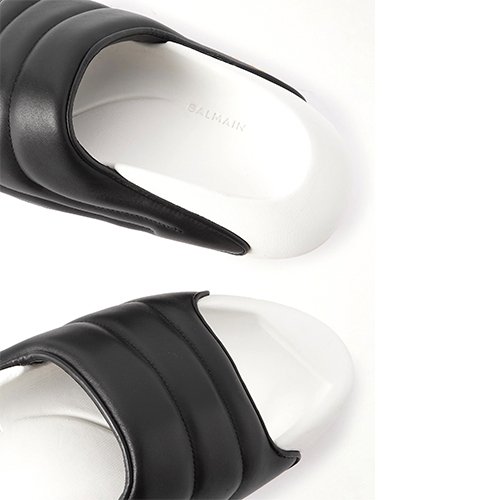 Similarly, there are the suede slides which have a similar design but these are made of wooden cork material. Now, let's get a little deep into the details of these two pairs. While one is made of leather which is commonly used in many footwears, the other one has a sole made of suberin. The design of these slides might not give you any balance. The sole of these slides is curved at the platform with suede uppers which we don't think will give you any stability at the foot while walking. So, watch out for that. Some people might find these slides versatile to carry while dressing up but we doubt if you if these would be anything but comfortable. Also, don't neglect the see-saw effect that these slides might throw due to the lack of any grip on the ground. Thanks to the offbeat design.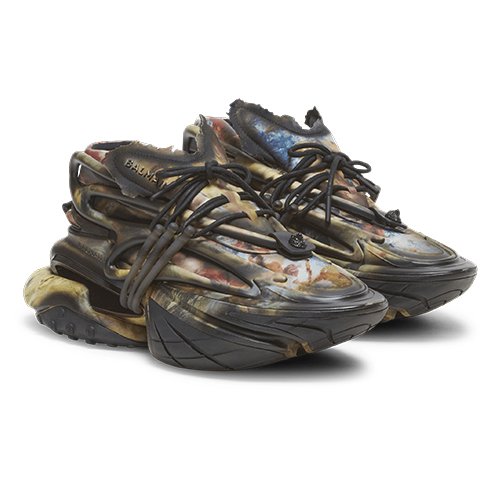 Now, let's come to the pair of sneakers which are one of the collectables in the brand's catalogue. The Unicorn trainers in printed neoprene and leather are another bizarre fashion item on Balmain's list. If you're a brand-freak kinda person, you can surely go for these trainers. Though we would suggest thinking twice to go for a pair of sneakers that look like they're dipped in mud.
This could be a fascinating pair of sneakers for those who like to experiment with their style. However, the hollow sole with an air-cushion effect and the studs under the heel will give a great grip to the ground for this one.