This Month We Have A Timepiece That You Can Play Around With For As Long As You Like With Just A Ball Bearing Inside A Maze.
Many assumptions are made about Gen Z's. They are the "most sustainable generation", the "most digitally savvy", and the
"laziest". But they are not easy to put in a box when it comes to shopping behaviours. As the world around them changes, Gen Z consumers are interacting differently on and offline — and the next generation is maturing in similarly unexpected ways.
When it comes to how they shop, Gen Z and Gen Alpha are hard to predict and where the opportunities lie for luxury brands.
Let's see if the watch we have this month, is something Gen-Z will approve or not.
Hautlence, the high-end Swiss watch company based in La Chaux-de-Fonds, knows much about luxury. The company was founded in 2004 and over the last 12 years has gained a loyal fan base for its timepieces.
The brand has repeatedly demonstrated an amazing ability to conceive and deliver remarkable timepieces. Thus, we have a
"Playground Labyrinth" watch of this brand which might turn out as a deal maker or a deal breaker.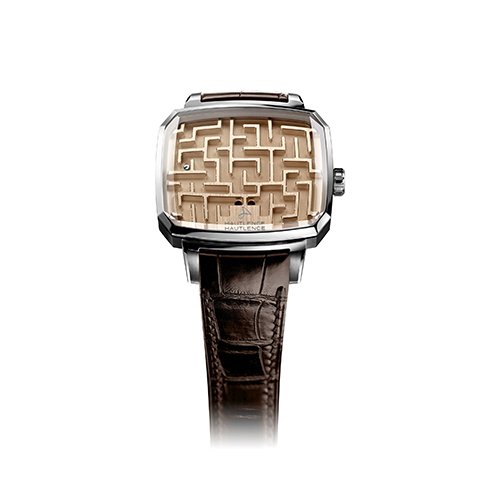 To make the passage of time more pleasant, the brand has diverted the timepiece from its traditional function while painstakingly adhering to the craftmanship and art of watchmaking. The result is it being a very luxurious wristwatch that allows you to "play", but doesn't allow you to see time.
The static imagery of this piece of "wearable art", being not a watch, but it does have some mechanical components. This object, crafted in a fusion of grade 5 titanium and precious metal, is described as 'a useless yet entirely essential object'.
It is, however, the world's most expensive ball maze game, and this wristworn maze can easily distract you if styled in a meeting. The case resembles a wristwatch, but close examination reveals no time indications or oscillating balance wheel.
The wearer is just invited to navigate the ball, from its starting point, through a miniature streetscape, to its final destination, a hole in the epidermis of the dial. If you're someone who lacks hand-eye coordination, this extraordinary timepiece might be a perfect pick!
Hautlence doesn't even try to equivocate the watch with any semblance of an actual poetic point. The best they do to justify the Hautlence Playground Labyrinth watch is by stating that it is "an entirely essential yet fundamentally useless object." And we can truly agree with at least half of that.
If you can take time out from the frenetic pace of life and are ready to get lost in the moment while playing with a wristworn
maze. This is all yours!