It's Time To Ditch Your Irons, As Now You Can Even Slay With Creased Apparel. Ever Heard This Before? Dive In To Know The Reason Behind This Statement.
Fashion keeps changing by the minute. Yet, we do our best to build our closets. And the winter season, despite covering us from head to toe, also ensures we stay stylish all the time. This time we can't keep our eyes off of the creased leather Blazer from Acne Studios crafted from leather with a creased finish and flower-shaped buttons in various colours. On seeing it, the first thought which came to our mind was – Is ironing a thing of the past? This odd move might have made some people happy and inspired those who are lazy and abhor ironing. But such clothes don't look appropriate formally. However, they can set some casual statements.
Creases ruin the beauty of clothing and in our view wearing creased or crumpled clothes isn't fashion. Such clothes not only look unprofessional but seem uncool. Acne Studios's fans can style this blazer for parties. But it is the non-identical buttons that throw one off. There is an improper matching of orange and green flowered buttons on the black blazer but that can attract those having a different taste in fashion. The drawback which we feel is that the blazer is made of lamb leather. The lamb leather is not durable and is more vulnerable to wear and tear. So, it won't work in the long run.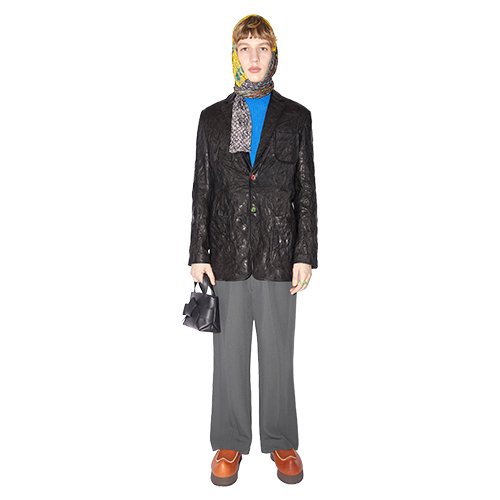 On seeing it, the first thought which came to our mind was – is ironing a thing of the past?
It takes time to protect and store lambskin leather garments properly due to their delicate nature. Lambskin leather is not as resistant to the environment and can make it more susceptible to scratches, stains and discolouration because of it's fragile nature. It also has a drawback in that it stretches over time and is hard to maintain. The blazer can also create a sagging effect if not hung or stored properly. So certain measures need to be adhered to when buying such a blazer. At the same time, there is a certain superiority according to some people's views that goes alongside wearing creased clothes. They feel that the power of this fashion shows that one is too busy to iron or think that it looks aesthetic to wear crumpled apparel!
We do understand the casual look – be it distressed or crumpled – but we feel that wearing creased clothes is not a trend that will, or should, take on. Creased clothing merely suggest fashion-enabled laziness and moving away from ironing which isn't for everyone. We are doing immense cruelty to animals by wearing leather clothes. Even unborn calves whose skin is considered a "luxury" material, are mutilated for leather. The animals are brutally cut out of their bodies and slaughtered. After knowing such facts who would like to wear such a fabric? But if you still feel that it's worth checking out, you can do so! Don't let us stop you.