Prominent For Its Unique Craftsmanship, One Should Know About Balenciaga's One-Of-A- Kind Handbag If It's On Your Wishlist. It Is Our Duty To Warn You About The Good And Bad Of Any Accessory, So, Here You Go!
We all live in a world that is flawlessly flawed and has various lifestyles, racial backgrounds, cultures, personal preferences, and tastes. We dress in a variety of accessories that provide countless choices or clothing, assisting you in making the most of each item you own. However, bags and other accessories are crucial finishing touches for every outfit.
When it comes to social, economic, and fashion terms, handbags are a reflection of who we are and where we belong. Our
handbags, which are the most noticeable piece of accessory we own, serve as symbols that let other people know what tribe we belong to as we carry our needs within them. Well, to help you out with that, we're here to let you know of the latest bags in the fashion peddle. However, we will be discussing a special bag this time, which you need to know all about if you're planning to make a purchase.
Talking about luxury and fashion together, there is no way one can miss out on Balenciaga. While scrolling through the designer catalogue of the brand, we came across a bag that deserves the maximal attention. We're talking about Balenciaga's
Blanket printed tote bag. When we talk about fashion, luxury, and class altogether, this bag is not what we ideally look for.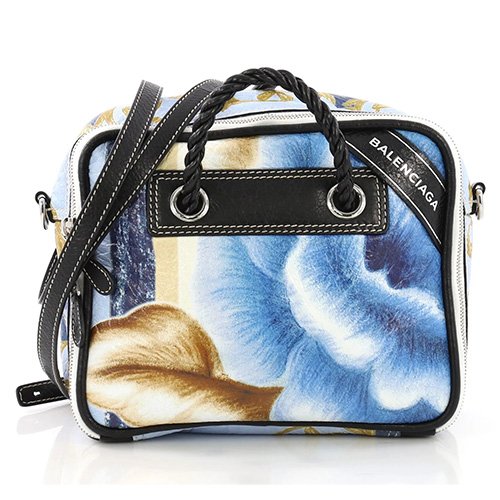 This bag by Balenciaga had become talk of the town, yet again a few weeks ago, and the reasons are quite obvious. Considered a designer receptacle, this was on the list of favourites for many A-listed stars like Kim K. The bag looks exceedingly similar to something. Well, if you think harder, you will realise we all have something like it at our home. We really wish there was a cut-above way to put it out but this blanket- printed bag by Balenciaga looks hilarious.
With a leather textured print of a blanket, this bag looks nothing but a Xerox of a blanket enfold. For the huge price that the brand is known for, this bag isn't what would look on your fancy shelf nice bags. Talking particularly about totes, there are undeniably so many better options available.