For some, buying a new handbag when seasons change is the ultimate way to welcome a new season. If that describes you, read on to find the best winter bags and trends to adapt to.
Winter has fully opened its wings and now it is fashion's turn to follow these steps. A new season means a new bag as well, so don't be afraid to plan a shopping trip – it is much-needed! The sweater weather has set in and our excitement has fully bloomed. When a new season like winter arrives, our first thought usually goes to preparing our wardrobes by trading in shorts for pants and we bid goodbye to camisoles and bandeau tops and welcome sweaters – the fluffier, the better! But while you may not immediately think about handbags, they actually hold the power to absolutely throw off your whole vibe. And let's be real here; "Where did you get your handbag from?" is pretty much a universal conversation starter, no matter the occasion or setting.
This means that no matter how much we daydream about warm oversized coats and chunky knitwear, bags deserve equal importance. Winter has always been a full-outfit affair, to make sure you combine style and functionality, we have selected a few winter trends for you that will help you encapsulate the winter mood perfectly. Offering styles that will stand the hustle and bustle of winter while staying on-trend at the same time – a good deal, isn't it? And don't worry, there's a trend for everyone out there, no matter the aesthetic and we have managed to find a bag that fits that trend. So, without wasting any more time, let's get into it.
TREND 1: DISTORTION
Bag: Loewe, Bracelet Pouch In Nappa Calfskin
Bracelet Pouch In Nappa Calfskin from Loewe
Anybody can feel a little wonky from time to time, this includes bags as well! The best way to describe this trend would be perfectly imperfect as they look gorgeous while adding a little dimension to your outfit at the same time. They're also a great way of adding a twist to your winter staple so don't forget to add at least one distorted handbag to your winter collection.
Talking about the bag we have picked out for this trend; the Bracelet Pouch in Nappa Calfskin from Loewe fits the trend perfectly. The bag is named after its distinctive tubular shape that can be converted into a bracelet too. The bag's tubular silhouette is the distinctive feature as the bag's flexible construction is what makes it possible to convert it into a bracelet. The bag is finished with embossed calfskin plaques on each end and comes with a detachable and adjustable strap with stud fastening that enables you to wear it over your shoulder as well. Featuring a top zip closure, the bag is cut from pleated lambskin leather and comes in 6 colours. The best part here is that you can clip the bag around your wrist which makes for an artful alternative to just simply wearing it over the shoulder. One thing is for sure, you're going to be the one with the most unique bag wherever you go!
TREND 2: L'OBJET
Bag: Anya Hindmarch, Crisp Packet Clutch Bag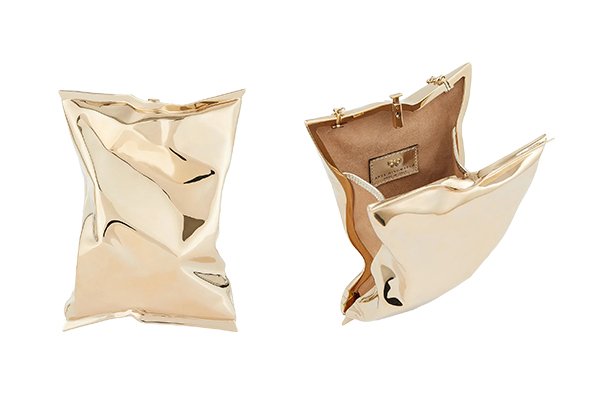 Crisp Packet Clutch Bag from Anya Hindmarch
The Broccoli Bag seen at Collina Strada's SS23 show certainly got people talking; but whether you find it good or bad, it is up to you to decide! But whatever your opinion on it, the 'It' trend for upcoming seasons is all about the 'l'objet' and we love it! The trend includes everything, from bags shaped like vegetables to those shaped like rats, and you can take your pick from the lot.
Our bag choice for this trend is the Small Crisp Packet Clutch from Anya Hindmarch and boy does it catch your attention! The bag looks exactly like a crisp bag packet would look which makes sense since the brand spent many months working with specialist Italian artisans to perfect the shape of each clutch to transform it into unique, wearable art. The bag comes with a detachable chain strap so you can easily carry it over your shoulder or across the body. It might not offer a ton of storage, but it will certainly turn heads! The bag is made of pale gold metal with a soft suede inner lining and will give a unique look to your outfit!
TREND 3: CHIC HARDWARE
Bag: Daana Saakena, Thana Caccio
 Thana Caccio from Daana Saakena
There are two types of handbag enthusiasts – the ones who prefer soft, pretty bags and the ones who prefer bags with an edge. This trend is for the ones who prefer bags with an edge and this trend includes bags with structures and hinges meant to be flaunted, not hidden. The bags under this trend feature chic hardware: which is an added accessory, and take the main stage wherever you go.
The bag that we've picked out for this trend is the Thana Caccio from Daana Saakena that is handmade in Italy using the highest quality materials. The unique shape of the bag and the gold-coated hardware that serves as the handle ensure that the bag stands out from the crowd. The decorative handle serves as an intentional design detail as well as gives the bag a functional element. The bag also comes with an adjustable, removable strap which makes it possible to style it cross-body, over the shoulder, or just as a chic bag. It comes in two colours and has a microsuede lining as well as pearl detail on the inside pocket. The bag is made in limited quantities, so make sure to get your hands on one before time runs out!