True, some bag trends tend to be transient. But, some also turn out to be classic, timeless pieces that warrant a permanent place in the closet. Let's check out some of the most timeless pieces from this year.
Unlike fashion and accessories, bag trends can sometimes be a bit transient. But that does not mean that all bags go out of trend always. And it also doesn't mean that all those bags already sitting in your closet need to be discarded! Some bag trends are timeless and don't become old for years. You'll find some truly iconic pieces from your favourite brands dating all the way back to the 1900s that are still as iconic as they were when they launched. In that spirit, we decided to take a look at some of the best pieces from this year that we believe are going to stay in trend for a long while. Take a look!
1. VERSACE, LA MEDUSA SMALL HANDBAG
La Medusa Small Handbag from Versace 
Versace has pretty much cemented itself in the list of the top 10 renowned luxury brands and it doesn't seem like it'll let go of it anytime soon. The Italian fashion house can be seen in the news every now and then for its luxe and remarkable accessories and extremely iconic bags. They showed the La Medusa Handbag on the runways during their Pre-Fall 2022 collection and it has remained a permanent fixture since then. It is adorned with a Medusa plaque that is the same décor found on the doors of Versace's first headquarters in Milan. Simply stunning, the bag comes in 8 colours and some come with texture as well. The bag is versatile and has enough space to fit all your essentials and then some!
2. SELF PORTRAIT, THE BOW MICRO
The Bow Micro from Self Portrait
Self Portrait is the quintessence of contemporary luxury and has become every woman's favourite brand since its establishment in 2013. The year was special for the brand since the creative director set foot into the handbag world through the launch of their first bag. The Bow bag was launched for their Spring/Summer 2022 collection and seems to have become a staple in every woman's wardrobe. The top handle and the sweet modern twist set the bag apart from the rest, and many celebrities have been spotted walking around town with this gorgeous bag. The timeless silhouette features a top handle and a detachable shoulder strap as well as a magnetic flap closure. The bag comes in two sizes: the micro and the mini; perfect for flaunting it at parties. It is also available in an array of colours that range from pastels to tan, black, crystals and many more!
3. CHLOÉ, WOODY LARGE TOTE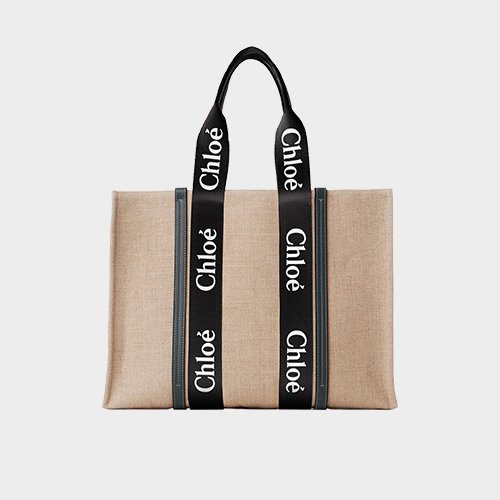 Woody Large Tote from Chloé
Founded in 1952, the Chloé fashion house has always been envisioning a revolution in runway fashion shows through powerful and bold feminine couture designs. The brand has been known for handbag designs that are capable of setting some serious trends. With this bag, the fashion house from France's pretty streets has chosen to head down the road of minimalism and practicality. This is not just a beach bag, it can also be used in your daily life. The compartments are quite spacious and the 2 straps have the branding running upfront. The bag is waterproof and is made up of cotton canvas. The single colour scheme features tan leather trims running parallel to the other trims. You can also carry the bag on your shoulders – it truly seems like a heavy driver in terms of functionality!
4. ALEXANDER MCQUEEN, FOUR RING FRAME IN BLACK

Four Ring Frame from Alexander McQueen
Alexander McQueen founded his own label in 1992 as well as serving as the chief designer at Givenchy from 1996 to 2001. The Scottish designer and couturier's many achievements in the fashion industry earned him the CFDA's International Designer of the Year award in 2003 as well as 4 British Designer of the Year awards in later years. The label has been responsible for some truly great creations in the handbag world and for those looking for a handbag that would make your life easier, this is the one for you. As part of the S22 collection from the label, the Four Ring Frame in Black comes in two colours – black and white. Made of 100% Calf leather, the bag has a metal clasp opening and is leather lined. It is big enough that you can get away with putting a good amount of stuff in the bag. The bag is elegant and you can carry it in a lot of ways to a lot of places – definitely a keeper!