Major Bag Alert! If You're Ready To Dip In The World Of It-Bag Fashion Map With Styles That Have Become Classics In Their Own Right. Dive In To Know All About It.
In fashion, no purchase feels quite as magical or poignant as a designer handbag. When you find "The One", it's as if the stars have aligned, and when you hold it in your hands for the first time, you can practically feel the ground shift below your feet. We stand firm on the fact that any designer handbag purchase needs to be made with an internal promise that you'll cherish it for a very long time. However, with many designers taking to their archives and celebrating significant milestones, there's also a nostalgia woven in with 2023's designer handbag offering; something that's sure to appease anyone who currently subscribes to the aesthetic.
Classic handbags from years gone by are being reimagined anew and winning over a legion of fashion-hungry fans in the process. If bright colours and bold patterns are integral to your style signature, a bag to match is undoubtedly the correct choice. And there are plenty of this ilk to choose from for 2023, too; don't you worry.
Every season, new handbag trends make their way into the street style world, and each season, we eagerly scout said
accessories. Right now, there are some unique styles trending that is sure to liven up your look in an instant and have serious
street-style star backing. From the latest creations at your favourite brands making their luxury-arm-candy debut and the new classics to covet, read ahead to find your favourite bag from 2023's designer- handbag line-up.
1. DIOR SADDLE MULTICOLOR
BAG WITH STRAP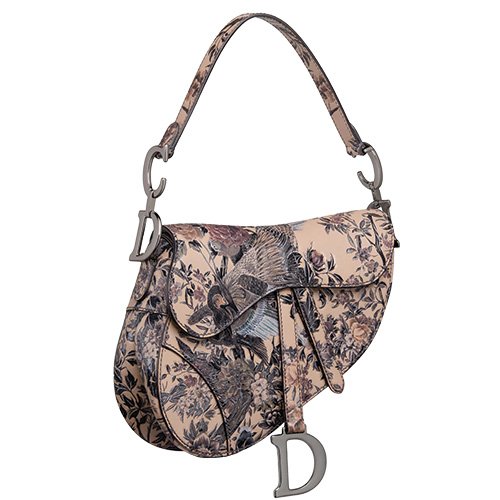 DIOR SADDLE MULTICOLOR
BAG WITH STRAP
When a bag is reissued decades later, you know it's a real gem. Just like the Dior Saddle Bag which was first introduced in 1999 and quickly became one of the accessories that every "It girl" wanted to own. With the revival of the noughties trend in 2018, the Saddle Bag was reintroduced and is celebrating a continued reign of success. Since its comeback, Dior has reimagined the designs, prints and colourways offered in the Saddle Bag form, with the upcoming cruise collection promising new studded
versions, embellishments and motifs. Whether you opt for a classic colourway, the iconic logo print or a fresh intricate style,
the Saddle shoulder bag has proven that it can stand the test of time.
2. JW ANDERSON BUMPER BAG WITH CRYSTALS
JW ANDERSON BUMPER BAG
WITH CRYSTALS
Jonathan Anderson is behind some of the biggest It-bags of today. Pledge your allegiance to classic handbags, from time to time. Heard of the Bumper? It delivers. But the Bumper is not your usual designer model. It's from JW Anderson's "psychologically bombastic" spring/ summer 2022 collection, for one. Its tubular edging and ultra-plush leather tap creates a softer silhouette than the other designer handbags for 2023, which makes it unique. Choose between bright, clashing colourways or monochromatic palettes.
3. VERSACE GRECA GODDESS SHOULDER BAG
VERSACE GRECA GODDESS SHOULDER BAG
The Greek heritage and mythology are synonymous with Versace and formed Gianni Versace's greatest inspirations. The late designer even went as far as to adopt the mythical figure of Medusa as the central image for the Versace logo. For 2023, the
brand pays homage to the folklore of its own heritage with the new Greca Goddess handbag. With clutches and crossbodies,
the ornate Greca chain hardware and detachable chain strap carry across the collection, elevating the supple, structured
leather flawlessly.
4. SMALL CHAIN BAG QUILTED IN OPTIC WHITE BALENCIAGA CRUSH
SMALL CHAIN BAG QUILTED
IN OPTIC WHITE BALENCIAGA
CRUSH
The truly iconic bags rely on recognisable shapes to distinguish them from the rest.Balenciaga finessed this when it released the Hourglass bag back in 2019 that had a curved base with dramatic pointed edges and the brands B motif. The exaggerated
silhouette and pointed edges of this shape have become instantly recognisable as the brand's own and reflects its vision for the brand. For the new season, the Hourglass bag is now joined by the Crush bag, a softer rendition that still has the iconic shape but is less structured to add an ease to the silhouette.
5. CHAIN BAG SMALL, PANTHÈRE DE CARTIER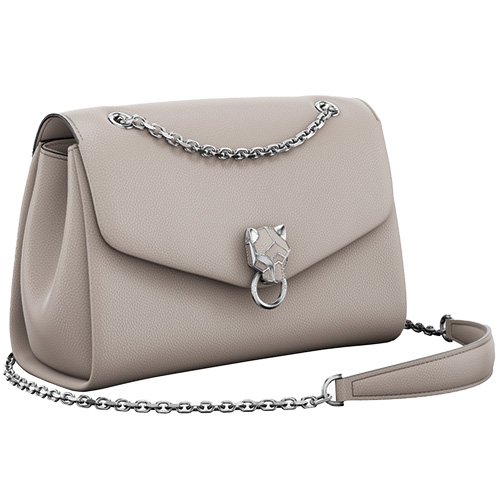 CHAIN BAG SMALL, PANTHÈRE
DE CARTIER
When it comes to the word luxury, one brand that is adept at creating jewellery to define generations— from the Love bracelet
till the handbags—now Cartier has cast its covetable spell over handbags, too. Its latest addition, the Panthère De Cartier bag, has classic written all over it. From the gold chain strap and exquisite clasp to the array of colours—choose from black, blue, white, grey, or red—this is a designer bag that shares appreciation for timelessness.