The boot season is here and the wait for the best ones is over! Read on for our top picks for this season.
Diamonds may make for a woman's best friends, but new shoes are what she truly covets. There is always some reason we can cook up to get another pair – completely justified, of course! For today, that reason is that winters are here! And so are new boots! Don't even pretend you don't care, and definitely don't try to fight off the urge of getting a new pair. We know! Now that the boot season has fully caught up with us, you are probably on the hunt for some cool new boots to add on to that already dwindling collection. When it comes to cold-weather essentials, boots are a must-have. They are a good investment any time of the year, but in winter, they pretty much become the go-to choice for everyone, especially tall boots. When the winter chill starts to play freeze tag with your feet, tall boots come to the rescue. They're practical, they're stylish and they're comfortable. A good pair of boots will keep you warm and help you brave the brutal cold in style. You definitely need to start with getting a staple pair that'll go with every outfit and then start expanding that collection with some fancier options. The boots we've picked out, will make for great staple pieces if you're just new to the world of boots and just starting out your collection. Some of them may even classify as dressy boots so you can get the best of both worlds. Read on for our top boot picks and how to rock them in style.
1. Jimmy Choo, Giome Over The Knee 140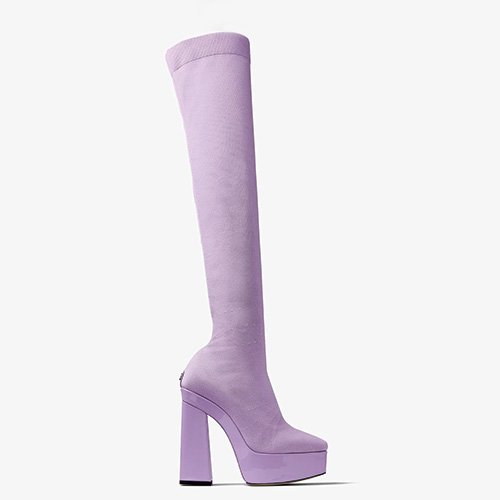 Sardine top handle bag from Bottega Veneta 
One of the most sought-after shoe brands in the world, a pair of Jimmy Choos is always a winner! Every design the brand comes out with, makes it to everyone's must-have list no matter what. The brand was born in London in the 1980s and the reason behind its loyal following is the excellent artistry in each and every shoe. Our suggestion for you is the Giome Over The Knee 140 in this gorgeous wisteria colour. As Taylor Swift once said, "I want to watch wisteria grow right over my bare feet." Well, these boots certainly fit the lyric to a T, don't they? Because if the wisteria is this pretty, we'd love to see it grow all over our bare legs! These boots reach a little above the knee and come in two colours. They're perfect to pair with short dresses, or with skinny jeans. The simplicity and eye-catching design make them highly attractive. They fit perfectly in a sock style and feature a structured square toe and block heels which makes them comfortable to wear as well. The styling options are endless and they will look gorgeous no matter how you wear them.
2. Christian Louboutin, Condora Botta Alta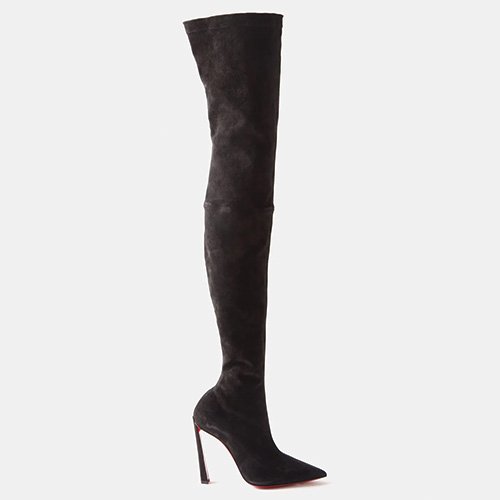 Jackie 1961 mini shoulder bag from Gucci
Ah, the brand that made the high heels even higher! They might be hard to walk in, but the trend is not going anywhere, so better buckle up! Louboutins are instantly recognizable from afar, far away due to the brand's signature bright red sole that makes them highly coveted. Amazing quality, even better craftsmanship, who wouldn't want a pair of Louboutins for themselves? Our pick is the Condora Botta Alta from the brand. Sleek and sophisticated, these thigh boots have a pointed toe similar to a bird's beak. This boot sits high on the leg and has a zipped fastening with a 100mm slanted heel that showcases the Maison's innovation and creativity. The sleek lines that play with graphic elements ensure the boots exude timeless elegance that makes them elegant. Style them with any colour, wear them out to lunch, to the office, to a casual date, or even on a night out, these are versatile and classy enough to go with it all!
3. Manolo Blahnik, Oculara brown Suede Knee-High Boots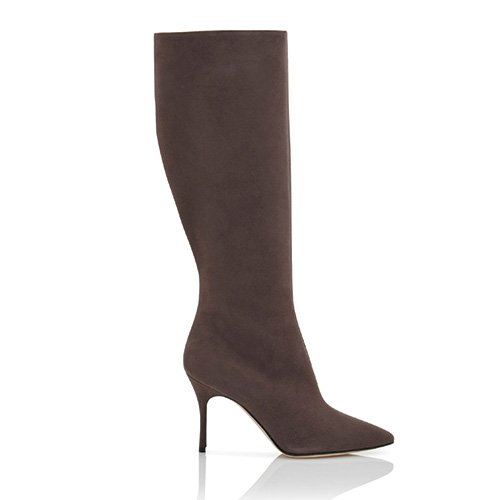 Amini Betty from Amina Muaddi
If you're a "Sex and the City" fan, you're probably aware of how into Manolo Blahnik the lead character was that she was hesitant to part with her pair even when a thief was victimizing her! This alone makes clear the hype around the brand. Manolo Blahniks symbolize a classic style that everyone is after these days. The brand went against the current in the 1970s and chose to focus its attention on creating and perfecting the stiletto heel instead of the chunky platforms that were the norm back then. The move surprisingly paid off, and thus, the stiletto has stayed its mainstay till now. If you're after a more fall-appropriate and warmer colour, we'd like to direct your attention to these gorgeous brown suede knee-high boots from Manolo Blahnik that have the potential to become your new go-to pair. They feature a zip closure and a stiletto high heel that measures 90mm. They combine a natural colour palette with unadorned forms to help you create a perennial wardrobe. Pair these with mini dresses for a casual look. You can pair them with shorter evening dresses for a more elegant look as well. For a day around town, pair them with a simple cardigan and white jeans and watch the colour pop!
4. Balmain, Moneta Leather Thigh-High Boots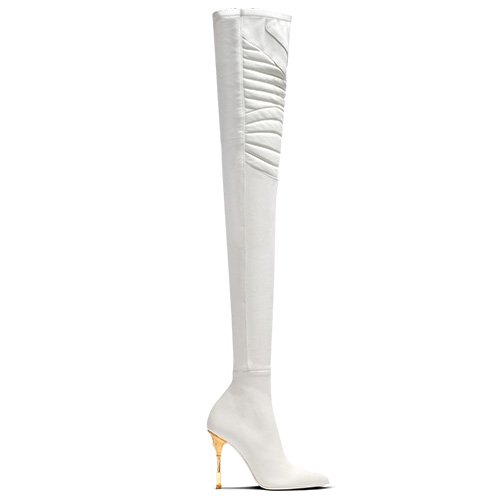 Mini Lady Dior bag from Dior
Anything crafted by Balmain is the very quintessence of haute couture. Having been counted among the "Big Three" of Parisian fashion, Balmain has cultivated a great reputation for itself. The designs are admired by all and celebrated as the spectacle of French luxury and elegance that they are. If that is attractive to you, you could opt for these Moneta Leather thigh-high boots from Balmain. Made from lambskin, these come with engraved Moneta heels, gold hardware, leather soles and an inner side zip fastening. The boots are stylish, and will look good with almost anything. They come in two colours: black and white, so you can take your pick. They give a snug fit, so you can wear them with knee-length or midi dresses, or over slacks and jeans to let the boots do the talking. Don't pair them with any ultra-dazzling outfits since these boots are the clear stars of the show.
5. Gucci, Women's boot with half Horsebit

Mini Lady Dior bag from Dior
Gucci's fashionable shoe designs made it an instant classic and cultivated a loyal following as soon as they launched. Gucci's shoes are lauded as comfortable and commended for their amazing quality. So, if you're going the Gucci way, you might want to check out these Women's Boot with Half Horsebit from the brand. Available in two colours, the boots are a nod to the House's equestrian past as the Horsebit has become a historical and contemporary emblem for the brand throughout the years. The shoes get their name from the half Horsebit stirrup that defines the boots crafted from black leather with the gold-toned hardware as highlights. The almond shaped toe and the 75mm heel height go perfectly together, making the boots elegant and beautiful. Pair them with white jeans to make them truly stand out, and you have yourself a winner!