Everyone knows it's that time of the year- time to update your bag collection with the latest fall releases!
A tinge of coolness to the air and a time of colourful leaves; oh yes, Fall is definitely here! And so are the latest bags from the Fall/Autumn collections! We know what has got us more excited! Hint: it's the bags of course! So, what does the season have in store for your wardrobes in terms of bags? It feels like designers have leaned into their overtly feminine side this year; with Y2K revival, crystals, sequins, and heart-shaped bags taking centre stage – and who can ignore the #Barbiecore vibes going around at the moment? But we have good news for the more practical of us all – designers did not forget to also include some practical and austere bags as well. After all, why sacrifice utility for fashion when you can have it all? Continuing that thread of thought, we have found out the best of the latest shoulder bags that are fall-appropriate. So, without further ado, let's begin bag-browsing!
1. SMALL ROMAN STUD THE SHOULDER BAG IN NAPPA WITH CHAIN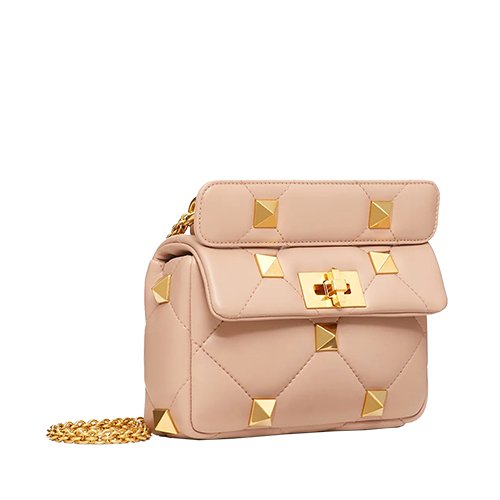 Small Roman Stud the Shoulder Bag in Nappa With Chain from Valentino
Every colour tells its own story, just like every bag has its own story. And the Roman Stud bag from Valentino has quite a tall tale to tell! The Roman Stud bag has been quite popular since its release and celebs have been found sporting all past variations of the bag religiously. But for the Fall 22 season, Valentino has introduced a new version of the bag that is available exclusively online. The noticeable difference here is that the bag's size has been reduced which makes it even more aesthetically pleasing. It comes in 5 colours, but we feel that the Rose Cannelle seems most Fall appropriate. It comes in lambskin nappa and is equipped with a detachable sliding chain strap as well as a detachable handle, which means that you can wear it as a crossbody/shoulder bag as well as use it as a handbag. We don't know about you, but we love bags that serve double duty!
2. CHAIN SHOULDER BAG TRIOMPHE IN SHINY CALFSKIN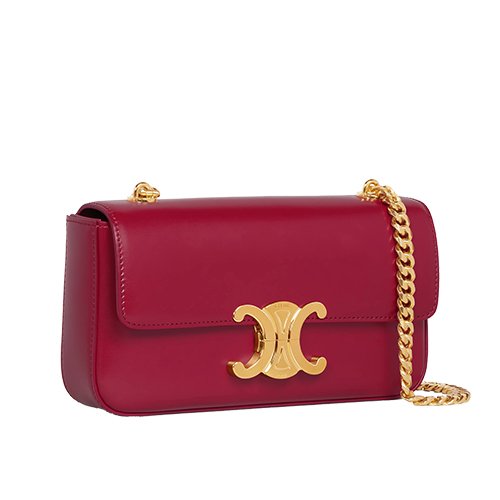 Chain Shoulder Bag Triomphe in Shiny Calfskin from Celine
Celine's latest offerings for the bag world are all exquisite and also perform well in terms of practicality. The bag looks elegant and minimalist and the smooth calfskin leather makes one want to carry it all day long. The bag is super chic and is ideal for everyday wear and is lambskin lined. It comes in 5 colours but the bright reddish hue of the Carmine shade is the most Fall appropriate and will make an impression on passers-by as you strut down the sidewalk. The bag's gold finishing is extremely clean and the metallic closure on the opening flap lends the bag another dimension and brings some character to it. Truly a great choice if your eyes land on this one and refuse to move to another option!
3. PUFFER SMALL CHAIN BAG IN QUILTED SUEDE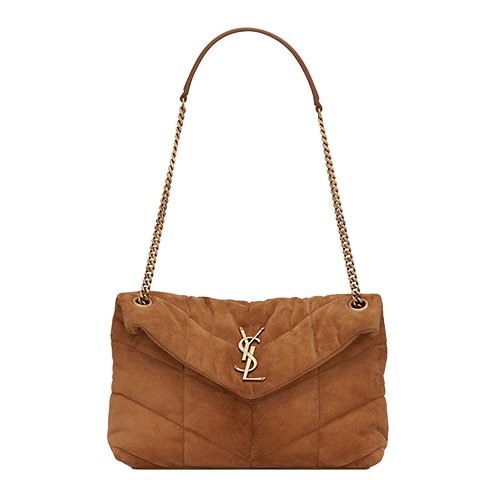 Puffer Small Chain Bag in Quilted Suede from Yves Saint Laurent
Ah! Good old Saint Laurent; one can always trust them to come up with the best of the best, and they didn't disappoint this time either. The Fall offering from them that we've been eyeing, is the Puffer Small Chain bag, which comes in quilted suede no less. A shoulder bag that comes in plush proportions this version has made an appearance in tan suede – the perfect Fall colour. It is a re-imagined version of the already much-adored Loulou Puffer Small from Saint Laurent and this perfectly proportioned update seems best for everyday styling. The mixing of the top handle and the adjustable shoulder strap is very practical on the brand's part and the soft fabric lining ensures your possessions stay protected always. It includes an internal zipped pocket, so you don't need to worry about losing out on space. We are absolutely agreeing with the vision Saint Laurent had for this bag – absolutely gorgeous.
4. MEDIUM DIOR CARO BAG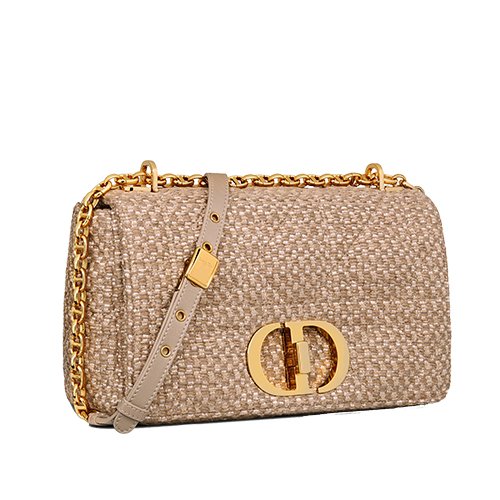 Medium Dior Caro Bag from Dior
Dior's expertise in combining modernity with timeless elegance has been noted by many over the years. And the brand seems to keep continuing its handiwork as is apparent with its latest collection. The Fall bag suggestion from Dior that we recommend is the Medium Dior Caro bag that has seamlessly combined modernity and elegance. Dior's bags are crafted expertly and also feature hand-sewn details, giving them a unique look. The bag features an embossed '30 MONTAIGNE' signature on the back and an adjustable, removable 'CD' chain link strap with a 'Christian Dior' inspired buckle. The design has been crafted in brown embroidery with a tweed effect that gets its distinguished touch from its Macrocannage motif. The detachable chain shoulder strap enables it to be carried by hand, worn shoulder or crossbody which comes in handy. Go ahead, get it for yourself if you're impressed!