Emily in Paris Fever Is Major at the moment. We are Going Crazy Over These Beauty Looks & You'd Look Absolutely Stunning If You Try Them Using Our Tips, Check Out!
Remember the time when Sylvie said, "Oh Emily you're turning more French by the day." We know she meant it when it comes to love & not being dull in Paris, but we can't get over how her fashion & beauty quotient was more French in Season 2. While adapting to that Parisian lifestyle, Emily did turn her makeup looks to True French classic style.
Well, we do know her confidence was on point but all the fresh, modern, and colorful fashion and beauty looks embraced French culture to the best and did give us major inspiration for the month of love.
We know Paris & the most anticipated series Emily in Paris is all about falling in love, and that is why we have picked out the best beauty looks from the series that you can create for Valentine's Day Date night. The looks below will make your amoureux(lover) fall in love with you all over again. To make it even more special, we have also mentioned some tips & products that can help you achieve the look to perfection. Glamour!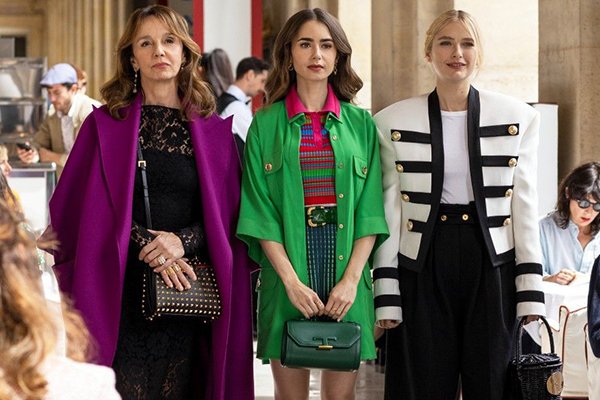 The New Emily
The first look is from the very first episode of season 2, where she is wearing a striped sweater and an Elie Saab Coat, her makeup is natural, and like any other French girl, she has kept it natural with the lips by going for a moisturizing balm than a matte lipstick. Lily Collin's brows are beyond perfect; this particular look had naturally brushed up brows that looked genuine. As for the hair, we are just so jealous of, oh that volume. To achieve this look, try to avoid making the hair look "too done."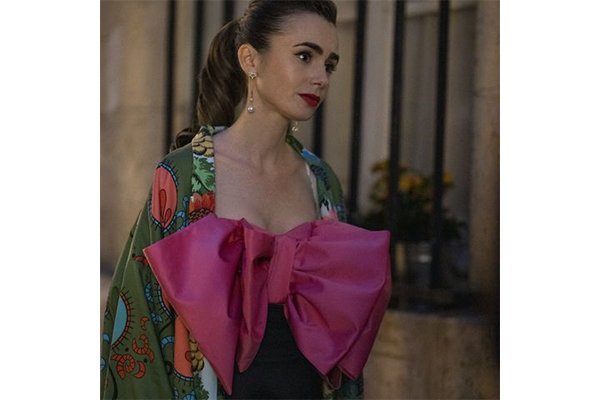 Birthday Look
Speaking of her birthday look in the third episode, she has her hair all pulled back in a ponytail with a little styling to give the look an oomph factor. Well, season 2 is indeed witnessing bold makeup looks as she did feel more comfortable in the environment towards the end. Having said that the red lipper used on her birthday makeup look is absolutely stunning and wouldn't look chic any other way. The face is again matte-like in most looks but has a glowing base.
Our favorite look
The renaissance era was back but considering how modern and dash Emily is, the look was created keeping that in mind. The hair is made in a bun with ample charming accessories that are stealing attention. As for the makeup we see perfect shaped brows, eyeliner in a true French style, and again a dark-colored lip matching the outfit. Just one thing confuses us if the highlighter is doing the magic of that glow or a dude from London!
"St. Tropez with the girls"
St. Tropez with the girls
We're so crushing over her purple dress from the night the girls partied like crazy. The makeup look was recreated similar to a look inspired by Grace Kelly. So, you create this look using two different shades of blush just like Kelly places a darker, cooler tone under your cheekbones and a brighter pink color on the apples of your cheeks. Don't forget that French liner and Kelly's elegance. For the lips, you can go for red, berry, or any dark shade lipstick. The hair is again pinned in a bun with some 60s styling!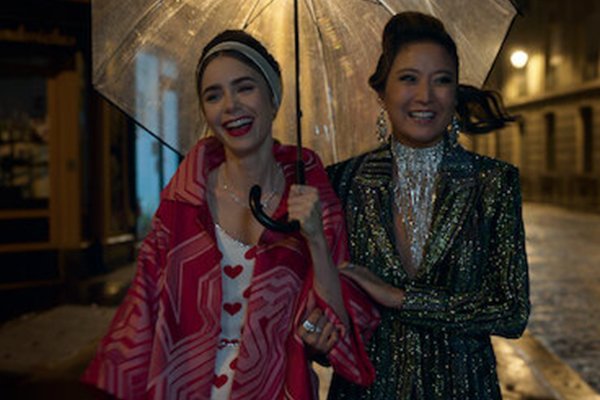 "Cruising and we are crushing"
Cruising and we're crushing
This was a true retro look recreated by taking inspiration from Brigitte Bardo. The white scarf on the head as a headband is quintessential along with red lipstick to create a retro look like this. The base is naturally glowing and shows the skin has been taken care of immensely before using any makeup. For eyes, she's kept it minimum with the liner but makes sure to adjust the thickness of the liner depending on the occasion or time of day.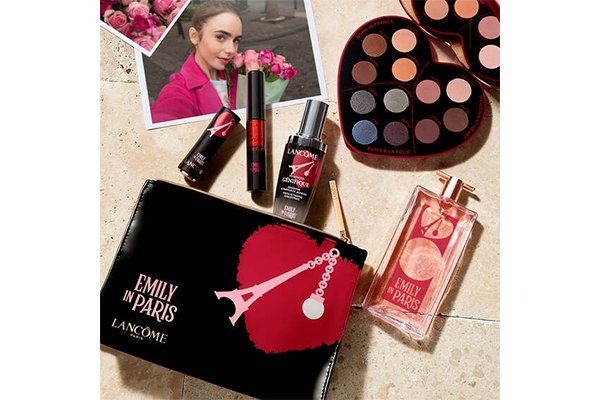 "For the love of paris collection by Lancome"
"For the love of Paris collection" by Lancôme"
For a little surprise for all our readers who are also fans of Emily in Paris, Lancôme, a French luxury perfume and cosmetic house brand and a part of the most prestigious brand L'Oréal curated an Emily in Paris collection in Collaboration with the series. "For the Love of Paris collection" is inspired by the city of love and that French "Je Ne Sais Quo" along with Emily's unapologetically fun modern style!" The collection includes a fragrance, an eye-shadow palette, nude lipstick, and skincare product. You can use these products to create an astonishing look on valentine's day, get your hands on these now before it's too late!