2022's street style involves heavy use of leather. Here's some styling inspiration to help you decode the trend and stay on top of your styling game this season!
Fall gave way to the cold winter air and here we are in November, planning out our winter wardrobes. We admit that styling becomes a little bit hard as winter approaches. But we did not say it is impossible! That said, new seasons bring with them new trends, which is the case for this season as well. We diligently scoured the latest runways and winter collections from all your favourite luxury fashion houses to figure out the trends for this season and we are here to tell you, we did not let you down! We have discovered a lot of new trends, but it was two trends that caught our eye the most and that is what you're going to be reading ahead. The trend we're talking about right now is the appearance of leather. Leather is everywhere this season especially prominent in street style.
Oversized leather jackets, dresses, boots, bags, everywhere you look, you'll see leather! Although this is not that novel a trend, it is still a great one and one that has been seeing a lot of popularity right now. Leather everything has not really seen as much popularity in past years as it is seeing right now. So, this is the perfect time to incorporate some leather pieces into your wardrobe for this winter. The trend has been spotted in various ways; from head-to-toe leather to oversized leather to even faux leather, there are myriad ways that you can style it for yourself too. But if you're not sure how to style leather in your own wardrobe, here we are, lending our help to our dearest readers. Shiny leather is fairly popular and so is a mix-and-match type of look. Another style seeing huge popularity is patchwork leather detailed leather jackets which are a great way to protect yourself from the cold winds as well. If leather is not your cup of tea, but you still want the look, we have a solution for that too. You can pick up the "pantaboots" that Kim K is so well-known for and pair them with a leather-inspired top. You could also hunt down some leather-mimicking outfits which give the exact look leather outfits do, but involve no use of leather. To make it even easier, we have curated some outfit options that you're guaranteed to fall in love with, no matter if you're a leather novice or a seasoned leather outfit expert. And hey, vegan leather is completely acceptable here so you don't need to worry about compromising your morals either! So, keep those cards ready and read on to find your personal style.
1. HEAD-TO-TOE LEATHER
1. GIVENCHY, Braided leather peplum vest, approx.
Rs. 8,65,390
2. LORO PIANA, Leather straight-leg pants, approx. Rs. 4,92,730
3. SAINT LAURENT, Micro Gaby quilted leather shoulder bag, approx. Rs. 65,840
4. GUCCI, Cara logo-embellished textured-leather loafers, approx. Rs. 86,950
5. LAUREN RUBINSKI, 14-karat gold, enamel and leather necklace, approx. Rs. 81,980
1. GIVENCHY, One-shoulder cutout twisted leather mini dress, approx. Rs. 2,65,000
2. VALENTINO, Valentino Garavani One Stud 100 embellished patent-leather pumps, approx. Rs. 76,190
3. AMINA MUADDI, Paloma mini crystal-embellished satin clutch, approx. Rs.  1,60,660
4. JIA JIA, Moi Et Toi 18-karat gold tourmaline ring, approx.
Rs.  7,45,310
5. ROXANNE FIRST, 14-karat gold sapphire necklace, approx. Rs.  4,93,970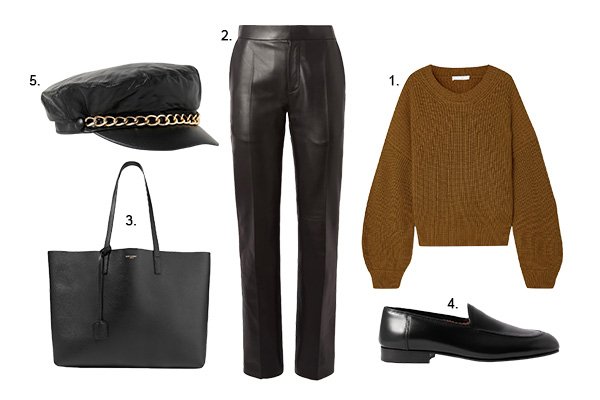 1. THE ROW, Gaiola ribbed cashmere sweater, approx. Rs. 1,78,050
2. CHLOÉ, Leather straight-leg pants, approx. Rs. 2,72,870
3. SAINT LAURENT, Shopper large textured-leather tote, approx. Rs.  1,03,520
4. THE ROW, Leather loafers, approx. Rs.  77,840
5. EUGENIA KIM, Marina chain-embellished leather cap, approx. Rs.  26,910
4. CHANNELLING THE INNER BIKER CHIC
1. SAINT LAURENT, Leather biker jacket, approx. Rs. 4,13,230
2. GUCCI, Lace-trimmed embroidered cotton-blend tulle and satin bustier top, approx. Rs. 1,36,640
3. DOLCE & GABBANA, Lace-up broderie anglaise denim mini skirt, approx. Rs. 1,77,630
4. ALAÏA, Laser-cut leather boots, approx. Rs. 1,31,670
5. ISABEL MARANT, Beautiful Love suede and silver-tone crystal bracelet, approx. Rs. 36,020