Who decided that a bride should only wear a gown on her wedding? Here's a little mix-and-match for the bride that is bold, confident, and daring enough to show off her radiant skin on her big day.
It is the month of May, and the busiest month for brides. Your wedding is the most important day of your life. So, if you wish to show off your perfectly radiant skin in a little white dress, go ahead, nobody can stop you! There is no need to settle for boring, old gowns, that is unless you want to. It is your day and you get to decide what goes and what doesn't, wink-wink. So, we have put together some looks for you, that is, if you're daring enough. After all, showing off a little skin ever hurt anyone, did it?
IT'S A FEATHERY AFFAIR
Tiffany & Co., Tiffany Victoria, Line Bracelet, approx.
Rs. 1,450,500
Jimmy Choo, Micro Cloud, approx. Rs. 1,23,390
Monique Lhuillier, Silver Leather Destiny Sandal, approx.
Rs. 66,800
Renna, Blake Anklet, approx. Rs. 64,860
Long, flowy gowns are not your only choice for your bridal outfit. If you wish to opt for a dress with feathery or flowery details, that is a great choice. And here is how you can style it perfectly.
THE BRIDE THAT MEANS BUSINESS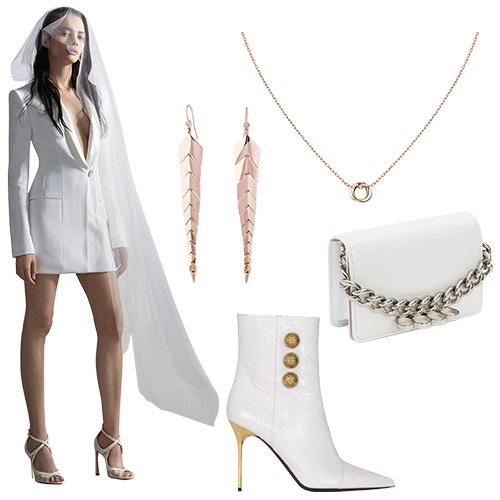 Jacque Aiche, Diamond Medium Fishtail Earrings, approx.
Rs. 3,14,760
Cartier, Trinity Necklace, approx. Rs. 1,11,000
Balmain, White Leather Roni Ankle Boots, approx.
Rs. 1,10,640
Alexander McQueen, The Four Ring Mini With Chain in White, approx. Rs. 1,06,060
If take your profession seriously and wish to incorporate that into your outfit to give a nod to your identity, here is your solution. And you can even reuse it later and pair it with your formals for a chic office outfit, amazing, right?
 FOR THE SWEETHEART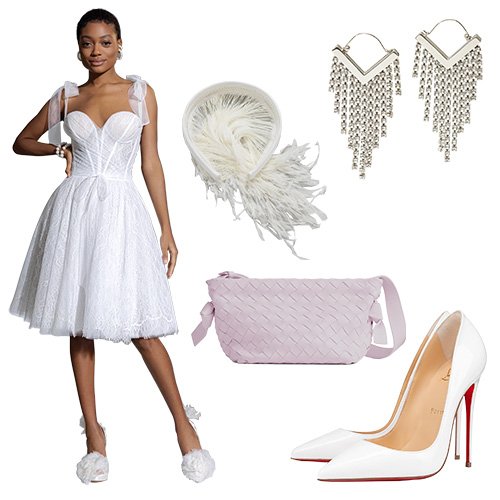 Chanel, 2.55 Handbag, approx. Rs. 6,71,450
Messika, Alliance Joy, approx. Rs. 3,63,930
Diane Kordas, Star Anklet, approx. Rs. 1,24,150
Versace, La Medusa Sling-Back Pumps, approx.
Rs. 1,18,200
If you're more into sweet, girly bridal looks, this is the perfect combination for you. Find a dress that gives off sweetheart vibes and pair it with subtle accessories.
IT'S A FRILLY AFFAIR
Bottega Veneta, Tie, white, approx. Rs. 1,90,780
Christian Loubotin, So Kate 120 mm, approx. Rs. 59,140
Christopher Kane, Christopher Kane Bridal: The Feather Headband, approx. Rs. 35,480
Isabel Marant, Melting Pendant Earrings, approx. Rs. 29,760
Ah, frills. There's something so beautiful and pretty about frills that they never really go out of style, at least not completely. If you find frilly outfits beautiful as well, this is the option for you. And there is no dearth of styling options for them either, so you're not going to have that hard of a time in styling them.