With Cutting-Edge Technology And Performance, This Month Our Dna Trickled To Find Ultra-Luxury And High-Performance Cars, And We Couldn't Think Of Anything Except Large Lavish Suvs. So, Sprung Up, And Let Them Ace Your Driving Experience.
Looking for behemoths that can move from pavement to mild off-road situations with surprisingly little drama? Large luxury SUVs exist in a vacuum. Designed and built to coddle the occupants first and foremost, the excess is just part of the package. The best contenders feature interiors crafted of curated materials, the latest advances in technology and bold exterior designs with little regard for cost-cutting or fuel efficiency. But beneath that sometimes ostentatious sheen lies genuine capability.
Equipped with some of the best- and often  largest—powertrains in a manufacturer's portfolio, large SUVs active suspensions and a variety of two- and four-wheel drive systems gets your drive covered. Love them or hate them, SUVs have become a global sales phenomenon of late that too righteously. Let's find you the perfect ride, as it's time to dive headfirst into comfort and buy a luxury SUV!
1. 2023 LAND ROVER RANGE ROVER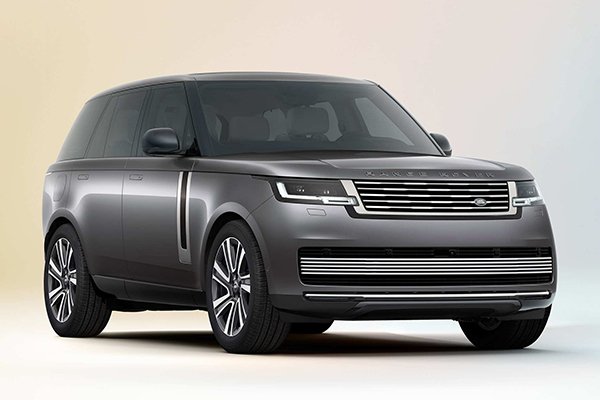 When it comes to luxury automobiles and SUVs, Range Rover remains in a class of its own as one of the most exquisite examples. Range Rover's exceptionally well-rounded balance, respected identity and nearly go-anywhere chops; make the brand top-notch in the automobile industry. Adding the option of an extended wheelbase, an almost infinitely customizable SV edition and the choice of six-cylinder, plug-in hybrid or V8 power makes it exceptional.
At first glance, the new Rover looks almost much like the outgoing one. But pay closer attention to the details, and you'll find that it's far smoother, cleaner and buttoned up from its simple, yet polished body panels. It offers a far greater level of sophistication and cleanliness. We particularly love the "hidden" taillights that only present themselves when illuminated. The interior also reflects contemporary Britain's approach to simplicity. There's no shortage of technology in the Rover. But the button count is refreshingly kept to a minimum and the excellent infotainment system does a great job of keeping things simple without affecting the intuitiveness of pertinent functions.
New for 2023 is the plug-in hybrid "P440e" powertrain, which supposedly provides 48 miles of all-electric range at speeds of up to 87 mph and one of the fastest charging times in its class (up to 80% in under an hour using a 50 kW DC rapid charger). All things considered however, the gas-only six-cylinder Range Rover is impressive for a nearly 3-ton vehicle with its 18-mpg city,
26 highway and 21 combined figures, not bad for the class. The V8 is much thirstier, earning only 18 mpg combined (16 around
town and 21 on the highway).
2. 2023 BMW X7
The 2023 BMW X7 gets a major refresh and adopts the front-end styling of the brand-new 7 Series. It also features new technology, a better and prettier interior, and updated mild-hybrid engines. The updated visuals, are sure to be distinctive, marking a clear pivot towards 7 Series-like luxury for BMW's largest vehicle, and the interior looks suitably futuristic too. The terrific multimedia screen is undermined by routing too many functions through it, particularly the HVAC controls, but the interior luxury is first-rate, the powertrains are cutting edge and the driving dynamics are impeccable.
BMW X7 uses all-wheel drive standard, but the M60i gets a bitey limited-slip differential, cornering braking, an active air suspension and rear-wheel steering as standard. The xDrive40i is the juice here, with a lovely 3.0-litre straight six delivering
375hp at 5500rpm and 398lb-ft of torque, all boosted by 12hp and 148lb-ft of mild-hybrid assistance. It's good enough to get to 62mph in 5.8 seconds and on to a top speed of 155 mph and cuts the top speed back to 130 mph.
The jelly doughnut is the M60i, with 523hp and 553 lb-ft (from 1800 rpm) from its high-tech 4.4-litre twin-turbo V8 (again boosted by electric power). The M60 uses the same automatic transmission but adds a sporty limited-slip differential and bellows to 62mph in 4.7 seconds. BMW says it'll be good for zero-to-60 runs of 4.0 seconds flat and 180 mph. Matching the visuals and feel of the 7 Series, it's clear that BMW has the pulse of high-luxe buyers.
3. 2023 MERCEDES-BENZ GLS 450 SUV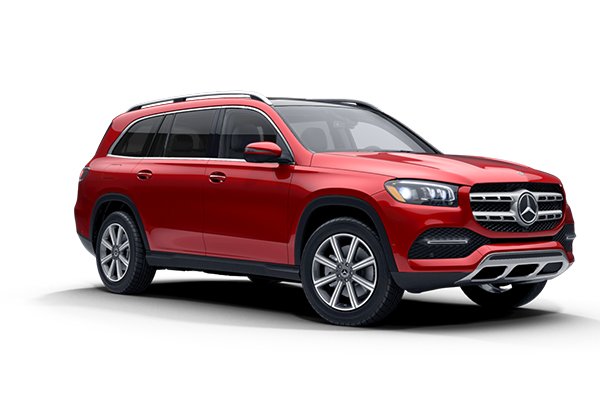 The Mercedes-Benz GLS presents a well-rounded package that blends tech, refinement and performance. While the GLS lineup offers enough variety to satisfy most full-size SUV shoppers; there's also an AMG variant for those looking for supercar levels of performance and uber-luxury. It's a big ship indeed, a standard three-row machine measuring 205 inches long, the biggest European-brand SUV on the market and almost a foot longer than the midsize GLE.
This would be a stretch to call the GLS a traditional SUV, it is after all a giant crossover primarily meant for on-road use, but it fits that label much better than the EQS SUV and boasts proper big truck towing capacity (7,700 pounds) and even limited off-road ability. All that gets you real performance. Even the six-cylinder, 362-horsepower GLS 450 is quick for a 5,400-pound SUV, doing zero-to-60 in 5.8 seconds.
That performance translates to so-so fuel economy, but most people buying a six-figure luxury SUV probably aren't too worried about that. Inside, the GLS is as luxurious and spacious as you'd think, with limousine-like room in the middle row and
even a roomy third row, with 34.6 inches of legroom. That's not far off some much larger-on-the-outside domestic competitors. The base GLS 450 is powered by a turbocharged 3.0-liter inline six-cylinder with 362 horsepower and 369 pounds,
and the model sprints zero to 60 in just 5.9 seconds.
4. 2023 LEXUS LX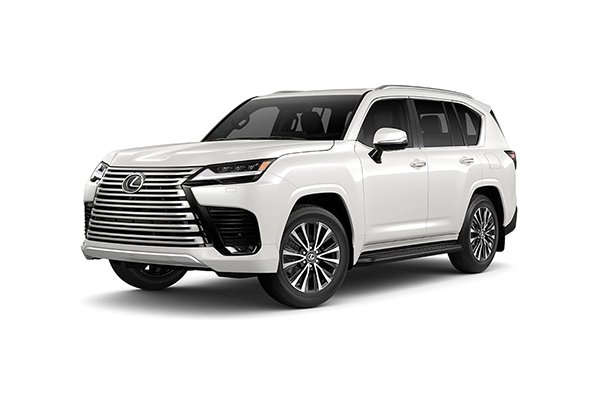 Freshly redesigned last year (for the first time in more than a decade), the 2023 Lexus LX builds on the formula of its predecessors. Its legendary go-anywhere capability, inherited from the Toyota Land Cruiser, remains but the LX is improved in lots of ways. The interior is posher than ever, with much more modern tech features, and the newly standard twin-turbo V6 delivers more speed and better economy. The styling is polarizing, but it's certainly bold.
Well, the styling, interior, infotainment and many other elements are new, with the old gas-guzzling V8 swapped for a more powerful and efficient twin-turbo V6. While that might seem counterintuitive to SUV brawn, it has 26 more horsepower than before and boasts 1,000 pounds more towing capacity. The LX's calling card is off-road talent, but for a big off-roader it isn't brutish at all on the pavement, and its quiet manners illustrate why this SUV has been a staple for affluent families who want to reach ski slopes and sand dunes for years.
Looking at the infotainment system which is also finally thoroughly modern. While, the old joystick and tiny screen are gone,
replaced by big pretty units that have touch and voice commands. LX 600's low fuel economy can be partially attributed to the SUV's chunky 4WD gear and the mechanical lag that has on the engine.
5. 2023 CADILLAC ESCALADE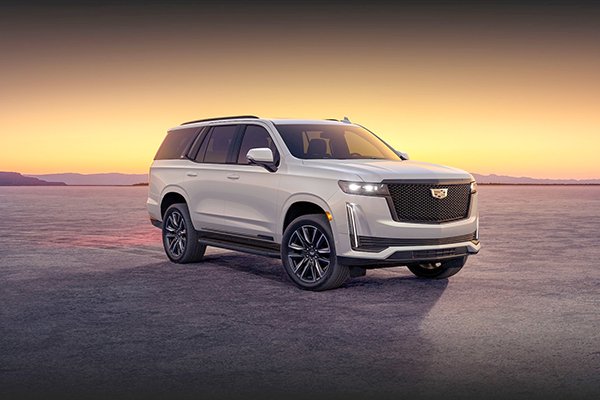 It is without debate that the Escalade is a luxury-laden beast. Powered by a 6.2- litre V8 or a turbodiesel inline-six, this luxurious three-row leans heavily into the six-figure range and has the credentials to match. Those who like to make a statement as they roll down the road will appreciate this massive vehicle for its visual presence, coddling features and impressive towing capability. Being a legitimate player in the luxury SUV segment that straddled a wide range of demographics. The current Escalade comes in a 17.5-feet standard version and the nearly 19-feet long-wheelbase ESV variant. Equipped as standard with a 6.2-litre V8 good for 420 horsepower and 460 pound-feet of torque, the 2023 Escalade drives the rear wheels via a 10-speed automatic transmission. Four-wheel drive is optional, as is a turbocharged 3.0-litre six-cylinder diesel engine making 277 hp and 460 lb-ft of torque. The V is the muscular head-turner, though, cranking out 682 hp and 653 lb-ft through its supercharged 6.2-litre V8 and unique all-wheel-drive system.
The Escalade's cabin is covered in simulated leather in the base model and rocks a 19-speaker AKG Studio audio system. Stocked with technology, the 2023 Escalade comes with lane departure warning and lane keeping assist, forward collision warning with automatic brakes. In addition, Cadillac's limited warranty covers four years or 50,000 miles, and the powertrain warranty covers six years or 70,000 miles.
6. 2023 AUDI Q7
The Audi Q7 has remained a benchmark in the midsize three-row luxury crossover SUV segment since its 2005 global introduction. As the Audi Q7 turns eight years old, it continues to deliver an expertly balanced package of reserved style, performance and technology. Three available powertrains and standard all-wheel drive let buyers dial in their desired level of performance, and its versatile three-row configuration allows it to handle up to seven passengers.
The Q7 sticks with its turbocharged four-,six- and eight-cylinder engines and an eight-speed automatic transmission for the time being, although the third-generation model is reportedly on track to arrive sometime in 2024. The base 45 TFSI (Turbo Fuel Stratified Injection) variants retain the turbocharged 2.0-litre four-cylinder but with more power, and the 3.0-litre six- cylinder 55 TFSI and 4.0-liter V8-powered SQ7 carry on unchanged. The car sported the much more potent 335-hp 3.0-litre
"EA839" turbocharged V6. With its robust 369 lb-ft of torque, 60 mpg arrives in just under six seconds, according to Audi. But
because of its 48-volt mild-hybrid setup—which consists of a small electric motor called the integrated starter generator or ISG—it certainly felt quicker.
Thus, the second-gen Q7 marches on unfettered at its core for 2023, engineers did tweak its base turbocharged four-cylinder to squeeze out an additional 14 horses, while the marketers added a few new colours and wheel designs and rearranged the packaging structure. As a European midsize luxury SUV, the Q7 keeps with tradition. As the Audi possesses a precise blend of luxury, dynamics and minimalist Euro style that is hard to fake.