Get your hands on your monthly dose of fashion, entertainment, beauty & luxury. May brings with it summery vibes and brightens up our year. Read on!
THE SUMMER SANDAL COLLAB YOU DIDN'T KNOW YOU NEEDED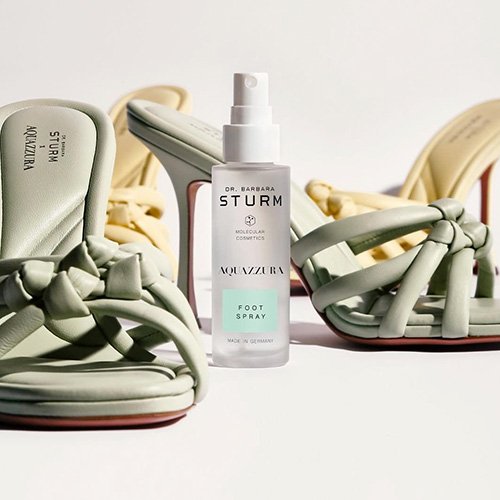 It might be easy to forget that Dr. Barbara Sturm began her career in orthopaedics, but her expertise makes it impossible to ignore this fact. She helped develop anti-edge inflammatory treatments to treat back pain and osteoarthritis, which she later used to address the visible inflammation signs on the face. Her latest collaboration is definitely a return to her origins. This time she has formulated a unique foot spray in collaboration with an orthopaedic-oriented shoe collection from Aquazzura. The spray is formulated with witch hazel, hyaluronic acid, a rejuvenating plankton extract, and noni fruit, and is designed to relieve tired, and heavy legs, give smoother skin and soothe irritation. The alcohol-free mist was created keeping in mind the ones who spend most of their time on their feet. Best advised to use along with Aquazzura's summer-ready capsule collection by creative director Edgardo Osorio, it is going to make things extremely easy on your feet.
THE SWIMSUIT COLLECTION OF YOUR DREAMS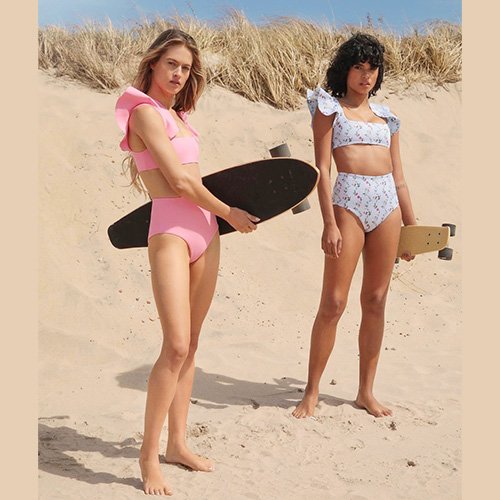 Two consecutive summers of Nap dress dominance must have been a hint for what's to come our way from Hill House Home – swimsuits! The brand has officially debuted a dreamy and charmingly cute line-up of bikinis and one-pieces. It was obviously going to be filled with Hill House Home's signature shoulder-skimming ruffles and each one is brimming with the ease and practicality we've come to expect from the brand. The brand has used pastel, summery colours – bubble-gum pink, powder blue – and offers a variety of swimsuits. And since no swim look is not complete without a coverup, they neatly rounded out their first swimwear collection through a mini floral swim skirt.
CLOG GIRL SUMMER WITH GANNI & DR. SCHOLL'S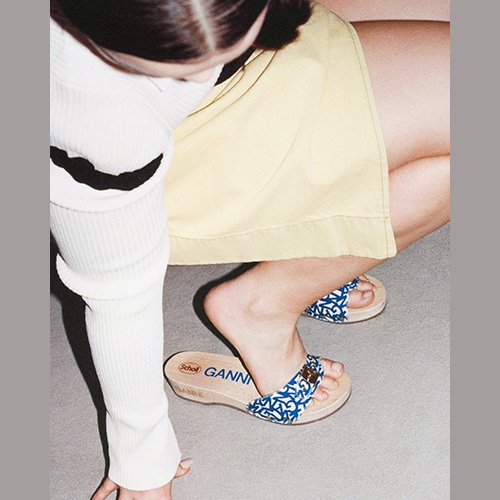 Hot Girl Summer has become old-fashioned, it's time for Clog Girl Summer now! Kicking things off in this direction, we have Ganni and Dr. Scholls's with their new collaborative shoe collection that is available online on Ganni's website. Dr. Scholl's clog silhouette is back in all its classic – and divisive – glory. Seeing as trends of past decades continue to come to the forefront, the clog is the latest to mark its return to the fashion world. The signature wooden sandal with a buckle closure nostalgically reminds one of one's grandmother's shoes, yet remains both practical and fantastical. Then we have Ganni – the coolest Danish brand – entering the scene. Partnering with the footwear company Ganni also helped Dr. Scholl's up the ante on their sustainability practices by making the production process 100% traceable. The collaboration features six exclusive styles in Scandi-approved prints and patterns and is the guilt-free, blister-free summer shoe the fashion bug in all of us has always been waiting for.
SUMMER VIBES FT. LOEWE'S NEW PAULA'S IBIZA COLLECTION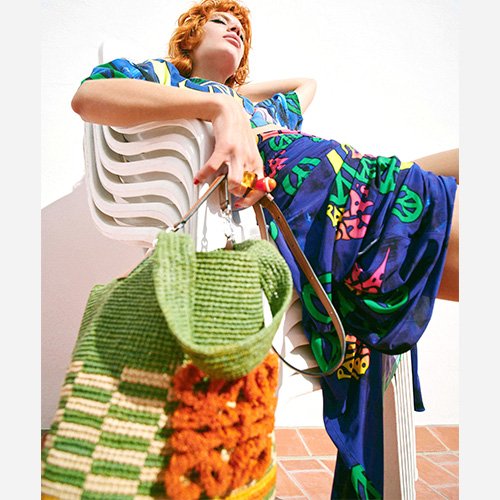 With travel back on the agenda, we sincerely hope you're all set to kick off the 'summer of sin' in style. The itinerary consists of parties, fantastic clothes, and a whiff of hedonism in the air. The latest Loewe Paula's Ibiza collection has perfectly encapsulated this energy and very conveniently packaged it in one collection. A gloriously sun-soaked and playful campaign by photographer Gray Sorrenti brings out the big-summer energy of the new collection. Quintessentially Ibiza, the collection is sexy and liberated and has the carefree quality that is associated with the brand. The collection is in collaboration with the Balearic boutique and signifies the official start of the summer.
JONATHAN COHEN'S FIRST POP-UP STORE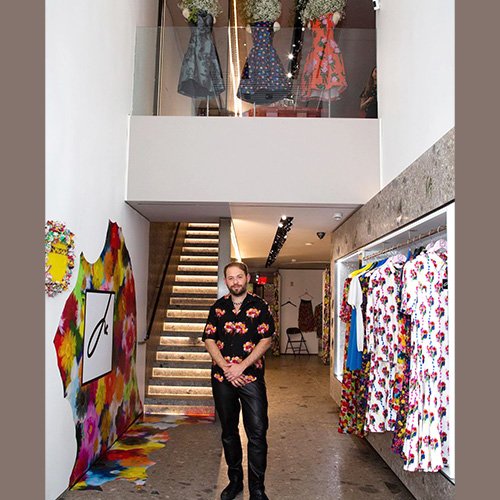 Moving on up towards the Upper East Side is no other than Jonathan Cohen, who has debuted his first standalone pop-up store. The store features the trademark colourful prints that set his eponymous brand apart from others. Serving as the blueprint for the ultimate vacation wardrobe, the pop-up is rounded out with accessories and special artworks by his dearest friends. According to Cohen, having one-on-one time with clients is extremely important to the brand and we are in total agreement!
PAMELA LOVE REACHES BROOKLYN
For everyone wishing for a Pamela Love store they could visit whenever they wanted, we have great news! Pamela Love has opened her first-ever U.S. store in Williamsburg, Brooklyn. Providing her ethereal designs with a long overdue, permanent home, the store is absolutely gorgeous and is a luxe retreat for anyone wanting to connect with the personal ritual of jewellery. The sustainably sourced jewellery is not the only thing on display; the store will also host an in-house piercer for a more elevated experience than the mall.