From Vibrant Hues To Sequined Detailing, There's A Little Something For Everyone. Dive In To Find Your Favorites!
Matching sets have adopted a work-leisure vibe and are bound to become a bonafide uniform all year long. The casual ease that an oversized co-ord set holds is truly unparalleled. These fuss-free outfits can be worn at any time of the day, and their matchy nature makes us feel more put together. Not just as lounging sets but the matching ensemble is can also be worn in the form of suits, casual wear and as separates. The outfit requires little or no styling at all.
Perfect co-ord sets that work best into mood of the moment, with a focus on durability, trans-seasonal appeal and prominent
comfort are a steal worthy staple in one's closet. Therefore, this comfortable and versatile urban staple might just be a solution for the days you don't feel like putting together a look. With radiating relaxed energy in the cosy matchy body -hugging fit, the no-brainer outfits are as easy to wear as a dress, but have the appearance to more effort being put in. Can't wait to add one to your closet? Have a look at these eclectic co-ord sets we have curated for you!
THE SEQUINED EMBELLISH
1. VALENTINO, Feather – trimmed sequined knitted cardigan, Approx. Rs.1,175,410
2. VALENTINO, Cropped feather – trimmed sequined Lurex wide – leg pants, Approx. Rs.676,980
3. VERSACE, Crystal – embellished suede slingback pumps, Approx. Rs.178,540
4. ROXANNE ASSOULIN, Bubbles & Cream set of three gold – tone, enamel, and cotton bracelet, Approx. Rs.24,930
 5. BALENCIAGA, License gold – tone earrings, Approx. Rs.43,720
WHEN MINIMALISM UNITES CHIC
1. ZIMMERMANN, High Tide belted printed linen and silk – blend maxi skirt, Approx. Rs.186,960
2. ZIMMERMANN, High Tide cropped printed linen and silk – blend shirt, Approx. Rs.96,380
3. CULT GAIA, Ozzy mini bamboo  trimmed metallic raffia tote, Approx. Rs.46,370
4. CULT GAIA, Ozzy mini bamboo  trimmed metallic raffia tote, Approx. Rs.46,370
5. JENNIFER FISHER, Tube gold – plated cuff, Approx. Rs.39,070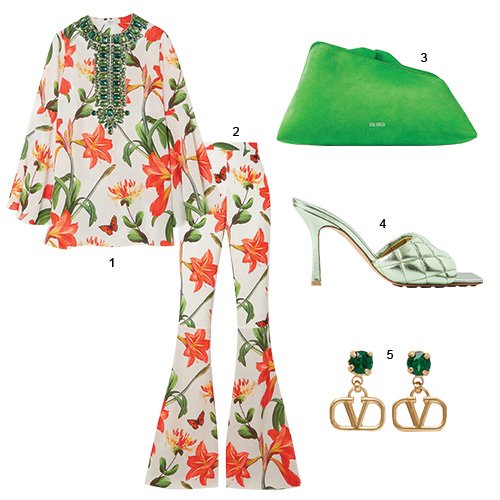 SPRING AWAKENING
1. ANDREW GN, Crystal – embellished printed silk – chiffon blouse, Approx. Rs.317,250
2. ANDREW GN, Printed silk – chiffon flared pants, Approx. Rs.148,380
3. THE ATTICO, Bright green suede clutch, Approx. Rs.121,380
4. BOTTEGA VENETA, Quilted metallic leather mules, Approx. Rs.132,420
5. VALENTINO GARAVANI, VLOGO gold – tone crystal earrings, Approx. Rs.31,280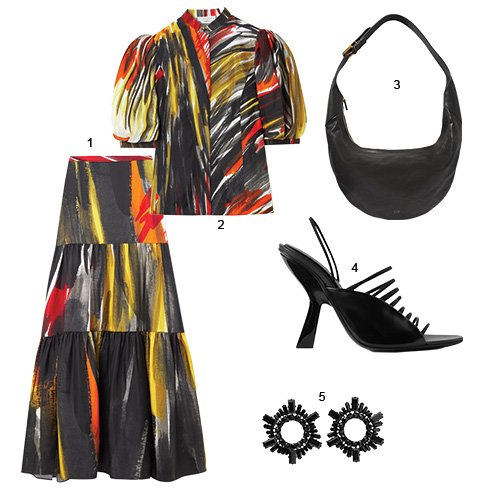 STROKE OF ABSTRACT PRINTS
1. GABRIELA HEARST, Morse printed tiered silk – twill maxi skirt, Approx. Rs.169,910
2. GABRIELA HEARST, Quint printed silk – twill blouse, Approx. Rs.123,050
3. KHAITE, Black leather shoulder bag, Approx. Rs.307,240
4. FERRAGAMO, Altaire leather and satin slingback sandals, Approx. Rs.133,300
5. AMINA MUADDI, Begum mini silver – tone crystal earrings, Approx. Rs.64,100