Looking for some unique gifts to express your love to your partner? Check out Izzhaar's latest Valentine's day collection and amp up your romance.
The week of love is presently in progress and Valentine's Day is just knocking at the door and this goes without saying that many of us are eager to shower love on our partners with lovely and unique gifts on this day. In case, you're not the kind of person who believes to celebrate valentine's day, it still feels good to make your significant other smile and loved.
Not just on Valentine's Day, but every other day you must appreciate your loved one's presence in your life. So, your gift should be more than just objects which also evoke emotions and thoughts. But if you're still stuck on chocolates and flowers as a gift then, you need to think beyond that. Move forward to some unique gifts and add a spark to your love life. If you're stuck to choose what to buy. Here comes "Izzhaar" as your Valentine's saviour.
Izzhar is a young unconventional organisation which has a wide range of gift products from home decor to birthday or anniversary gifts. You just have to tell them the occasion and ta-da! you've got your gift. They also have environment-friendly and sustainable customized gifting products which not just make your beloved happy but are also etched in their memory forever. However, choosing the right gift might be a little harder, so here, we are helping you to pick the perfect gift for your S/O. 
Adam & Eve Perfume Bottle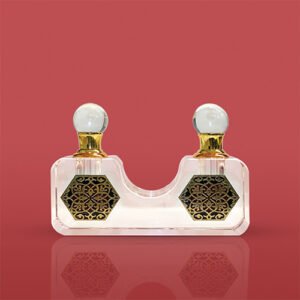 Just like Adam & Eve this aesthetic design of perfume bottles reminds you that you and your partner complete each other in every manner and is a symbol of your absolute love for each other. Store your and your significant other perfume in this gorgeous bottle and embark on your journey with majestic aroma and love.
Gold Collection Perfume Bottle
This gold collection of perfume bottles gives you a feeling of luxury and flourishes your space as well. Its unique and aesthetic design makes this perfume bottle more appealing and enhances the beauty of your interiors. You can refillable with a variety of fragrances which uplift your mood and create a blissful aroma. This will be a perfect gift for your valentine and deepens your love.
Gourmet Delights
Gourmet Delights would be the perfect gift for your food partner. It comes in nine different sweet and savoury flavours, which just do not melt in your mouth but also melt your partner's heart and you could not stop from consuming these delicious items. This gourmet hamper elevates your mood. Gift your beloved Izzhaar's snacking hampers and increase your comfort level with each other.
They have a very quick and hassle-free delivery service. You can visit their Instagram Page and check out the variety of gift products or go to their website and book your order and celebrate this month of love with Izzhaar and fills the air with freshness & love.