For a fairy tale wedding, you need a dress that makes you look like a princess. With New York Bridal Week, brands showcased some fabulous pieces to pick from, check out!
Every girl dreams to walk down the aisle holding her father's hand in a magnificent dress. Two years later of great silence, New York Bridal Week returned in April with a bang, leaving us all stunned with new silhouettes, detailing & ample fabrics. The in-person shows by high-end bridal labels held in New York city thrilled all brides to be as they can't wait to get married. Over the years, brides have become more vigorous and daring when it comes to their wedding dresses. The 2022 3-day show witnessed innumerable brands presenting unique designs such as lace embroiders, long trails, puffed and removable sleeves, and more. One that caught our eye was the bridal pants trend, same-sex genders would look lovely wearing these suits while they say "I do." Here we have brought two exceptional brand and their latest collections that spoke to us the most, keep reading! 
Monique Lhuillier
A fashion house that has been adorned since 1996, Monique Lhuillier is all about romantic aesthetics, grandeur, and of course, feminine bridal wear. Recently the brand displayed its spring 2023 collection and we were left awe-struck. It's something about bridal gowns that make us too emotional. The theme for this collection was to embrace La Dolce Vita. You ask us why we picked this brand? The exotic prints they pushed in bridal wear is our kind of fashion statement. The collection is inspired by the romance of Sicily, which experiences volume texture, and color. It features short hemlines, exposed shoulders, embroidery, romantic shapes, floral prints & more.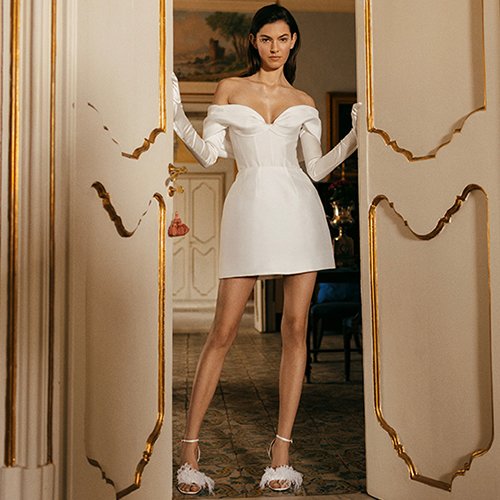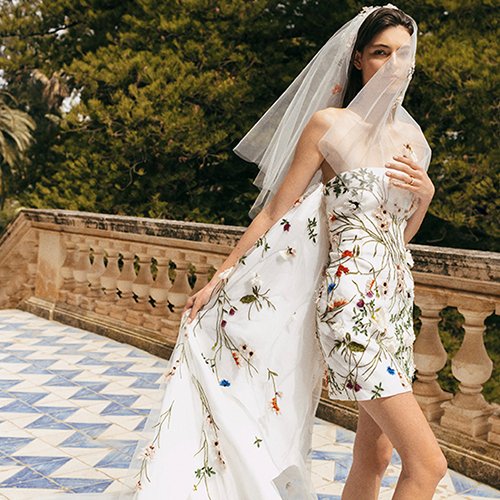 Dana Harel
This eponymous fashion label is a star from 2012 by many celebrities like Gina Rodriguez, Adria Arjona, Daniella Pick & more. This brand represents sensual silhouettes with a touch of luxury in every piece. Speaking of their spring 2023 collection it is named 'Acqua' and is for all fashion-forward brides. It features exemplary, one-of-a-kind pieces that have our hearts. In fact, the shoot is more aesthetically pleasing than ever, it was shot on a beach reserve in Israel. The shiny bridal gowns in mermaid shape, long sleeves, strapless, embodied tulle, glass beads, feathers, and more are perfect for the bride who wants an ideal fairy-tale wedding.