There is a lot more to Spain than just Seville or Madrid. So, get off the beaten path and discover the true magic of Spain by visiting these largely unexplored places in Spain.
Spain is undoubtedly one of the most beautiful countries worldwide, not just in Europe. The climate, nature, delicious food, and the nice, friendly locals make it the perfect destination to put on your bucket list. If it already is on your bucket list, then read on, because we have something amazing here on offer for you. We promise you don't want to skip reading this article!
The majority of Spain's tourists only visit the well-known regions of Spain like Madrid, Seville, Barcelona, etc., and end their trip. But unbeknownst to them, Spain has a lot of quaint and exceptionally beautiful, yet relatively unknown cities and villages that have so much more to offer than just these well-known regions. If you just take some time out to explore a little bit, you'll realize that these places are gems worth paying a visit to. Most of these places will provide you with a glimpse of the real, authentic Spain, just without the trouble of having to battle through throngs of tourists that makes the experience sour. The people are more friendly as well, so all in all, it's a win-win situation for everyone!
Spain hosts some of the best cultural festivals in Europe, so make sure to attend a couple while you're on holiday. The most famous of these include San Juan, La Tomatina, and the wine battle in La Rioja. The country also has a lot of popular places on offer that offer up some of the country's best beaches as well as great weather. But popularity brings with it unruly crowds and has the potential to ruin your trip. So, dear readers, it is finally time to ditch Barcelona, Seville, and Madrid and go off the beaten track to visit these exquisite gems from the depths of Spain. There is a Lot More to Spain Than Just Seville or Madrid. So, Get Off the Beaten Path and Discover the True Magic of Spain by Visiting These Largely Unexplored Places in Spain.
1. CUENCA
Finding a spot among the ten cities in Spain that attract the least overnight visitors, Cuenca is just an hour away by high-speed train from Madrid and Valencia. It is located in the Castille and La Mancha region east of Madrid and boasts stunning and colourful medieval buildings perched atop steep cliffs and two river gorges that are known as "las casas Colgantes" or hanging houses. Cuenca has also managed to carve a well-deserved reputation for itself as the capital of Spanish abstract art owing to the countless galleries and museums dedicated to it. Visit the magnificent cathedral in the heart of the old city that is almost exactly unchanged since Medieval times, or the enormous arches of the Plaza Mayor. Offering up impressive architecture, and city-side hiking, the city has rightfully earned its UNESCO world heritage status. Stepping into Cuenca will give you a refreshing change of pace by providing you with a much-needed break from the city.
2. EXTREMADURA REGION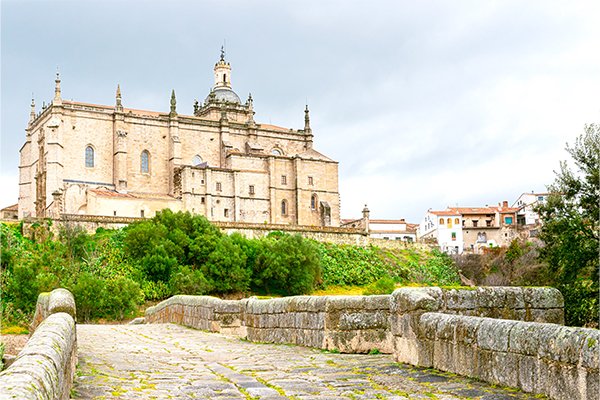 Extremadura Region, Spain
Extremadura – or as it translates to; 'extreme-hard' – is a region that sees pretty less footfall in terms of tourism. How it managed to stay off the radar for so long, blows our mind because the region is rich in gastronomy, culture, and heritage that make it a place that should not be missed. If you visit the two provinces of Caceres and Badajoz, sandwiched between some pretty famous Spanish regions and Portugal, you will come across some of the best Roman ruins in Merida which are also UNESCO-listed. You will also come across amphitheatres, mosaic museums, and ancient aqueducts that will transport you aeons back in time. Not only that, but you will also come across another two UNESCO Heritage Sites and natural parks. Although, a word of caution; these cities are best avoided in harsh summers and cold winters. Secret Spain at its best, don't forget to check out the old city walls of Caceres and see the Old Town beautifully combine Gothic, Renaissance, Roman, and Morish style architecture. Another site you will come across such blended architectural styles is The Royal Monastery of Santa Maria de Guadalupe. Small villages like Hervas, or quaint cities like Plasencia are another few not to be missed places. But what tops the list here, is that Extremadura is home to an excellent cuisine as proven by the fact that the notoriously famous Jamon Iberico was born here!
3. TERUEL
Another gem often overlooked by everyone, Teruel boasts Mudejar style architecture that won Teruel its World Heritage status in 1986. Located out of the way in Spain's abandoned interior, the city finds its fame as being the city of lovers. Were you to visit here in the month of February, you'd get the chance to attend the romantic festival held here every year commemorating the legendary lovers of Teruel. You can also visit the Mausoleo de los Amantes de Teruel where you'll come across the mummies of the famous lovers said to have inspired Shakespeare to pen down Romeo and Juliet. A gourmands' dream destination, dine on truffles and other exquisite food items. Visit the Santa María de Media Villa Cathedral, the Torre de el Salvador or the Escalinata del Óvalo to catch breathtaking views. And don't forget to check out Plaza del Torico and Fuente del Torico for cute restaurants and bars. With an impressive aqueduct, and quaint town squares, don't miss Teruel on your next Spain trip.