Get away from the throngs of tourists and experience the authentic Italy by visiting these scarcely known places in the country.
When someone says Italy, more often than not, everyone's first thought is of Rome, Milan, Tuscany, or Venice. These are the places you'll often find on travel guides or websites when making your itinerary. The beauty of Rome has, no doubt, inspired many cinematic masterpieces- from Audrey Hepburn's Roman Holiday to Amanda Seyfried's Letters to Juliet – it is truly a timeless and ancient place that boasts stunning treasures in every single corner. But that is not all that this beautiful country has to offer! Italy is rich in history, art, and culture and has many other attractions that are just as interesting as these well-known places.
Italy has a lot to offer in terms of its art, architecture, and culture. And there are a lot of towns and villages in the country that are flying under the radar of travellers and as a result, see very little footfall in terms of tourists. This makes them the perfect vacay destinations, especially if you are someone who hates crowds.
To truly experience the magic of Italy, you need to get out and explore other places besides the major sites and cities. So, presenting to you, some of the lesser-known, off-the-beaten-path places in the picturesque country that are going to make your trip to Italy memorable and special. Don't forget to visit these places on your next trip to Italy!
1. ATRANI
Atrani: a city and commune on the coast of Amalfi
We start off this list with Atrani; a city and commune on the coast of Amalfi. This picturesque town overlooks the Tyrrhenian Sea and is pretty much the best kept secret of the Amalfi Coast. Despite playing a crucial role in the shaping of the region, this small town is still one of the least travelled places in Italy, which makes it the perfect place to explore. Atrani might be a petite little town, but it has everything that the rest of Italy has to offer, all in one neat little package! Believe us when we say, you'll be hard-pressed to find this combination in any other place in the whole of Italy. One visit to this little town is crucial if you wish to gain a better understanding of how Italy's culture has shaped itself over millennia.
Atrani has a Mediterranean climate that sees mild and rainy winters and moderately hot, very sunny summers. Since the town overlooks the Tyrrhenian Sea, you can avail many boat excursions that vary according to distance and time limit. Get lost in the tiny narrow streets that have kept their medieval charm intact, or visit the many beautiful churches the town has to offer. You can also choose to just relax on the Atrani beach. Atrani has remained untouched despite the mass tourism of the last 50 years, and is thus, one of the most authentic places in Italy.
2. CAGLIARI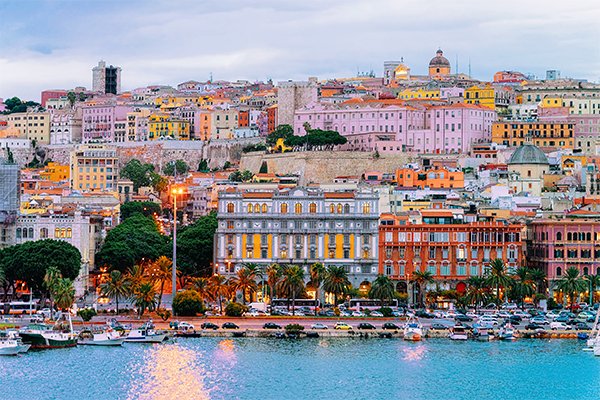 Cagliari: facing towards the Mediterranean's blue waters
Perched atop the hills, facing towards the Mediterranean's blue waters, this glorious city is truly a one-of-its-kind city. So, it is not hard to believe D.H. Lawrence when he declared in 1920, that he found this city to be "…strange and rather wonderful, not a bit like Italy;" a sentiment shared by all who visit it. With a mix of architectural styles and layers of history just waiting to be discovered, it is the perfect destination for a long trip. Although it is more a town than a village, Cagliari houses a gorgeous port and is the capital of Sardinia. The town is chock-full of a rich history and lots of ruins that is unlike other places.
Since this is an island state, you'll have to travel here by sea, which is a blessing in disguise as the view of the town as your boat pulls up are going to make you lose your breath. The town has a combination of ancient history and modern amenities so everyone will find something of interest here. You can visit the various archaeological sites such as the Roman Amphitheater, or the museums, or visit one of the many impressive churches the town has to offer. The Marina and the Torre dell'Elefante are also some must-visit places. Visit a local market and learn about the food culture of Sardinia, and don't miss the views from the terrace of Via Santa Croce.
3. POLIGNANO A MARE
Polignani a Mare: located in Puglia
A place not to be missed, Polignano is the ideal place for the more adventurously inclined. Polignano a Mare houses some of Italy's best cliff diving spots, that you should definitely try when you visit. The town of Pogliano a Mare offers one a piece of ancient Italian history as well as ethereal views of the Adriatic Sea as you walk down the narrow streets of this small town. The old town is almost undiscovered and unknown to tourists, but two things that are well-known about the town are the gorgeous views from Terrazza Santo Stefano and the city being the inspiration behind Domenico Modugno's song, 'Nel Blu Dipinto di Blu.'
The town is located near Bari and is actually in Puglia, contrary to popular belief. Just because it is a pretty small town, does not mean you won't find amazing things to do here. You can go cliff jumping at Cala Porto, take a walk along the lungomare, or enjoy the panorama from Pietra Piatta. Have dinner at Grotta Palazzese or take a boat trip to explore the amazing caves. Go sunbathing at the Lama Monachile beach, and for the foodies, eat some Focaccia or get some gelato whilst you go exploring the historic city centre.