Looking Stellar As Ever, Meet Our Digital Cover Star For The April Issue, Aria Walton Who Is A Hint Of Magic And Allure. Have A Look At A Vision Of This Modern-Day Goddess.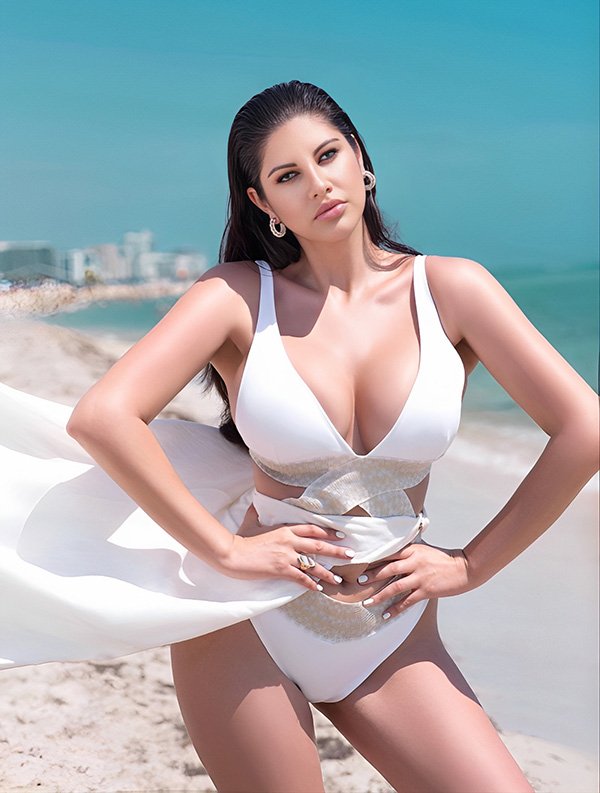 Hi Aria, Welcome to L'Officiel! Tell us about the realization when you thought of picking acting as your career – who was your inspiration?
Thank you! I've always loved to express myself through art. To me, acting is a type of art. Although I initially started my career as a model, and that was interesting in its own way, I knew that it alone wouldn't fulfil me. The human experience is fascinating to me. And through acting, you get a chance to play many different characters, you get to research different types of people, you get to understand their psychology and do your best at portraying someone else, that isn't you, in the most honest way possible, and this is why I chose to pursue acting. An actress that inspires me greatly is Scarlett Johansson. I find her to be very talented, intelligent, a good actress and a business-savvy woman. She's much more than just her beautiful outer looks.
Who do you look up to in the modelling industry?
In the modelling industry, I'm a huge fan of the 90s supermodels. I just love that era so much in general and I miss it every day. I think Cindy Crawford is an inspiration to me. She's a very well-rounded fashion model. I love that she gracefully transitioned from modelling to becoming the matriarch of her beautiful family, and I'm inspired by how she leveraged her popularity into developing successful beauty brands.
Let's dig a little deeper – has it been an easy path overall and if not, what were the challenges you've had to overcome?
It hasn't been easy. This industry is very competitive and succeeding in it, takes a lot of hard work. I believe talent alone isn't enough, and in addition to being talented, it's just as important to network with the right people, go to the right events, and make sure people can put a face and personality to your name. If you don't get cast for one role you auditioned for, maybe a director or producer you met at industry events will keep you in mind for a production they might develop in the future. This has been a bit of a challenge for me, because a lot of people might not realize that I'm a home-body. I actually enjoy being at home reading and writing, but I force myself to get out there and network within the industry and I learned to walk in any room with confidence because, if you don't put yourself out there, it's highly doubtful that opportunities will just knock on your door.
What are the 5 most important things to you?
Health is very important to me, because without health (physical and mental health), nothing else that you can achieve in life and can never be enjoyed. Family is also important to me. I'm very lucky to have a loving family who has always supported my dreams, no matter how unrealistic they might've sounded at the time. Thirdly, doing something that you are passionate about as a career, is important to me. I've learned that when you only focus on making money, but don't actually love what you're doing, money doesn't come as easily and also you won't be happy while doing it, which will affect your mental health, and in turn, your physical health. Fourth, traveling is important to me because I believe it's through travel that one can achieve the best education in life. There's nothing wrong with learning in a classroom, I enjoyed that too while achieving my Bachelor of Journalism degree in university, but the knowledge and true life-experience which I gained through travel is unrivalled. I've been lucky enough to travel since birth with my adventurous family, and that has continued throughout my adulthood, sometimes for leisure and sometimes for work. And finally, I would say a very important thing to me is to learn how to be a critical thinker. In today's age, we are bombarded with technology, the media, and we are constantly told what we should think, how we should dress, how we should speak, how we should act, and what should be most important to us. I think different things are important to different individuals and critical thinking will come in handy in life, so you can make what you consider to be the "right" choices for you.
You were a finalist in Miss Universe Canada. What do you think about beauty contests? What did you learn after that competition?
I was very grateful for that opportunity, because when I got accepted to be in the running, Miss Universe was still a very relevant platform. Although I wouldn't compete in a beauty contest again, I did learn a lot about being focused and disciplined. I met some incredible women who were very motivated and ambitious, but I also learned that not everyone can be trusted just based on their smile. I would say most of the contestants were great and were using that platform as a stepping stone to build a successful career, and weren't actually interested in who was the "prettiest," because most intelligent individuals know that "beauty is in the eye of the beholder." Also, it was very attractive to me and other women like me, in the competition, to get involved in supporting different causes that affect the world today. That's truly what makes that platform remarkable.
Tell us a little about your dreams. Is there something specific that you have always wished to achieve in life?
I think it's important to have goals that aren't only materialistic, because when it's all said and done, no one will remember you for all the "things" you were able to buy, but they will recall how you made people feel, and the difference you made in the world. So later in my career I think it would be nice to start some sort of non-profit to help women and children who are in need, due to unfortunate circumstances. In terms of achievements career-wise, it would be amazing to be cast in a big action film that has a strong female lead in it. If I can later leverage that success into launching a brand and other businesses that would be great. And for now, on my journalistic side, I will continue to grow my PR firm, KW Publicists. But I've learned not to stress about that all the time, and to enjoy each day focusing on what's important to me, and not on what everyone else thinks is the trendy thing to do.
Talking about fitness, your body speaks of how you value fitness in your life. How much do you think of a role fitness play in one's life and what is your fitness mantra?
This ties into how I believe health is very important. If you don't have good health then nothing else really matters. I work out about four times a week, mainly doing high-intensity interval training and I eat pretty healthy most days of the week, allowing myself a cheat day on the weekend. I don't smoke, and I limit my alcohol intake. My fitness mantra would be: "I accept my body, and I will only focus on being the best version of myself without comparing myself to others or wishing I had different genetics. I have my own genetics, and I am grateful for those."
If you were given a chance to work with someone from Hollywood, who would it be and why?
I would be so honoured to work with Denzel Washington. He's my favourite actor and he seems to be the type of masculine family man who has good values (such as leading, providing and protecting), and I admire him immensely.
As a successful model & actress, what advice would you like to give to the aspiring models & fans who look up to you?
I would say to work hard to achieve your own goals, but never lose your moral compass just because other people tell you something is OK. Listen to your instincts. Do what feels OK to you. Also, please realize, that even if you look up to "celebrities" who have achieved some of the things you would like to achieve, we are all just human beings and we all make mistakes. Learn from your mistakes or even better, learn from other people's mistakes, and try to do better next time. But you are not defined by your mistakes. Define yourself by how you get up after you fall, and not by the fact that you fell. We all fall at one point or another.
It's time to talk about your future projects. Is there something special brewing that you would like to share with us? Any upcoming projects?
I'm so happy you asked! I can finally talk about it! I actually filmed the movie Zombie Town, last September in Canada, alongside two big actors: Chevy Chase and Dan Aykroyd. The film will be released later this year in theatres, and is expected to stream on big networks like Hulu, and Viaplay amongst others internationally. The film is an adaptation of the R.L.Stine book of the same title. I grew up watching Chevy and Dan's hilarious films, so I was so honoured to film scenes right next to them and realized how these veterans are so skilled at the craft of acting. The director is Peter Lepeniotis and the producers are Mark Holdom and John Gillespie. The whole cast and crew taught me so much and seeing how those two big actors travelled to a remote location in Canada (Sudbury, Ontario) with their families, to work countless hours on set every day, sometimes even overnight, made me realize you truly do have to love this work because it's not all red carpets and glamour; that's actually a very small part of it. It's definitely an intense, exhausting job and if you don't have the right passion for it, it's hard to succeed in the industry. Some of the biggest actors in Hollywood don't actually enjoy red carpet events or even have a social media presence, but they love the craft of acting, as it's their creative release. I have learned this is more the path I want to take and enjoy a private life, next to my loved ones when I'm not working. Press and red carpets are definitely a part of the job, but it's not why you do the job. In addition to the Hollywood industry, I would also love the chance to work in Spain with Pedro Almodóvar or break into the Bollywood film industry too!