Travelling All the Way from Deutschland, Grandma Has Sent Her Cake To your Plates with Some Apple and Lots of Love; Have a taste.
Our taste buds are the only loyal element that we need in our life – because they never lie. Be it bad or be it good, our taste buds will always speak the truth. They are the most loyal one but they are also the hardest one to please. For pleasing them, it takes a lot of effort and money. One thing that most of us have cravings for is sweet. Everyone has a sweet tooth but it depends how much do you like it. For the ones who crave for something sweet right now, there might not be anything more pleasing than the German Grandma's Apple Cake!
OMA'S APFELKUCHEN
Nutrient Value (Per Slice):
Calories – 422 Kcal
Fat – 23g out of which 14g of Saturated Fat
Cholesterol – 148mg
Sodium – 177mg
Carbohydrate – 50g
Sugars – 28g
Fiber – 1g
Protein – 4g
Ingredients:
Egg Yolks – 5 (large)
Tart Apples (Medium, peeled, cored and halved) – 2
Unsalted Butter – 1 cup and 2 tbsp (Softened)
Sugar – 11/4 Cups
All-Purpose flour – 2 cups
Corn-starch – 2 tbsp
Cream of Tartar – 2 tbsp
Baking Powder – 1 teaspoon
Salt – 1/2 teaspoon
Milk – 1/4 cup
Sugar (Confectioners)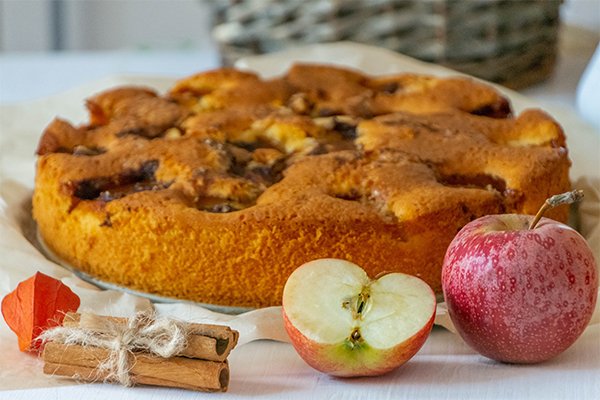 Top it up with confectioners' sugar and let your sweet tooth have some fun.
How To Make:
The first step would be preheating the oven at around 300-350o. Alongside preheating the oven, crack the egg open and let the yolk sit for around 30 minutes at room temperature. This will make sure that the cake is spongy and soft at the same time.
Now, take the apple and start cutting it from one end. Stop when you reach ½ inch deep and do this from the other side too. Each slice should be around ¼ inch and don't cut it completely, let it be attached from the top. Repeat this with every apple and set aside the final product.
Take butter and sugar into a bowl and cream them for 5-7 minutes until the mixture becomes fluffy. Simultaneously, add 1 yolk at a time. Take another bowl and put corn starch, flour, baking powder, cream of tartar, and salt and start sifting the mixture.
Mix the mixtures together and add milk slowly until the mixture becomes a thick paste. Take a pan around 9 inch wide and wrap it in greased foil (for the cake to be non-sticky). Now, add the apple with their rounded side upwards and bake it for around 45-55 minutes until it becomes fluffy and the sides become crunchy.
Gently remove the foil and make sure the cake it not sticking with the foil. Now, top it up with confectioners' sugar and let your sweet tooth have some fun.