Not every vintage dress attempt is successful, and not all vintage fashion deserves a place in your wardrobe. Let's look at Saint Laurent's failed attempt to bring feathered dresses back in trend. P.S. It totally failed!
Yves Saint Laurent has been doing an excellent job of keeping up with current fashion trends and coming up with aesthetically pleasing apparel. But some trends are better left alone, and this one seems to be one of them. We are sorry Saint Laurent, but you completely dropped the ball on this one, and we are going to tell you exactly why! Read on and see for yourself.
We're going to be taking a long, hard look at the Long Dress in Mesh and Feathers from their ready-to-wear collection. The dress is long and strapless and is decorated with rhinestones and a feather trim. It seems to be intended as an evening gown, although we don't think it would do that well in such a setting, so please go ahead at your own risk.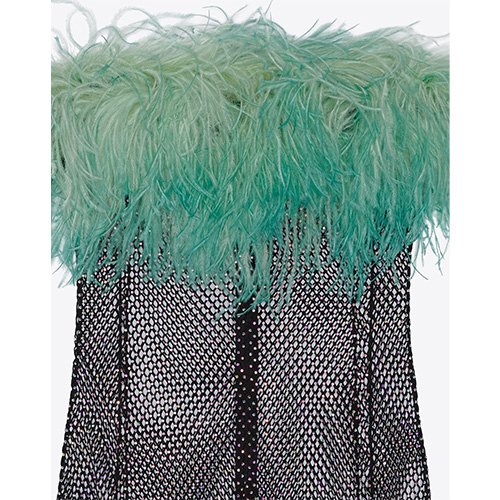 Feathered dresses were in trend – until this one! Saint Laurent, maybe some trends are better left alone and this clearly is one of those.
Firstly, let's talk about the feather placement. The feathers around the bust area are going to make this dress very uncomfortable to wear. Whoever wears this dress, is going to have to tolerate scratches and irritation from the feathers and no one wants a dress that is this uncomfortable. The feathers on the skirt area seem very out of place and make the dress very unpleasant to look at. The colours of the feathers are also not pleasing to the eye and the dress could have benefitted from a different colour set for the feathers. We agree feathers are currently in trend, so kudos to Saint Laurent for trying to jump on the bandwagon, but that seems to be the only good part of this dress.
The dress has an A-line silhouette, which is a classic in the world of fashion and can look flattering on almost all body types. The silhouette of the dress is no doubt going to make it look very flattering on some, but we cannot promise comfort as the dress is 100% polyester and mesh, so it is going to be very uncomfortable to wear. But the mesh will provide some air circulation so, at the very least, you won't feel hot when wearing it. The dress has a zip closure at the back and a boned bustier provides some stability for the bust area. And the rhinestones provide a nice touch in terms of design.
Long Dress in Mesh and Feathers from Saint Laurent
While we don't think Saint Laurent managed to perfectly translate the feather trend into this dress, it is a passable attempt, and just for that, this dress deserves a chance. So, if you are a dedicated fan of this French fashion house, you can show your support by going ahead with your purchase!