Let's take a deep dive into the Louis Vuitton Spring in the City collection and take a look at the Marshmallow bag to see if it is worth the hype.
Louis Vuitton's Spring in the City capsule collection brightened up everyone's summer when it launched. The collection introduced ready-to-wear, handbags, accessories, and shoes; all in a variety of vibrant colours that would look perfect on your outings in this warm weather. But now that it's had a few months under the limelight, let's see if it has actually managed to make its mark or not. The piece we have selected from this collection is the Marshmallow in sunrise pastel bag.
The collection is sophisticated, yet casual and will add an urban and youthful touch to your wardrobe. But bear in mind, that although the pastel collection is eye-catching and feminine, these colours are seasonal and cannot be worn in the colder months. So, your new bag will probably sit in your closet, gathering dust for more than half of the year.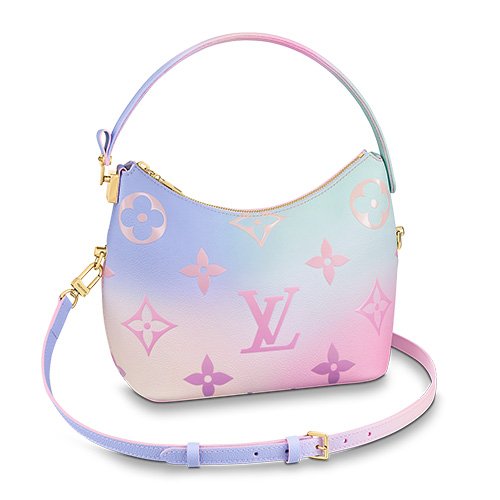 Louis Vuitton, Spring in the City Collection, Marshmallow in Sunrise Pastel
Another negative point about the colour is that it makes the bag harder to style. The colours are gorgeous on their own, but when paired with other outfits, you're going to be hard-pressed to find something that this bag will match with. The bag is not really classic or timeless, so that means that the bag is only going to stay in trend fleetingly. But the marshmallow style is not a staple in Louis Vuitton collections and it has only ever been brought out once before, which makes it a bit special to own.
The bag has a top handle that makes it easy to carry and you can wear it crossbody as well as it comes with a detachable crossbody strap. Just to make you aware, don't try to overfill the bag. As when the bag is heavier, it tends to go into a more marshmallow-type shape, and we understand that that's the literal name of the bag, but it does not look nice at all. That is because rather than a true marshmallow shape, it bulges out and looks deformed. The shape changes in a very asymmetrical way and the other side looks bent out while the top looks like an S shape. This can cause another problem because you might wear it every day in the warm months since that is the season for the bag, but that daily use will cause indentations on the leather due to this bulge and it will definitely ruin your pretty new bag.
Louis Vuitton, Spring in the City Collection, Marshmallow in Sunrise Pastel
The bag is quite spacious and you can fit almost all of your daily essentials in it. But, the top handle offers a bit of a problem, especially if you wear the bag crossbody, it doesn't really look very nice. It actually causes the bag to look a little weird as it sits awkwardly; as if it is floating in the air. Overall, it is a very well-thought-out bag, so you can go ahead with the purchase if you wish to get something unique and new for your collection.