It seems like charlotte tilbury tried their hands at some magical, futuristic skincare trends. But were they successful? Let's find out!
There is almost always some new skincare treatment popping up every year; and although Cryotherapy is not a new treatment, it has only recently started gaining popularity. It evolved over time to become a modern pain therapy, from where it made its entry into the beauty industry. In cryotherapy, whole or some parts of the body are exposed to cold temperatures for a few minutes. Although, the results are best obtained when done by professionals in clinics, today there are various skincare tools and products available that you can use to replicate the results – however temporarily. Enter: Charlotte Tilbury with their newest offering: The Cryo-Recovery Facial Duo.
Charlotte Tilbury's Cryo-Recovery Facial Duo. 
The Facial Duo is a new, research-powered cooling effect skincare duo that comes with their Cryo-Recovery Face Mask and Eye Serum; both inspired by cryotherapy. The brand claims that it offers its skincare secrets to visibly smooth, depuff, lift and firm your skin's look through its use. The eye serum is claimed to visibly depuff and brighten the look of your eyes, reduce dark circles, and provide hydration to the eyes. But sometimes, when a product claims to be magical, it turns out to be the exact opposite. The same is the case with Charlotte Tilbury's Facial Duo. Let's dive deep into all the reasons we did not find this product to be satisfactory, so you can make a decision based on all the genuine facts.
Cryotherapy is a form of ice treatment, which means great caution should be exercised while using it. Although, even after that there is a chance the product may not suit you, and in fact make your skin problems worse, because let's face it, our facial skin is the most sensitive part of our body and also the most easily irritated. The instructions are to place the mask in the freezer for 30 minutes before use. But the mask is not made with great care and falls apart before it even reaches your face. It seems to be made of very poor-quality material as it falls apart after just one use. The Velcro straps very easily detach from the mask, which makes it impossible to use as you cannot hold a mask to your face for 10 minutes! Although some users claim that the eye cream worked for them and provided great results. And the cool temperature of the cream was relaxing against their tired skin.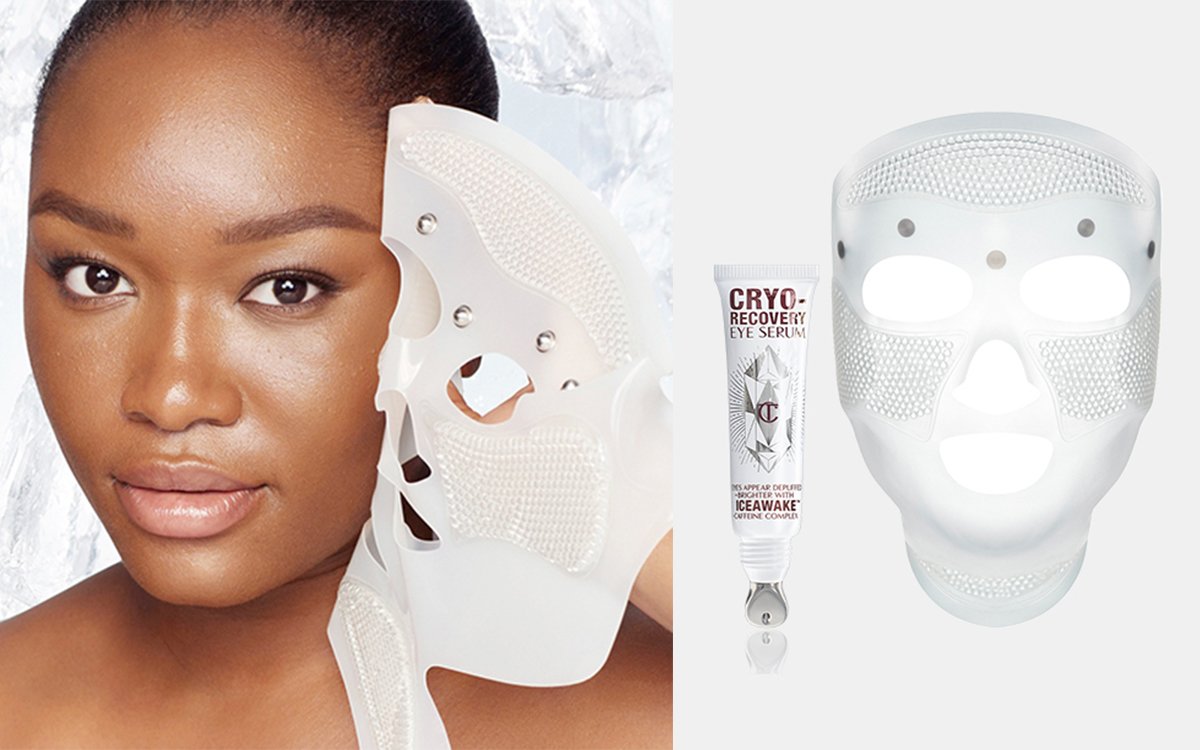 Charlotte Tilbury's Cryo-Recovery Facial Duo. 
Another problem that was discovered by users was that it freezes disproportionately. Which makes it impossible for the mask to attach to the face. There is also a bad smell of plastic in the mask which makes it a nuisance to use. The metal beads leave embarrassing indents on your face that stay for long periods of time.
Although the concept is great, it has not been realised properly and hence, the poor outcome. We definitely expected great miracles from Charlotte Tilbury, given the brand's stellar performance till now. But it's clear the brand needs to be careful about what they promise, or at least deliver if they do! Their take on the latest skincare trend of cryotherapy seems to have flopped spectacularly. But keep at it, maybe second time's the charm Charlotte Tilbury! But if you wish to try your hands on this new, trending treatment conveniently at home, you can definitely go ahead and purchase it!