Are You Someone Who Likes To Carry Sophisticated and Elegant Jewellery Pieces? If You Are, We Have A Necklace For You. Take A Look And Decide For Yourself.
Jewellery, like a sparkling constellation adorning the night sky, has long held a mesmerizing allure for women, bewitching them with its beauty. This timeless accessory has the power to transform an outfit, infusing it with elegance, grace, and a touch of individuality. Just as a poet skillfully weaves words into a symphony of emotions, women express their stories and identities through the intricate artistry of jewellery.
But what if we tell you there are jewellery pieces that will make you doubt if they're worth spending on. Be it a stroke of a diamond necklace or the gentle clink of silver bracelets, women find themselves captivated by the power of jewellery. Well, this might not be the case with all the jewellery pieces. We're claiming this fact as we laid our eyes on a unique piece of jewellery that made us believe this statement.
This month, the Comb Silver Tone and Leather Necklace caught our attention. A silver necklace that boasts a unique and
innovative design setting it apart from conventional necklaces. The centre of attraction of this necklace is the silver-tone
comb pendant that exudes a contemporary and edgy vibe.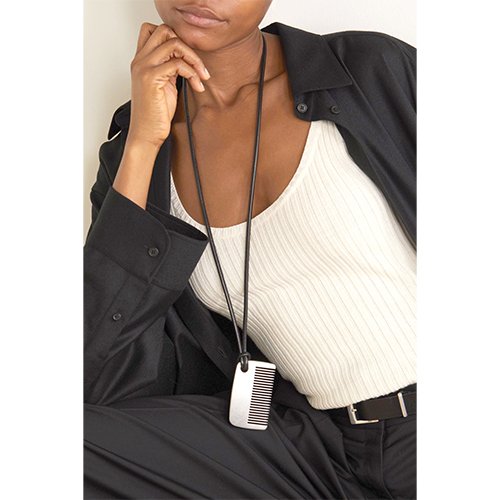 The comb pendant is crafted with precision and attention to detail from high-quality materials. It is likely made from a premium metal alloy, ensuring durability and a polished appearance. The leather cord, carefully selected, offers a soft and luxurious feel against the skin.
That's not all. There are certain other aspects to consider as well. The combination of leather and metal requires careful
maintenance. Leather can be sensitive to moisture and needs periodic conditioning to preserve its quality, while the silver-tone comb may require polishing to prevent tarnishing over time.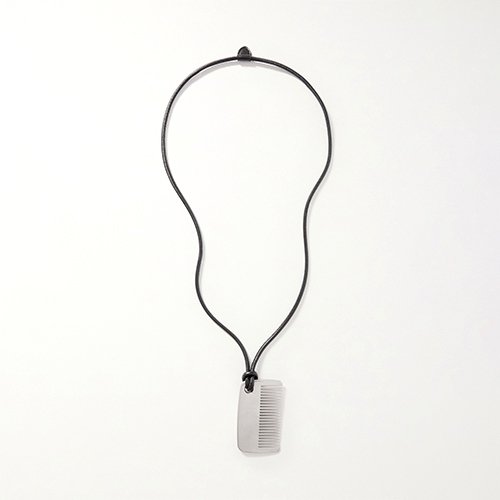 The peculiar design of the Comb Silver Tone and Leather Necklace may limit its versatility, making it less suitable for formal or conservative occasions. Some individuals may prefer more classic or simple necklace styles that offer broader matching possibilities. However, a tiny comb as a pendant doesn't seem to be enough to captivate many hearts.
We wish there was a better way to say this but this pendant simply looks tacky.
Although some people might find this piece of jewellery striking, we've mentioned all the aspects one looks for in jewellery. So, the decision is yours to make if this necklace is worth adding to your jewellery collection or not.