Yes, It Was A Hot Boy Summer At Men's Fashion Week 2024. The Collections Breathed Life Into Garments, Reimagining Them With Meticulous Attention To Detail While Exuding An Effortlessly Relaxed Attitude. Don't Believe Us? Take A Look At This Season's Best-Dressed Shows For Some Street-Style Inspiration.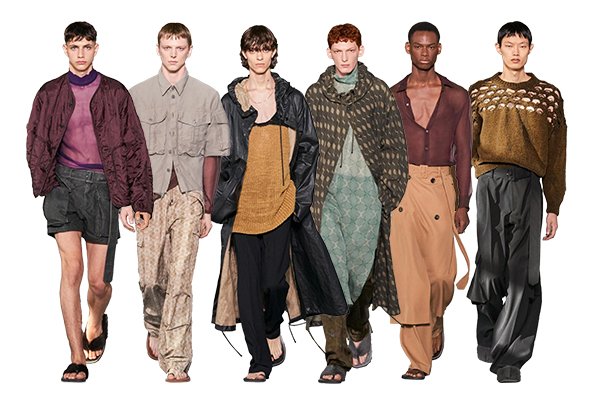 Making it very masculine, elegant for the young, and interesting to the young; this Dries show we can definitely say that Van Noten's instinct for colour is unmatched and never conventional. Some tops in mousseline were sheer, some sandals were strapped with fur, some hems on shorts and combat pants were frayed and raw, and the knit velvet sweater featured a grid of plucked perforations across the chest: layers of patina, wear, and form. This was a collection crying out to be moved into. Playing aubergine sheer top against a bomber was simultaneously unlikely and self-evidently effective.
Virtually synonymous with vivacious prints and heirloom quality, Dries Van Noten held himself back for his spring 2024 men's collection, where solids reigned and only a handful of garments bore muted shadowy geometric patterns. The phrase "disrupted elegance" opened the show notes for this Dries Van Noten's S/S24 collection. At this point in his career, elegance is both intrinsic and expected from the Belgian designer – disruption, is less so. The disruptive element made itself known quietly. In elongated silhouettes, defined waists and lengthy, billowing trenches, the collection swept through the desolate venue and opted for a departure from the signature vibrant prints.
There was a lightness in the textiles that flowed in their enveloping length, with sheer mousseline and gauzy technical fabrics
appearing to float over the body, revealing bare skin beneath. In stripping away, the noise, Van Noten proved that, in gentle elegance, there's bustling, and desirable strength.
LOUIS VUITTON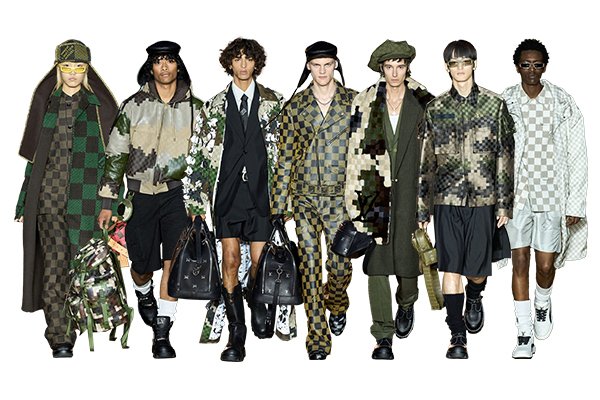 The Louis Vuitton Men's Spring Summer 2024 collection is anything but not subtle. Acing the runway while unveiling Damoflage, the amalgamation of camouflage with Louis Vuitton's signature Damier pattern. The pattern's chessboard motif is also reinterpreted in many ways and tailored in colourful Damier styles. If this is any indication of the continuous magic that Pharrell will bring, then one thing's for sure: "We're up all night to get lucky". The most powerful love bombs of all were the accessories. Bags are what make Vuitton's world rotate and this collection was spun with many, many eye-catching variations: zingily coloured Keepalls, Almas, Neverfulls and Speedys, worn in clusters, heaped deliciously.
Damier denim, trench coats, suiting, bikers, varsity jackets, shorts, and more in multiple colourways. Having the iconic LV monogram as its primary motif, cleverly interwoven with his distinct Damoflage print, a playful pixelated representation reminiscent of retro 8-bit graphics. This clever juxtaposition of heritage and novelty added a dash of unique charm, akin to the pairing of classic elegance with contemporary fashion.
The collection brought to life traditional and novel silhouettes, brilliantly mirroring the show's theme. With the line-up including everything from the bold short suit to long coats, from leather jackets with hoods to cargo shorts. This energy was evident in his collection, a beautiful medley of contrasting designs, blending heritage and innovation with a charming fluidity. The sentiment fuels attention to detail from the macro level of the techniques and materials of garments and accessories to the micro level of buttons, rivets and zips; while each component is treated with the same amount of love.