Time To Step Into The World Of Fashion That Knows No Boundaries. Embracing The Style And Pride Altogether, It's Time To Wear Your Style With A Vibrant Spectrum.
Pride Month is a time to come out and express your support for the concept of inclusivity whether you are a member of the LGBTQ+ community or an ally. That applies to promoting queer people, their culture, and their identity while also supporting them and looking amazing while doing so. In spite of the fact that Pride isn't about fashion, it doesn't hurt to shout "love wins" while having a fit.
To embrace the people living their life in the beautiful colours of the pride flag, we're here to add to that love. We're here with 8 outfits curated and dedicated to the 8 colours of pride. Each colour of the pride flag holds a symbolic meaning. Chosen with the motive of love, power, and purpose these are the perfect outfits anyone can slay this pride month. These brilliant Pride month-inspired outfit suggestions will help you standout and feel your best.
Pride Month is a vibrant celebration of love, equality, and acceptance for the LGBTQ+ community. It is a time when people come together to honour diversity and embrace their true selves. Fashion plays a significant role in expressing individuality and pride during this month, with outfits dedicated to the colours of the pride flag.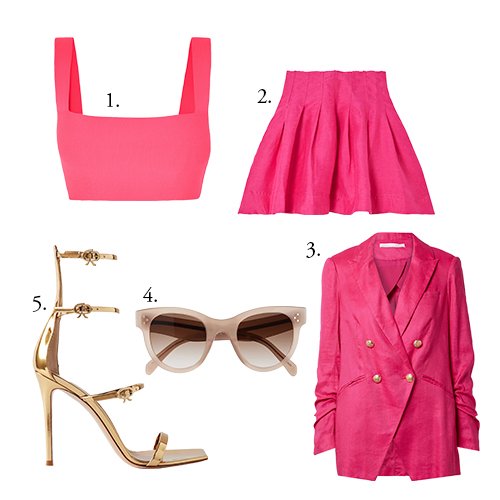 THE HOT PINK SYMBOLISES SEX
1.VICTORIA BECKHAM, VB Body cropped stretch-knit top, approx. Rs. 16,540
2.AJE, Sheila frayed pleated linen-blend mini skirt, approx. Rs. 29,760
3.VERONICA BEARD, Hirsh Dickey linen-blend blazer, approx. Rs. 89,490
4.CELINE EYEWEAR, Round-frame acetate sunglasses, approx. Rs. 52,580
5.GIANVITO ROSSI, 105 mirrored leather sandals, approx. Rs. 1,48,900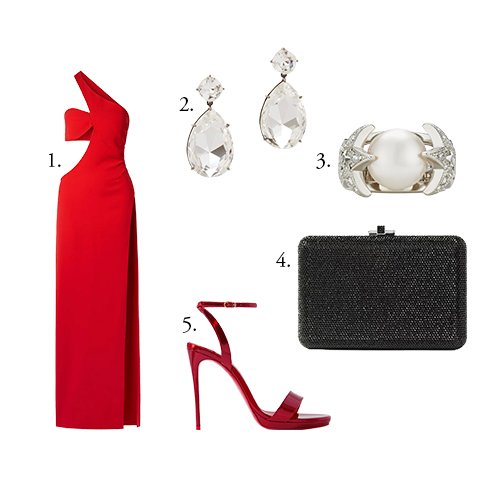 RED SYMBOLISES LIFE
1.MÔNOT, One-shoulder cutout crepe gown, approx. Rs. 2,00,760
2.ALEXANDER MCQUEEN, Silver-tone crystal earrings, approx. Rs. 73,850
3.JIMMY CHOO, Crystal Star Ring, approx. Rs. 43,360
4.JUDITH LEIBER COUTURE, Slim Slide crystal- embellished silver-tone clutch, approx. Rs. 2,94,250
5.CHRISTIAN LOUBOUTIN, Loubi Queen 120 metallic patent-leather sandals, approx.Rs. 1,09,380
ORANGE SYMBOLISES HEALING
1.LOEWE, + Paula's Ibiza cropped tie detailed embellished jersey top, approx. Rs. 97,420
2.NORMA KAMALI, Ruched neon stretch jersey skirt, approx. Rs. 14,210
3.GUCCI, Gold-tone, crystal and faux pearl necklace, approx. Rs. 1,22,360
4.BOTTEGA VENETA, The Chain Pouch gathered leather clutch, approx. Rs. 4,80,870
5.JIMMY CHOO, Rosie 120 satin sandals, approx. Rs. 1,12,530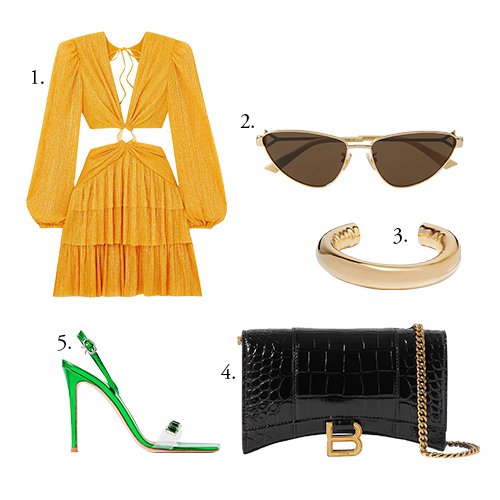 YELLOW SYMBOLISES SUNLIGHT
1.REBECCA VALLANCE, Phaedra cutout glittered recycled-voile mini dress, approx. Rs. 64,600
2.BOTTEGA VENETA EYEWEAR, Cat-eye gold-tone sunglasses, approx. Rs. 54,450
3.JENNIFER FISHER, Tube gold-plated cuff, approx. Rs. 39,450
4.BALENCIAGA, Hourglass croc-effect leather shoulder bag, approx. Rs. 1,56,790
5.GIANVITO ROSSI, Crystal embellished PVC and patent-leather slingback sandals, approx. Rs. 1,27,710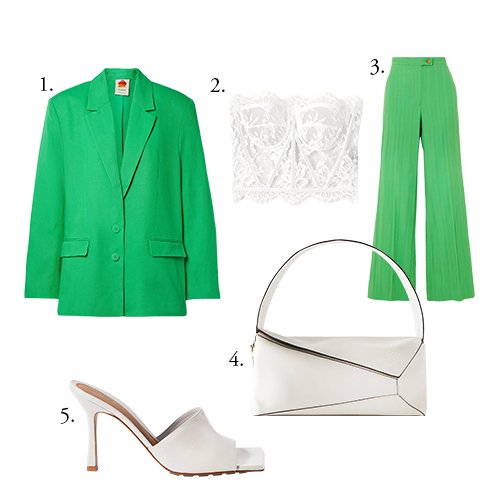 GREEN SYMBOLISES NATURE
1.FARM RIO, Lyocell and cotton-blend blazer, approx. Rs. 25,430
2.DOLCE & GABBANA, Grosgrain trimmed lace bustier top, approx. Rs. 1,45,900
3.GIULIVA HERITAGE, Laura striped wool straight-leg pants, approx. Rs. 1,31,760
4.LOEWE, Puzzle leather shoulder bag, approx. Rs. 2,14,370
5.BOTTEGA VENETA, Leather mules, approx. Rs. 1,12,810
TURQUIOSE SYMBOLISES MAGIC OF ART
1.STELLA MCCARTNEY, + NET SUSTAIN Falabella one- shoulder crystal embellished satin gown, approx. Rs. 3,42,942
2.JENNIFER BEHR, Viniette silver-plated crystal earrings, approx. Rs. 34,670
3.ALEXANDER MCQUEEN, Leather gloves, approx. Rs. 81,690
4.JUDITH LEIBER COUTURE, Ruffled crystal-embellished satin tote, approx. Rs. 1,76,510
5.MACH & MACH, Double Bow crystal embellished silk-satin point-toe pumps, approx.Rs. 1,28,690
INDIGO SYMBOLISES SERENITY
1.TALLER MARMO, + NET SUSTAIN El Sol belted crepe kaftan, approx. Rs. 1,10,740
2.DIOR EYEWEAR, 30Montaigne SU oversized square-frame acetate and gold tone sunglasses, approx. Rs. 67,690
3.BALENCIAGA, Gold-tone chain earrings, approx. Rs. 94,900
4.CHRISTIAN LOUBOUTIN, Loubi54 metallic lizard-effect leather clutch, approx. Rs. 2,42,750
5.GIANVITO ROSSI, Ribbon 105 metallic patent- leather slingback sandals, approx. Rs. 1,08,300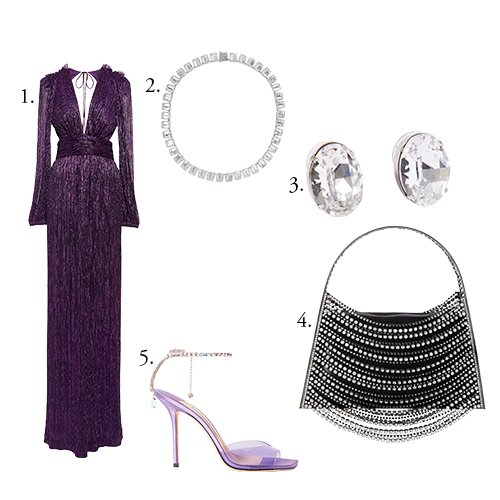 VIOLET SYMBOLISES SPIRIT
1.REBECCA VALLANCE, Leonie metallic gown, approx. Rs. 54,150
2.MARTHA CALVO, Anna silver-tone crystal necklace, approx. Rs. 41,210
3.JENNIFER BEHR, Gemma silver-plated crystal earrings, approx. Rs. 19,780
4.BENEDETTA BRUZZICHES, Lucia in the Sky crystal-embellished silver-tone and satin, approx. Rs. 2,02,760
5.JIMMY CHOO, Saeda 100 crystal embellished PVC and satin sandals, approx. Rs. 1,36,580