It's Always Worth Choosing Something A Little More Stylish, Rather Than Skimping On This Decision. What Can Be Better Than Your Wedding Day? The Moment When These Cars Will Make You Look Great And Feel Special, Giving You All The Extra Special Chills. Dive In To Find Your Perfect One To Drive With Your Perfect One!
Weddings are special occasions that are cherished for a lifetime. Every aspect of a wedding needs to be perfect and memorable, including the wedding cars. Luxury wedding cars have always been a symbol of elegance, sophistication, and
grandeur. In 2023, the top luxury wedding cars are expected to offer a blend of modern and classic styles, advanced technology, and high-end features.
If you've long been dreaming about your wedding day, and the extravagant ways you could arrive at the venue, this can become a reality. When you focus on all the finer details of your big day, don't forget to consider the wedding car you're going to use. However, thinking about your wedding transportation can be a key feature of your wedding day. And it's one that should most definitely take priority to ensure a comfortable and happy ride. 
Luxury cars are the epitome of style, comfort, and performance. They come with advanced features, top-of-the-line technology, and cutting-edge designs. In this segment, we will take a look at the top latest luxury cars that are making waves in the automotive industry and making your wedding day even more special.
JAGUAR F-TYPE 75 CONVERTIBLE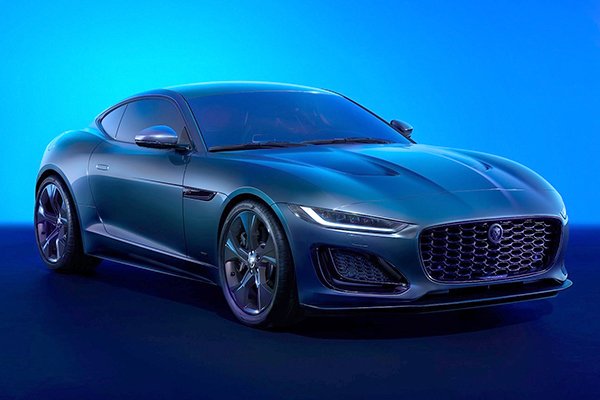 JAGUAR F-TYPE 75 CONVERTIBLE
British marquee Jaguar is celebrating 75 years of its sports car lineage, thus the automaker has revealed the 2023 F-Type 75 Special Edition. This is also the final edition of the sports car while marking the end of the line for the iconic model that first went on sale in 2013. There are multiple alloy wheel options including forged wheels specially wrapped in Pirelli P Zero tyres.
Options also include carbon-ceramic brakes with yellow callipers. Other changes include new wheel centres and grille badges
that are now finished in black instead of red. There are also the R-Dynamic badge accent colours now finished in black and grey, instead of the previous red and green. The 2023 Jaguar F-Type 75 Special Edition gets subtle badges on the front fenders to denote its unique status. Available in both coupe and convertible versions, the 2023 Jaguar F-Type will be offered with the 2.0- litre Ingenium turbo petrol engine with 296 BHP on the base versions. The top-spec F-Type R 75 comes with the 5.0-litre
Supercharged V8 motor tuned for 559 BHP. The motor sends power to all four wheels via All Wheel Drive with an 8-speed automatic transmission as standard. 0-100 kmph comes up in 4.4 seconds with an electronically limited top speed of 285 kmph. The V8 versions also come with the Quiet Start function that will make a fainter growl every morning.
MERCEDES-AMG GT 63 S E PERFORMANCE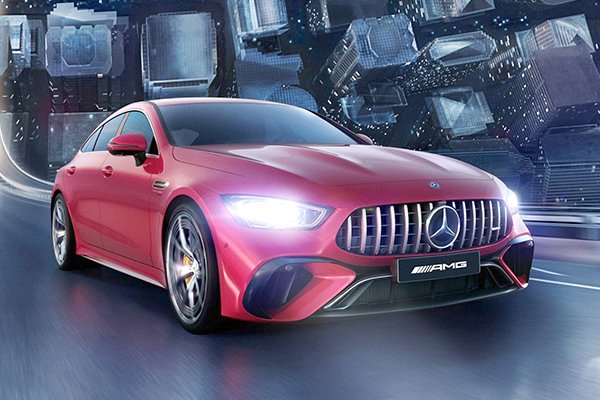 MERCEDES-AMG GT 63 S E PERFORMANCE
The Mercedes-AMG GT 63 S E Performance 4-Door Coupé fuses seemingly incompatible vehicle classes into an extravagant package and that includes design. As, the first performance hybrid from Mercedes-AMG, the GT 63 S E PERFORMANCE focuses on stylish accents that clearly identifies it as an E PERFORMANCE vehicle. To enjoy the exciting sensation of sitting in an exclusive sports car. The interior of the Mercedes-AMG GT 63 S E PERFORMANCE 4-Door Coupé impresses with its sporty ambience and spacious feel. The perfect co-pilot: the intelligent MBUX operating and display concept. Developed in the wind tunnel, the package improves handling characteristics at high speeds and lays the foundation for even more driving pleasure. The detachable parts increase the contact pressure and reduce the air resistance. In the interior, it discovers the displays and buttons in the Mercedes-AMG GT 63 S E PERFORMANCE that has been specially adapted to the plug-in hybrid. The AMG hybrid technology paves the way for the AMG Driving Performance experience in an electrified future. So why not drive it on your big day?
FERRARI PUROSANGUE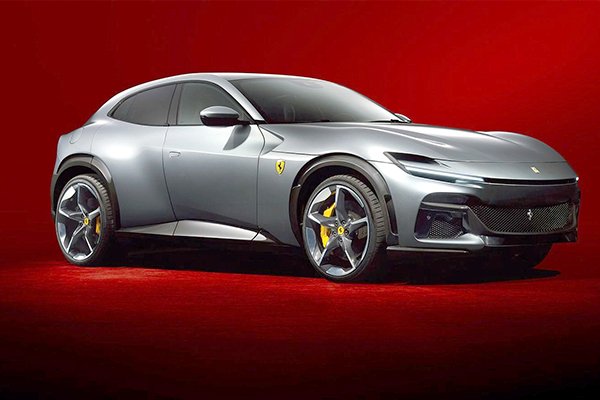 The first four-door Ferrari has been positioned as an SUV, a car that notionally has the Aston Martin DBX, Bentley Bentayga, Lamborghini Urus, Porsche Cayenne Turbo, and Range Rover in its insights. Except it isn't an SUV. Perhaps it could fall under 'jacked-up sports car', a fashionable niche newly occupied by Porsche's 911 Dakar and Lamborghini's upcoming Sterrato, although it has considerably more bandwidth than either. That's a little high- minded, but not inaccurate: the Purosangue is in a class of its own. The Purosangue is best appreciated, then, as the Ferrari you can use every day, the answer to the world's
most definitively first world problem. The brand has spent a year defining the car's architecture, before drafting its design. With no historical reference point, and given that the car is all-new, Ferrari had to create a fresh archetype. What look like headlights are actually aero ducts, the slim-line LEDs beneath actually doing the illumination, while air also flows through the 'aero bridges' that connect the bonnet to the base of the windscreen and the A pillars on either side. The front bumper and wheelarch surrounds a quasi-off-road look, but work together to create an air curtain that seals the front wheels, cleaning up the disruptive air flows there. It looks best from the rear three-quarters, full-volumed and dramatic, with a kick above the rear wheelarches and a rear light graphic that connects it to other contemporary Ferraris.
AUDI R8 COUPÉ V10 GT RWD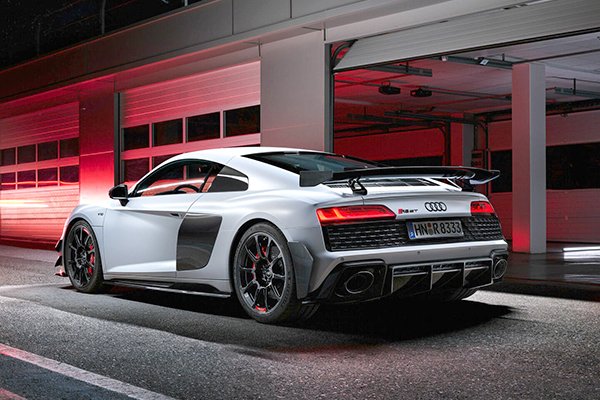 Twelve years after the premiere of the first Audi R8 GT, Audi Sport GmbH is launching the second edition of this exclusive super sports car: the new Audi R8 Coupé V10 GT RWD. "Most powerful rear-wheel drive unit in the history of the brand," this new German supercar utilizes the familiar 5.2- liter naturally-aspirated V10 and sends a pumped-up 620 HP to the rear wheels alone through a new seven-speed dual-clutch transmission. This works in tandem with a "Torque Rear" driving mode to perfect oversteering. Capable of hitting 62 MPH in 3.4 seconds and going onto a top speed of 199 MPH, the GT RWD follows on from the first Audi R8 GT that debuted 12 years ago. Then, it was one of the most hardcore, yet simultaneously usable track weapons for the road, and this new iteration is no different here. While it's perfect for the track, with plenty of aero trickery to help it stick to the ground now it's lost Quattro traction, the car should also behave well on twisty roads. On the topic of aero, Audi has added a carbon aerokit in high-gloss finishing what was developed in a wind tunnel to ensure as much downforce as possible. Per the manufacturer, this includes a front splitter, flics, side skirt covers, cW-elements on the sides of the rear bumper, a diffuser, and a rear wing with gooseneck suspension. While a new set of 20 10-spoke rims and all-black badging further differentiates this example from its peers.
2023 LAMBORGHINI HURACAN STO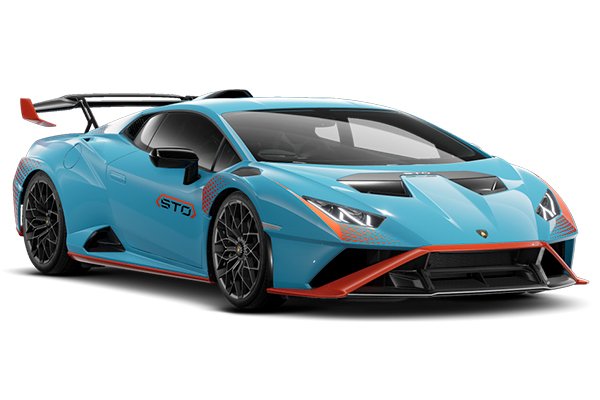 2023 LAMBORGHINI HURACAN STO
The Lamborghini Huracan STO remains unchanged for 2023, simply adding a Tecnica variant that's slightly more civilized and detuned for street driving. The Huracan STO is a track-prepped Italian supercar that seats 2 passengers and is only available as a 2-door coupe. Two models are offered: Tecnica and STO. One engine is available: A 5.2-liter V10 that produces 631 horsepower and 417 pound-feet of torque. It pairs to a 7-speed dual-clutch automatic transmission. Only rear-wheel-drive models are offered. The Huracan STO can do 0-60 in just 3 seconds and continue to a top speed of 192 mph. It features track-prepped bodywork that includes spoilers, underbody aerodynamic effects, and is rear-drive only. A super-sports car created with a singular purpose, the Huracán STO delivers all the feel and technology of a genuine race car in a road-legal model. Lamborghini's years-long motorsport know-how, intensified by a winning heritage, is concentrated in the new Huracán STO. Apart from that, the STO is equipped with a front splitter and rear wing as a part of its aerodynamics with 3 manual regulations. Whereas the EVO Spyder has an integrated slotted spoiler along with aerodynamic deflectors and a rear diffuser in the underbody. It will be available in standard RWD configuration from this year too.
MCLAREN 750S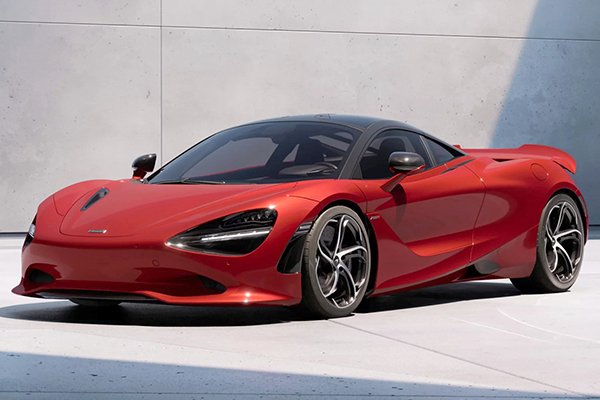 The 750S takes the McLaren ethos to a new apex. True to its DNA, it's the next-level supercar. Surpassing the benchmarks for
performance, engagement and purity of response. Defined by the relentless pursuit of lightness, it is shaped by an innovation
and expertise forged and honed in Formula 1TM. The 750S is the living, breathing proof that–at McLaren–progress is never
over. Every 1/100th of a second and each millimetre counts. Every limit is tested and surpassed. Undoubtingly, it is the lightest and most powerful series production in McLaren supercar ever. Delivering a stunning breadth of abilities that allows no compromise. The latest class-leading supercar from a bloodline with a 60-year history. The 750S takes the mind-bending
performance, telepathic handling and further lightning responses of the McLaren 720S. Towards the point where car and
driver work as one. From flat-out circuits. To sinuous A-roads. The McLaren ethos drives a constant search for more performance. Less weight, and perfectly judged balance.