Let The Fanciness Mimic With Your Bathroom All–The–Way! Is There Anything More Luxurious Than It? The Answer Is No!
We all are fond of celebrating life's little luxuries in our homes. And where better to do so than the bathroom? You don't need to have a penchant for skincare or spend hours soaking in a tub to appreciate a modern, well-appointed bathroom. In fact, the right touches can make something as mundane as brushing your teeth feel like an elevated experience. Larger primary bathrooms might have ample opportunities for modern elements, but make no mistake, smaller spaces can make a stylish splash, too. Need proof? The bathroom interior below embraces the lap of luxury, regardless of its size. So, kick back, rinse off, and dive into the spaces that deliver an instant woo…
1. STATEMENT-MAKING SINK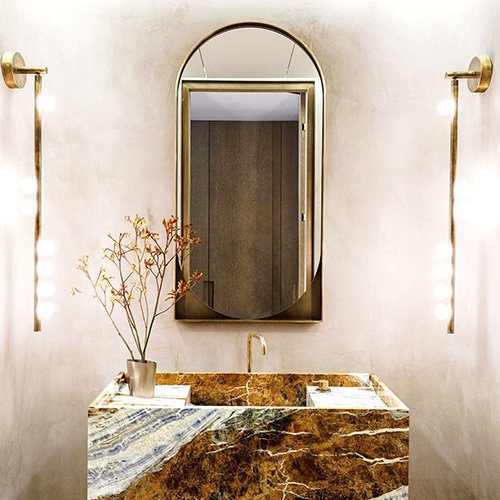 Just because you have limited square footage doesn't mean you have to skimp on luxury. If you want to make a statement in your bathroom, invest in one standout piece. Sometimes a plain white washbasin just doesn't have enough pizzazz for the bathroom you have in mind. As the sink creates an almost magical feeling in this contemporary bathroom.
2. MULTIPURPOSE BATHROOM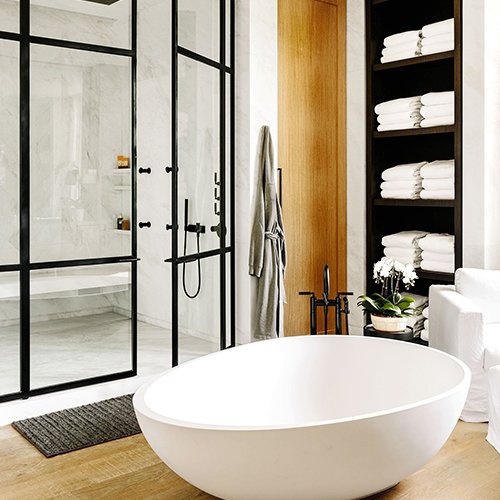 Why decide between a shower or a bathtub when you can have the best of both worlds? Placing a standalone soaking tub next to the walk-in shower, complete with custom steel-and-glass doors denoting of a perfect his & her bathroom décor. Walk-in – bathtubs with shower enclosures have become increasingly popular, as an alternative to the traditional bathtub. The reason behind having this exceptional combo at once is that they offer many benefits and remedy many issues that come with traditional tubs. This gave way to fixing requests for eliminating the bathtub and replacing it with the more practical shower enclosure, influenced also by a change in lifestyles which involved dedicating less time to relax at home.
3. TRIPPING TO THE GRAND ADVENTURE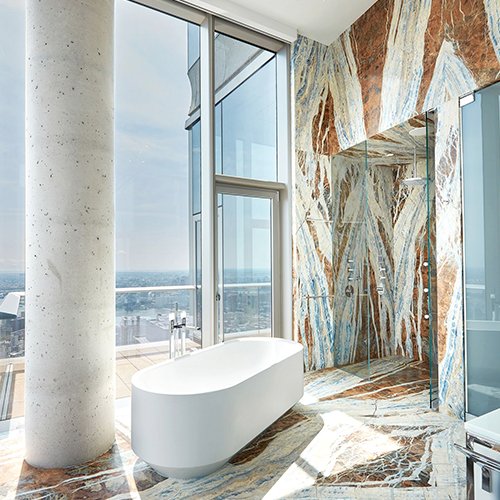 Tripping To The Grand Adventure
Dramatic marble-covered walls and floor take your eyes on a gorgeous adventure just like this dramatic-designed bathroom. The stark white bathtub looks like pure bliss. From crafting the best layout for the space to selecting the right materials and fixtures along with lighting, flooring, storage units, and functional accessories. There is a lot that goes into the interior designing of a bathroom. A surefire way to infuse this space with a sense of luxury is by using marble in different elements of the space.