With Styles To Suit Every Outfit Whim And Fancy, From Sheer And Corseted Gowns, To Figure-Flattering Silhouettes And Statement Minidresses. Take A Sneak Peek At Some Of The Looks We Personally Loved This Season.
New York Bridal Fashion Week is a bi – annual event where designers come together to showcase their newest and most gorgeous bridal collections. This is a time when we get the opportunity to evidence what's new and what probably showcases the most recent trends. And, here we are using our expertise to help brides- to-be find their dream wedding day gowns.
This year, we're especially excited for the Spring 2024 collections as designers have seemingly continued to break the mold of
"traditional bridalwear," further creating looks that are at once unexpected and inclusive for a range of bridal styles. But don't worry, we aren't keeping everything to ourselves.
Throughout the runway shows and presentations, designers acknowledged that many brides want more than one look for their wedding day, and offered ways that might be achieved without resorting to multiple dresses. Since bridal gowns can now be seen all over social media, brides are wanting something different that makes their wedding gown more unique. Matching boleros, detachable sleeves, and overskirts are quite popular, allowing brides to transform their look from ceremony to reception.
If you want to have a sneak peek at the looks set to be revealed this season, we've rounded up a preview of the gowns you'll be able to see during Bridal Fashion Week and beyond. Keep reading to know all the deets.
ELIE SAAB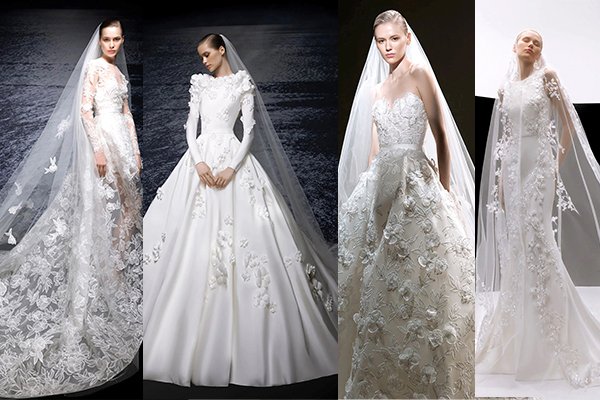 Fashion designer Elie Saab's bridal collection embodies the same elements as the Lebanese designer's Couture house. While known for his ultra-feminine and awe-inspiring red-carpet gowns, Saab's design roots are grounded in bridal. Renowned for his decadent couture collections, this season Elie Saab merged boldly textural finishes with the elegance of bridal. An iconic New York City townhouse in ornate setting the stage of Elie Saab's Spring 2024 Bridal Collection, A Sense of Wonder. Inside, ornate spiral stairs lead to a collection of otherworldly gowns, woven with ethereal embellishment.
Traditional ballroom silhouettes and voluminous skirts were encrusted with crystals. We loved the Japanese references that ran through the collections. Oragami-like pleating and ruffled necklines transformed a traditional A-line silhouette into a modern masterpiece. Intentional in composition and intricate in detail, each exalted gown is a haiku to the beauty of evanescence.
The collection invokes a sense of wonder and inspires movements of awe through its visions of a floating world. Budding Sakura (cherry blossoms) delicately unfold, petal by petal, through terrains of sweetheart necklines and voluminous ballroom skirts. Wispy tulle mists carry delicate beads and sequins to radiate, bringing a touch of effervescence to thriving appliqué flowers.
Sumptuous ruffles embellish off-the-shoulder necklines, cascading down fitted ballerina bodices, and luscious silk. Lace embroideries dance with large crystals and silk thread, moving through illusions of opacity and transparency.
DANA HAREL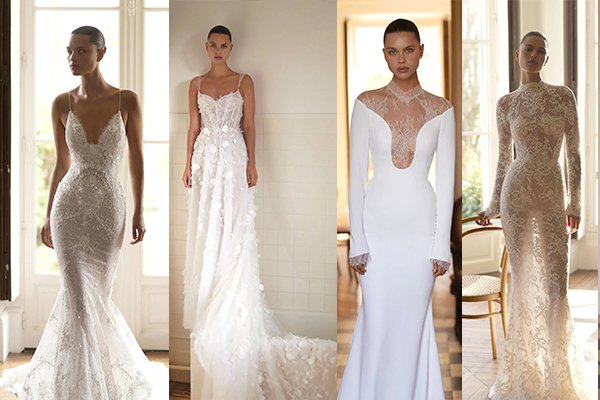 Dana Harel quickly made a name for herself, dressing celebrities like Gina Rodriguez, Adria Arjona, Quentin Tarantino's wife Daniella Pick, Danielle Synder (from Dannijo), and many more. The Dana Harel collections are tailor-made for the fashion-forward bride, focusing on sexy silhouettes with lace, beaded embellishments, and luxurious textures.
Dana Harel's Spring/Summer 2024 bridal collection, "Water Lilies", features 11 breathtaking dresses that embody timeless elegance and ultra-femininity in bridal wear. Taking a fresh and more modest approach this season, designer Dana Harel infuses delicate and intricate lace fabrics with a modern twist, inspired by the impressionism of Claude Monet's Water Lilies series impressionist series of the same name.
"Water Lilies" reimagines classic bridal wear, focusing on ultra- femininity and various interpretations of a traditional wedding dress. Showcasing new necklines and innovative fabric pairings for a personalized and unique look that is perfect for the contemporary bride. Each dress is light and airy, providing an effortless and delicate aesthetic that exudes grace and refinement. The collection infuses delicate and intricate lace fabrics with a modern twist and it is inspired by the impressionism of Claude Monet's Water Lilies series.
Dana Harel's ability to use different fabrics in a collection can be seen season after season. For SS24, the designer took things to another level by blending fine silks with delicate lace and flowing tulle, to bring a romantic touch to a minimalist gown. The looks have a combination neckline, with plunging silk and lace on the bodice, back, and sleeves, for a unique layered look which you don't typically see in bridal attire.