What Once Was A Very Niche Style Has Now Become The Type Of Aesthetic Anyone Can Subtly Sneak Into Their Wardrobe. So, Let This Era Be A Form Of Self-Expression Through Fashion And The Dreamy Quality Of Bohemian Style Which Keeps The Trend Traditional But Bold.
We are here to make it clear that: Boho is back—this time with a fresh take on silhouettes, a special attention to craftsmanship, and revamped patterns. So, allow loose patchwork of caftans, crochet, and organic accessories to play the main character energy in your wardrobe. First becoming popular with the counterculture of the '60s and '70s, bohemian style of dress was casual, cool, and whimsical, with a penchant for earthy tones and psychedelic prints. But since then, the flower child aesthetic has evolved to incorporate modern-day trends and values.
Depending on whom you ask, boho style never really went away—even if you long ago scrubbed its early 2010s heyday from your Instagram grid. But it's officially back in full force this season. Thanks to fresh styling and revamped silhouettes, staples
like fringe, tie-dye, and crochet feeling new again.
Being rooted in a fashion that looks effortless and seeks to unleash your artistic, free-spirited, and creative side, you're going to see more body-hugging pieces popping up among the floaty staples of a traditional bohemian wardrobe. So, dust off those Birkenstocks and prepare for a summer filled with love and boho. We're here executing the trend in a more structured way and luxe by relying on fabrics to convey the artistic feeling.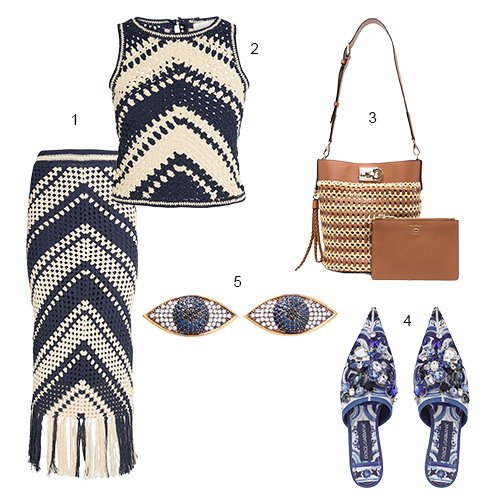 1. ZIMMERMANN, Crochet Chintz Midi Skirt, approx. Rs. 85,890
2. ZIMMERMANN, Crochet Chintz Crop Top, approx. Rs. 40,180
3. FERRAGAMO, Trifolio raffia tote bag, approx. Rs. 4,51,730
4. DOLCE & GABBANA, Embellished jacquard slippers, approx. Rs. 1,46,720
5. BEGÜM KHAN, Nazar mini gold – plated crystal earrings, approx. Rs. 81,470
1. LA DOUBLEJ, Baia Midi Skirt, approx. Rs. 53,320
2. ALTUZARRA, Pella off – the – shoulder cotton – blend poplin peplum top, approx. Rs. 78,620
3. VALENTINO GARAVANI, VLOGO gold – tone faux pearl earrings, approx. Rs. 79,600
4. PROENZA SCHOULER, Square Rolo leather sandals, approx. Rs. 1,79,120
5. ALEXANDER MCQUEEN, Skull Four Ring Box Clutch, approx. Rs. 84,580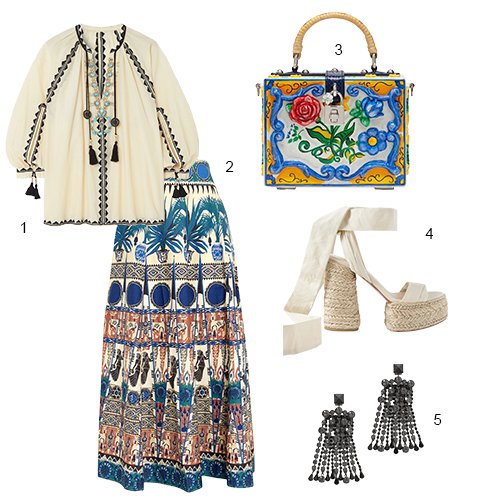 1. FORTELA, Ghodsi embellished embroidered cotton – voile blouse, approx. Rs. 1,59,300
2. EMPORIO SIRENUSE, Emily Coptic Maxi Skirt, approx. Rs. 62,150
3. DOLCE & GABBANA, Dolce Box top – handle bag, approx. Rs. 7,39,370
4. CHRISTIAN LOUBOUTIN, Mariza du Desert 130 gabardine espadrille platform sandals, approx. Rs. 1,14,140
5. VALENTINO GARAVANI, Silver – tone crystal earrings, approx. Rs. 2,08,760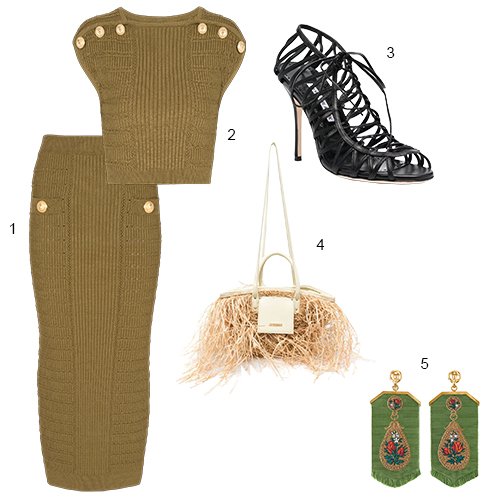 1. BALMAIN, Midi knit skirt, approx. Rs. 1,22,340
2. BALMAIN, Knit crop top, approx. Rs. 83,490
3. MANOLO BLAHNIK, Hamzana 110 mm strappy sandals, approx. Rs. 2,04,990
4. JACQUEMUS, Le panier Soli Raphia basket bag, approx. Rs. 71,090
5. ETRO, Fringe embroidered earrings, approx. Rs. 1,08,290