From Sleek Tuxedos To Boundary-Pushing Evening Looks, The Men At The 95th Annual Academy Awards Proved That There Isn't One Way To Show Up To The Red Carpet.
Can we get a drumroll, please? The day we've been waiting for is finally here—it's Oscar's night, folks!
It is, afterall, the biggest night in Hollywood; if there was ever an occasion to dress to impress, it would be now. It's been quite the year for the film industry, too, which is something to celebrate. It's been an overwhelmingly good year for movies, all leading up to tonight. we're focusing on the very best menswear looks of the night, and these guys are sure as hell winners in their looks. But far more important than all of that are the precious few minutes that stars get to strut their stuff ahead of the awards show. With much of the fashion press honing in on the grand, illustrious, and often daring outfits worn by female stars, the guys often get overlooked. That's why we thought we'd break down the best Oscars 2023 men's outfits, just as they hit the red carpet. And as ever it was a big night for fits. For another year of red-carpet madness, the stars went large. We're living in the golden age of everything-goes menswear, which means that even if we're expecting to see plenty of freaky tailoring, slouchy silhouettes, and double-breasted suits galore…well, really, anything has happened. Many ditched the traditional tuxedo for more contemporary designs, often embellished with brooches or jewels for a touch of glam. Find our selection of the best-dressed below.
1. JAY ELLIS
Navy tuxes have dominated awards-show carpets in recent years; perhaps that's why it was so great to see many men reverting to classic black tuxedoes for the 2023 Oscars. Top Gun: Maverick 's Jay Ellis was an early arrival, and able to notice that his suit, by Fendi Mens, included a black single-breasted jacket embellished with an all-over floral motif embroidered in matching tone micro beads. Ellis accessorized his tux with Cartier's Tank Must watch and Christian Louboutin's Greggo patent-leather dress shoe.
2. JOHN CHO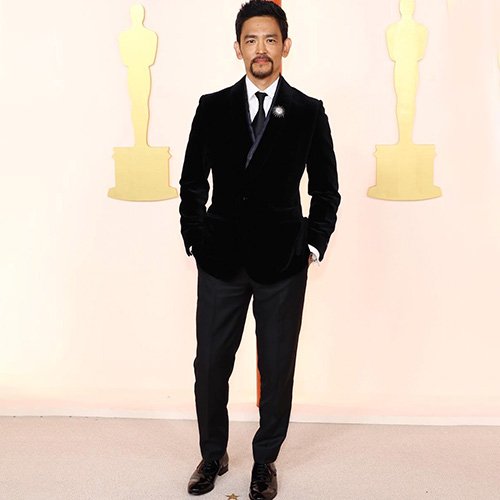 Presenter John Cho looked perfectly elegant in a head-to-toe outfit by Zegna, which included a black velvet tuxedo jacket worn over trousers in black wool. Cho paired the suit with a vintage diamond star brooch from the 19th century and circa-1930s ruby and diamond cuff links set in platinum, both courtesy of Fred Leighton, as well as IWC's Portofino Automatic timepiece.
3. PAUL MESCAL
Paul Mescal may not have picked up the Oscar for his spellbinding performance in Aftersun, but he's landed yet a spot on the best-dressed list (a far more coveted prize, some would say). The actor took to the champagne carpet in a white double- breasted jacket by Gucci, complete with rose brooch. The brooding, effortless confidence that makes Mescal so captivating is entirely his own. With his newfound movie-star status–and a wardrobe of exquisite tailoring–might we have a contender for next James Bond?
4. AUSTIN BUTLER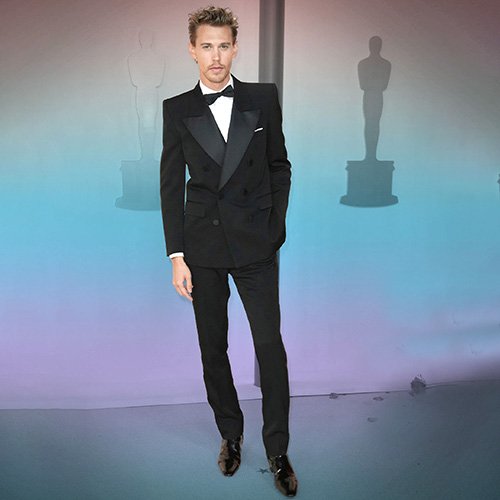 The best actor nominee for Elvis looked cool and confident in a classic black tuxedo from Saint Laurent by Anthony Vaccarello,
featuring a double-breasted jacket with matching tuxedo trousers. Though a relative newcomer, Mr Austin Butler has quickly established a signature look during his promotional run for Elvis: lean, minimal tailoring with an emphasis on clean lines. His look on Oscar's night felt like the final evolutionary stage of that approach, a classic tuxedo, cut with subtly exaggerated shoulders (a silhouette the brand has been exploring of late). Amid a sea of menswear looks scrabbling in vain to do something "different", this was a standout. A special commendation should go, too, to his after-party look, which swapped the shirt-and-dicky-bow for a fluid silk shirt.
5. REECE FELDMAN
Mr Reece Feldman, aka "Hollywood's TikTok guy", is no stranger to the red carpet, although he's usually standing on the other
side of the camera. How grateful we were that he was subject not the shooter this time around–lest we have been denied a glance at his outfit. Back at the Academy Awards for the second year running, Feldman stole the show in an avant-garde tuxedo from up-and-coming Malaysian designer Dickson Lim. Accessorised with a single black satin glove adorned with sparkling white-gold jewellery, his outfit proved that red-carpet suiting doesn't have to be dull.