If You Are Someone Who Wants To Hear, "Wow, Your Skin Looks Great!" Instead Of, "Oh, Have You Been Getting Enough Sleep?". Hop In And Ride Through The Journey To Healthy Skin.
Your skin has millions of tiny sebaceous glands, which are connected to hair follicles all over your body, that produce an oil called sebum, to protect your skin. However, a few things can happen that keep that oil from escaping properly through the follicles. Hormones can cause the sebaceous glands go into overdrive, and the excess oil they produce can get blocked by dead skin cells, clogging up the pores and causing acne. Also, when you're stressed, your body produces cortisol, which can stimulate the oil glands, leading to an outbreak.
Thanks to the sheer volume of product options, skincare can be daunting at best and confusing at worst. Good skincare is one of the most powerful tools we have against most of the common issues men face on their faces: acne, wrinkles, even sun damage. So, read ahead and get yourself a skincare routine that your skin begs for! Thank us later!
1. FACIAL CLEANSER
Sisley Paris, Buff and Wash Facial Gel
When we think of clean skin, we're conditioned to expect a dry, squeaky-clean feeling, but that's actually a sign that you've over-cleansed and that is a bad thing. It means your skin's protective barrier is disrupted and you've stripped away good oils that keep it naturally moisturized. Instead, use a specific facial cleanser that's designed for your skin type. If you have dry skin, look for a cleanser with moisturizing ingredients and if you have an oily skin, use a gel cleanser with oil-controlling ingredients
like salicylic acid.
2. TONER
Dr. Barbara Sturm, Balancing Toner
Lots of people think of toner as a second cleanser and surely, sometimes it can help remove dirt and oil left over from your cleansing step. But the real purpose of a toner is to balance the pH of your skin after cleansing. If you have an oily skin or struggle with acne, toner can be an invaluable step in keeping your skin clear and shine free; if you have dry skin, it can help restore much-needed moisture. Use a cotton pad to swipe some of it over your face after cleansing or if you're not a cotton pad man, use one in a gel form after washing.
3. SERUM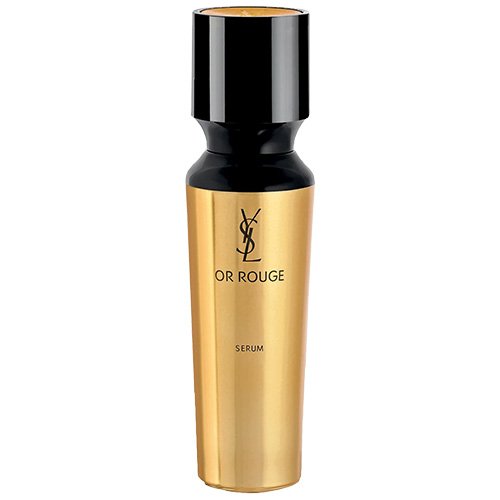 Yves Saint Laurent, Or Rouge Serum
If your skincare routine was a smoothie, serum would be the wheatgrass shot (or whatever booster you want). Serums are meant to impart active ingredients and nutrients more quickly and effectively. The good news is that no matter the skin concern, there is a serum for that. The bad news is that it can be hard to know what you need. If you're new to the serum game, look for one that addresses a variety of issues:
 They'll usually contain hydrating and skin-building ingredients that all skin types can benefit from.
4. EYE CREAM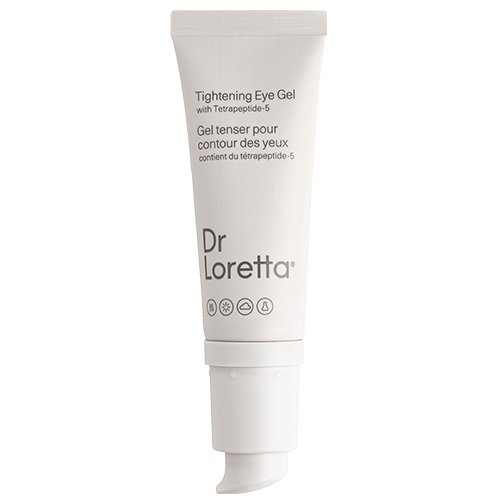 Dr. Loretta, Tightening Eye Gel
Eye cream is like the army knife of a man's skin care routine: a simple tool that can fix a whole lot of problems. Dark circles? It can help get rid of them. Puffy bags from a late night? It can send those packing. Starting to see wrinkles and fine lines? Eye cream can keep you looking fresh. Eye skin is thinner than on the rest of your face, so it needs more concentrated ingredients and tends to lose moisture quickly and easily.
5. MOISTURIZER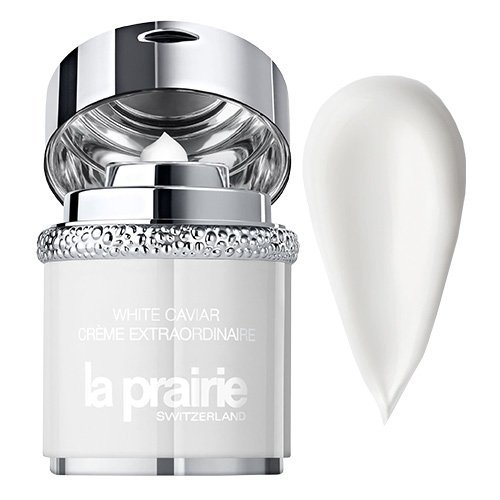 La Prairie, White Caviar Crème
Extraordinaire
Finding a moisturizer, you can tolerate is easy (there are more lightweight formulas launching out every day) and wearing one will, at the very least. Keep your skin from feeling dry at the most, and that will help it maintain moisture that will keep it looking good for years to come. Look for words like "lotion" or "gel" instead of "cream" on the label if you're a beginner. Slap it on after your eye cream to lock in moisture.
6. SPF
Dior Prestige Light-In-White Le Protecteur
UV Minéral BB SPF 50+ Tinted sunscreen No matter what's your skin tone, you need to be wearing sunscreen every day. Seriously. UV rays from the sun not only cause skin cancer, but are also the biggest factor in our skin's aging. Daily sunscreen is the most effective anti-aging product we have. Instead of using a moisturizer that has a tiny amount of SPF, look for a sunscreen that has skin-hydrating ingredients. That way you can wear it over your moisturizer (more hydration never hurt anyone).
7. CHEMICAL EXFOLIATION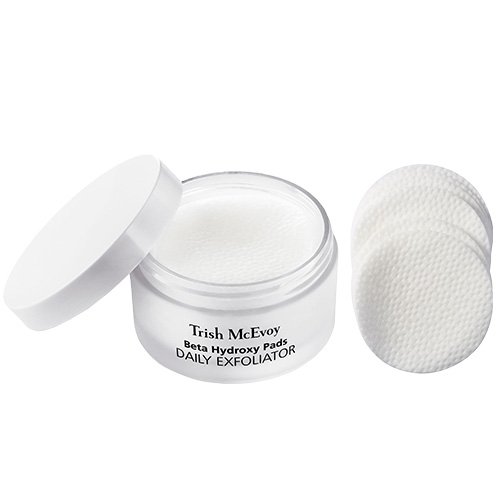 Trish McEvoy, Correct and Brighten®
Beta Hydroxy Pads
Regular exfoliation is important because it gets you rid of dead skin cells that stick around on the surface of our face where they can clog your pores. Men exfoliate every time they shave without realizing it. If you are going to exfoliate on purpose, don't use scrub, which can be too harsh. Instead look for an exfoliator containing alpha hydroxy acids like glycolic acid, which will slough away dead cells more gently. Use your chemical exfoliator once or twice a week after cleansing, but before applying other products.