Music's Biggest Night Is Never A Snooze And This Year Was No Exception As Musicians Made Bold Statements With Their Wardrobe, Setting Some Bold Cues For This Year! Dive In To Have A Look.
The Grammys is an occasion to recognize significant achievements and accomplishments in the music industry, but it is also an avenue for artists to serve out looks and fashion statements, and the male attendees definitely pulled out all the stops this year. Music's Biggest Night, the 65th Annual Grammy Awards, have witnessed all genres showcasing their fashion, from elegant to cutting edge. The Grammys are known for providing some of the wildest looks of the year, and 2023's ceremony was no different. It's all about bringing the drama, with multiple outfit changes, as well as a record-breaking moment. In place
of classic tailoring, evening's gentlemen opted for embellished jackets, asymmetric tunics and dazzling silhouettes. The men
who walked the red carpet took our breaths away, have a look to curate the outfit for yourself setting fashion statements high. So, without any further ado, catch the look you love the most and create it with your own twists.
1. HARRY STYLES
Harry Styles had three different outfits for the event. Out of which he wore a EGONLAB x Swarovski spangly multicoloured Crystal Couture jumpsuit during Grammys red carpet. This precious masterpiece of Couture savoir faire featured 250,000 Swarovski crystals in 9 different colours and was entirely handmade in Paris, requiring over 150 hours of precise work. Maybe not for most people, but Harry's looks are born to slay. Ditching the suits and tuxedos favoured by many of his music industry peers, unlike Styles walking the red carpet bare-chested, in nothing but a pair of overalls. The singer took his flamboyant style very seriously. Finishing the look with white boots, dainty layered gold necklaces, and a smattering of matching rings, his wavy chestnut hair were coiffed to perfection.
2. MACHINE GUN KELLY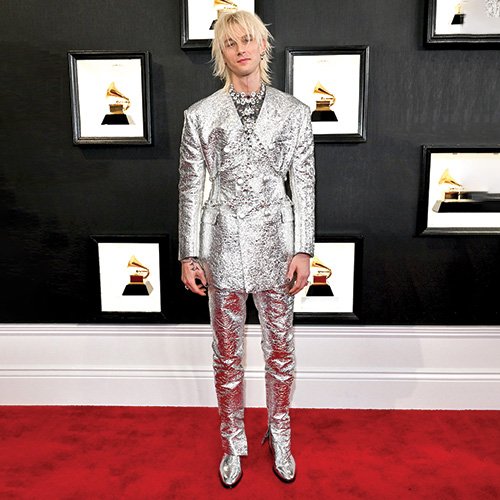 Machine Gun Kelly knows how to bring the bling with his fiancé Megan Fox stepping out at the 2023 Grammys red carpet doing what they do the best: donning coordinating couple looks. This time, Machine Gun went for metallics starting with the rapper's custom silver double- breasted Dolce & Gabbana suit crafted of a fabric that resembles silver foil accented with crystal harness, which was inspired by a Phoenix rising out of the ashes. Kelly, paired the standout set with a grey mesh top under a gemstone harness, Stephen Webster jewellery plus silver boots. Looking like a complete rock artist, but also a bit punk, while also making sure the look felt respectful to the Grammys and this moment in his career, ultimately feeling elevated and cool. The suit jacket also features a subtle peplum detail with a flair at the waist that feels a little surreal and a little playful, while trousers are super skinny. With that stiff foil- like fabric, the pants stand up on their own.
3. JACK HARLOW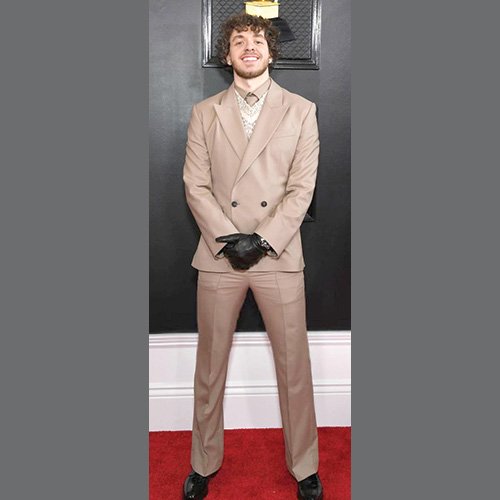 Jack Harlow went for a toned down all beige look for the evening with a beige suit paired with a V-neck blue-and-white sweater. The rapper showed his softer side in this beige suit and a cream sweater vest. It's a combination that could look pretty stale on so many wearers. He looked effortlessly dapper in a tan suit and sleek black leather gloves while hitting the red carpet groundbreakingly. As for how he went about picking his monochrome outfit for the big night, was completely "First Class", stiching to singer's approach which was simple and elegant, going with the outfit he felt himself and most confident in.
4. STEVE LACY
The "Bad Habit" singer looked incredibly chic in the custom Saint Laurent suit. For us, this look was all about the styling and
the wearer, of course, but that brooch and clutch plus those hot boots really worked well to elevate this from being "merely" a gorgeous custom tux. Dressed from head- to-toe in Saint Laurent, Steve Lacy setting some cues for the men. Lacy wore a double cross tuxedo pinned with a rhinestone and punctuated with a tasteful crystal pearl shield brooch, knife sharped boots, and oversized bug like sunglasses while holding the brand's glossy Manhattan clutch against his chest. Sometimes it's the smallest details that can pack the biggest punch, just like his brooch.
5. ANDERSON .PAAK
It just wouldn't feel like the Grammys without Anderson .Paak serving joyous, colourful, unforgettable fashion, popped up in a chic floral suit by Gucci and pairing it remarkably with a green hat. The Best R&B Performance and Best Album nominee hit the red carpet in a suit made out of your grandma's couch. He pulled it off as well as it could be and better than probably any other wearer could pull it off.