Four Looks Depicting Their Personal Anecdotes. Witty Asides, Intimate Reminiscences, And All About The Love Affair With Accessories! Check These Combinations, As You May Find Your Next 2+2 Go-to Accessories.
Personal style is a way to express oneself that speaks a lot about the wearer. In 2023, when exhibiting one's true self is attractive and considered a brave move, flaunting one's personality on their feet seems just about right. Jewellery and women
go hand-in-hand and is worn by more or less everybody around the world. Nothing can make women happier and more blissful than a thought of adding new accessory to their collection.
Undoubtedly, no other type of jewellery, be it fine jewellery or costume jewellery, can transform the look of an outfit as much as a beautiful piece of fashion jewellery. So, here we are imagining a shining testament, tokens to vent your love affair for accessories, to ace your heroic journey through life. Each creation is imagined a beautiful souvenir, a testament one that is worthy of representing the bold hues you love at the vast canvas of love; a treasure that commemorates the special moments.
As its our 22nd Anniversary, we have got 2+2 pieces complementing your favourite hues like no other!
BLACK LOOK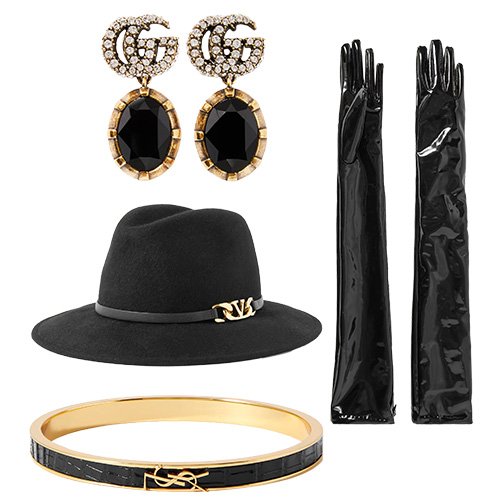 1. GUCCI, Gold-tone and crystal earrings, approx. Rs. 30,470
2. GUCCI, Embellished patent-leather gloves, approx. Rs. 48,420
3. VALENTINO GARAVANI, Valentino Garavani VLOGO
embellished leather-trimmed felt fedora, approx. Rs. 120,080
4. SAINT LAURENT, Opyum gold-tone and croc-effect leather bangle, approx. Rs. 79,250
Every woman knows that a black dress is a must for any wardrobe. But what are the rules of appropriate jewellery for black outfits? Find out here to spell out elegance and sophistication.
BROWN LOOK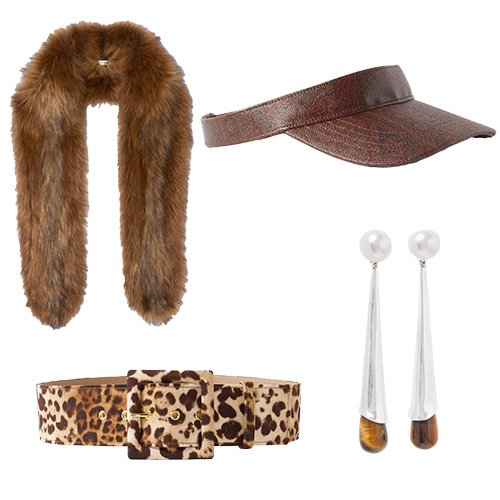 1. SAINT LAURENT, Faux fur scarf, approx. Rs. 224,310
2. ETRO, Paisley-print coated cotton-blend canvas visor, approx. Rs. 37,190
3. CAROLINA HERRERA, Icon leopard-print twill belt, approx. Rs. 73,810
4. SOPHIE BUHAI, Lou Lou silver, tiger's eye and pearl earrings, approx. Rs. 91,290
Stuck on deciding what colour jewellery goes with your brown dress? Know the perfect brown dress accessories for different shades so you always look stylish. With its warm tone and flattering dark shade, brown is the tone of your dress will make it easy to choose the perfect accessories for a polished, put-together look.
BLUE LOOK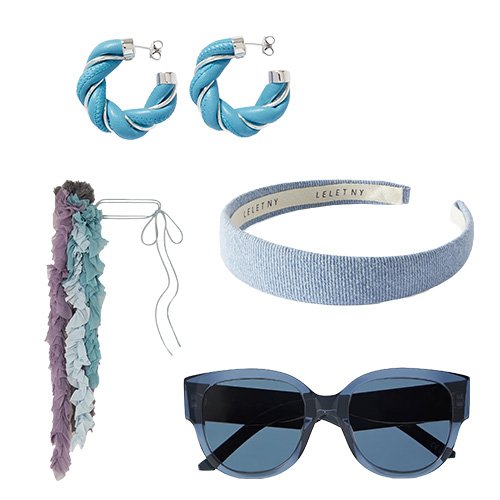 1. BOTTEGA VENETA, Silver and leather hoop earrings, approx. Rs. 74,970
2. LELET NY, Gwyneth Petite denim headband, approx. Rs. 11,090
3. DRIES VAN NOTEN, Ruffled georgette scarf, approx. Rs. 72,050
4. DIOR EYEWEAR, Wildior round-frame embossed acetate sunglasses, approx. Rs. 43,770
The bright airiness and freshness of blue colour complements pairing jewellery in similarly cool tones. If you aren't afraid of taking some fashion risks we have eclectic pair of accessories to jazz you up!
BURGUNDY LOOK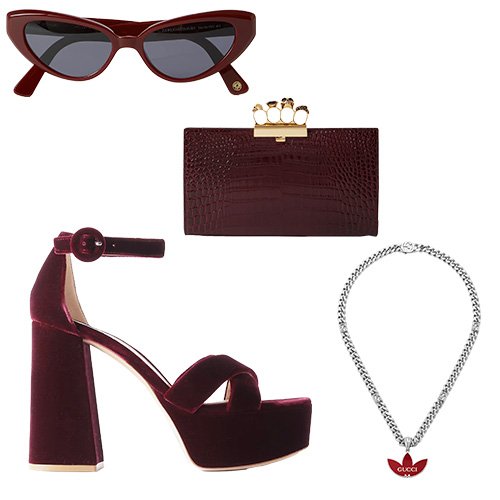 1. KIMEZE, Zawe cat-eye acetate sunglasses, approx. Rs. 35,610
2. ALEXANDER MCQUEEN, Four Ringv embellished croc- effect leather pouch, approx. Rs. 198,050
3. GIANVITO ROSSI, Sheridan 110 velvet platform sandals, approx. Rs. 104,240
4. GUCCI, Adidas x Gucci gourmette palladium – toned metal necklace with Trefoil pendant, approx.Rs. 123,510
Whether you're headed to happy hour or a formal party, Burgundy is a bold, dramatic colour in its own right, and dressing is up to the task. There's no right or wrong way to wear this bold hue—with the right accessories, complementing is an on-point choice for a casual yet entirely chic look.