Nensi Dojaka's FW23 Collection Embodies The Ultimate Sex Appeal Featuring Sultry Yet Empowering Silhouettes. Don't Know
About You But We Are Definitely The Ones Falling For It Hard!
There's no beating the buzz of London Fashion Week – the people, the clothes, the looks, the bustle. In spite of its typically dreary weather (or perhaps because of it), London always delivers on fun, whimsy and creativity when it comes to fashion. This year, London Fashion Week returned full swing with 127 brands proving London's role as a global style leader. The city has become a bustling hub for young designers over the years; a melting pot of creativity and self- expression. We were extremely thrilled to return backstage this year with London – based Albanian designer, Nensi Dojaka who raised the bar on the exposure of the female form. For her fans who appreciate the appeal, the peek–a-boo, teeny-tiny minis are sure to be a hit. Want to know the detail of one of our favourite moments of London Fashion Week? We got you covered!
NENSI DOJAKA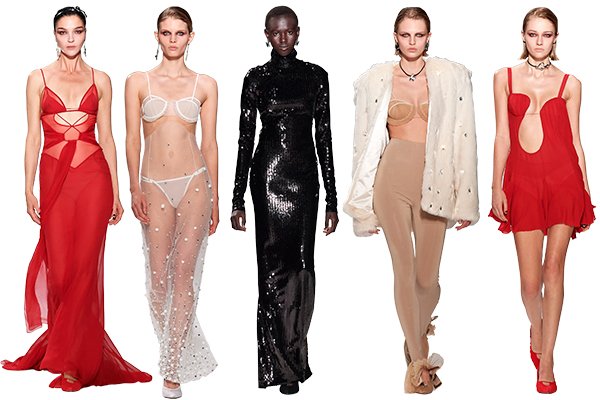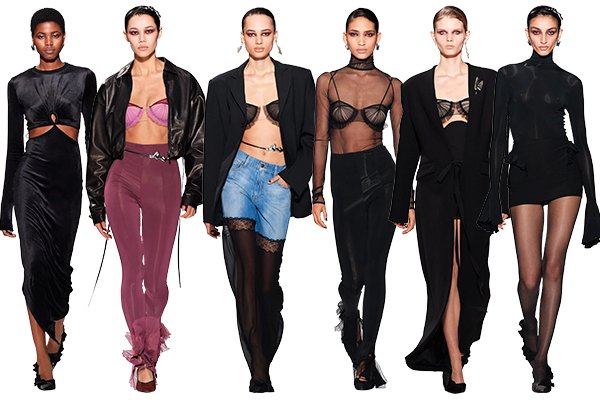 London-based Albanian womenswear designer Nensi Dojaka has made an appearance at this year's London Fashion Week with her 2023 Fall/Winter collection. Nensi's collection is pretty balanced in the sense of it being wearable in Fall and Winter season. Evoking the sensualism, there were classy mesh tops as well as denims and some furry winter jackets. For this season, the creative encompassed her lingerie-based aesthetic with a range of delicately engineered bra-dresses.
Dojaka understood that Fall/Winter could have two faces so in this collection, we saw it pretty much addressed and embraced
nature's timing. It's a triumph that her elaborate, revealing creations are already instantly recognisable thanks to the frilled bra cups, numerous spaghetti straps, and heart-shaped illusion tulle accents. It can also be a trap, which is why her fall collection also included jeans, tiny leather jackets, long coats that were tailored, sleek knits, and even a chunky faux fur that was heavily embellished with large crystals.
It's challenging to identify her style as a designer. Dojaka is unmatched among womenswear designers, having an exacting eye and mastery of her trade. She is well- known for her delicate dresses, which are expertly crafted with clever outlines, sheer panels, intricate strappy details, flared cut outs, delicately placed tulle features and voids to reveal hints of skin. Hers is an epic feat that she masterfully pulls off.
When Nensi is the topic, you know that there is a plot twist somewhere. Most of her creations look like a very normal, decently textured piece of clothing. However, she also knows how to make things classy with a little bit of edge to them. That's why the numerous dresses that completely covered the body were also novel, whether they were made of fine jersey, stretch velvet, or black sequins.
All of these dresses clung to the body and occasionally opened up with circular cut-outs at the back or notches at the waist. Little black dresses with swooping, asymmetrical bra cups, tiny hip frills, and fluted sleeves echoed with the sultry chic lingerie acing its way, encapsulating a fun take on the design without losing its signature sexy.
She opted to marry the black blazers and pointed toe heels, adding a touch of sophistication that rounded out each look perfectly. While classic cuts such as oversized lines and fierce tailoring are well-worn favourites, it's invigorating to see bolder, pop-culture inspired dressing. At the moment, we're loving how embroidery. and textured fabrics have taken the ramp this season.
Dojaka captured a new sense of sophisticated sexiness with the melange of sensitive construction, delicate trimmings and fragile frills that perfected the beauty of each piece. The show is nothing short of standout pieces—to name one, the evening dress embodied sultriness and femininity with its use of a see – through material and detailing.
Taking to naked-revenge-dressing with velvet and sequins, Nensi Dojaka continued to fly the flag for lingerie – inspired party wear sensual bodywear, which includes slender tulle, georgette tops and figure – hugging dresses. The designer shows a distinctive aesthetic, an intricate visual language in which visible seams, sheer and matte contrasts outlined by fine straps, creating a graphic play on the body.