A Feast For The Eyes Where Fashion Dreams Come True, We Are Yet Again Here With A Glimpse Of London Fashion Week. A Realm Of Astonishing Silhouettes; Flawless Makeup Looks And Everything Fancy.
We're almost halfway through this year but still can't seem to get over the impact fashion weeks have left on us. Fashion weeks are a time for fashion designers to showcase their latest collections to the world. This time, the City of Dreams got us hooked with stunning looks that the latest collections unravelled at the London Fashion Week.
Ramp shows are all about style, class, and sophistication and the fashion connoisseurs are always looking for these factors. Models walk down the runway, giving a hint to the audience, and making them imagine how the attire would look on them.
Fashion weeks are a major event in the fashion industry, and they are a great way for designers to get their names out there
and create a buzz. Not just this, who doesn't like to keep up with the latest fashion trends? So, let's take another look at the
ravishing London Fashion Week and decode of designers who succeeded to grab our attention with their miraculous designs.
PAOLO CARZANA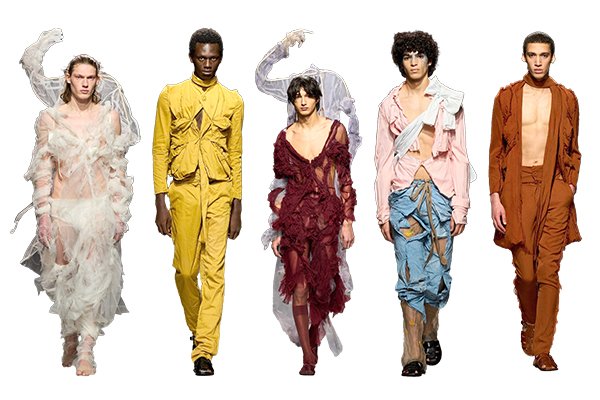 It is all about making an impact in the audience's mind by presenting a ramp show that reflects creativity and style at the same time. To deliver what we just mentioned, fashion designer Paolo Carzana brought iconic designs to life. "A desert landscape, a mindscape, a soundscape, a backdrop where the music falls, escaping rules, heartfelt vibrations rustling," noted Carzana's show notes while initiating. The onset notes virtually conjured up a sacred and secret place in the audience members'
imaginations.
Labelling the Fall/Winter 2023 'Queer Symphony', Carzana brought what he does the best to the stage. Sheer textures, layered
clothing and minute details reflected the utmost emotion of affinity. The collection by the designer also featured an amalgamation of soft and bold tones of colours along with layers that gave the fabrics a rustic look. The rawness of the clothes gave a traditional touch to the collection that the designer's looks are known for. Welsh tapestry handcrafted fleece tunics and
bandanas contrasted with accents of blue, ochre, and pale salmon. However, there was also a historical component to this season that focused on a queer renaissance. The models' torso bows—a representation of resistance—took centre stage.
ERDEM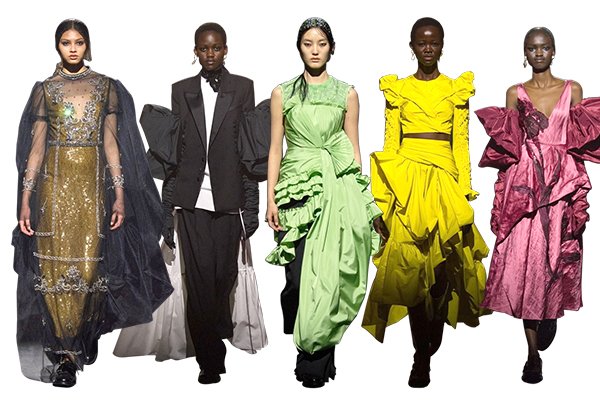 The late Vivienne Westwood's remarkable legacy was honoured at LFW. The designer shaped punk and revolutionised the fashion business with her work, which also had a positive impact on the world at large. Erdem Moraliolu discovered a rich new
tapestry to draw from when he peeled back the layers of his Victorian home. It may seem counterintuitive to find inspiration in
remodelling, but for Erdem, it was a necessary step. It turns out that his house used to be a haven for single mothers. In honour of these euphemistically referred to as "forgotten women" and the place that provided them with a chance at a new beginning, the designer created the ERDEM AW23 collection.
The influences from the 19th century could be seen everywhere, which was appropriate. The soundtrack was made up of the unsettling creaking of floorboards and footsteps set to dissonant string music. Deconstructed, asymmetrical bustle skirts, cropped jackets with oversized shoulder ruffles, maximalist gloves, and flowery prints made heads turn. Other places evoked the smoky streets of Dickens' London with a recurring motif of tailored riding jackets. At the same time, vivid highlights of arsenic green offered a stark contrast to the sombre but sophisticated colour scheme.